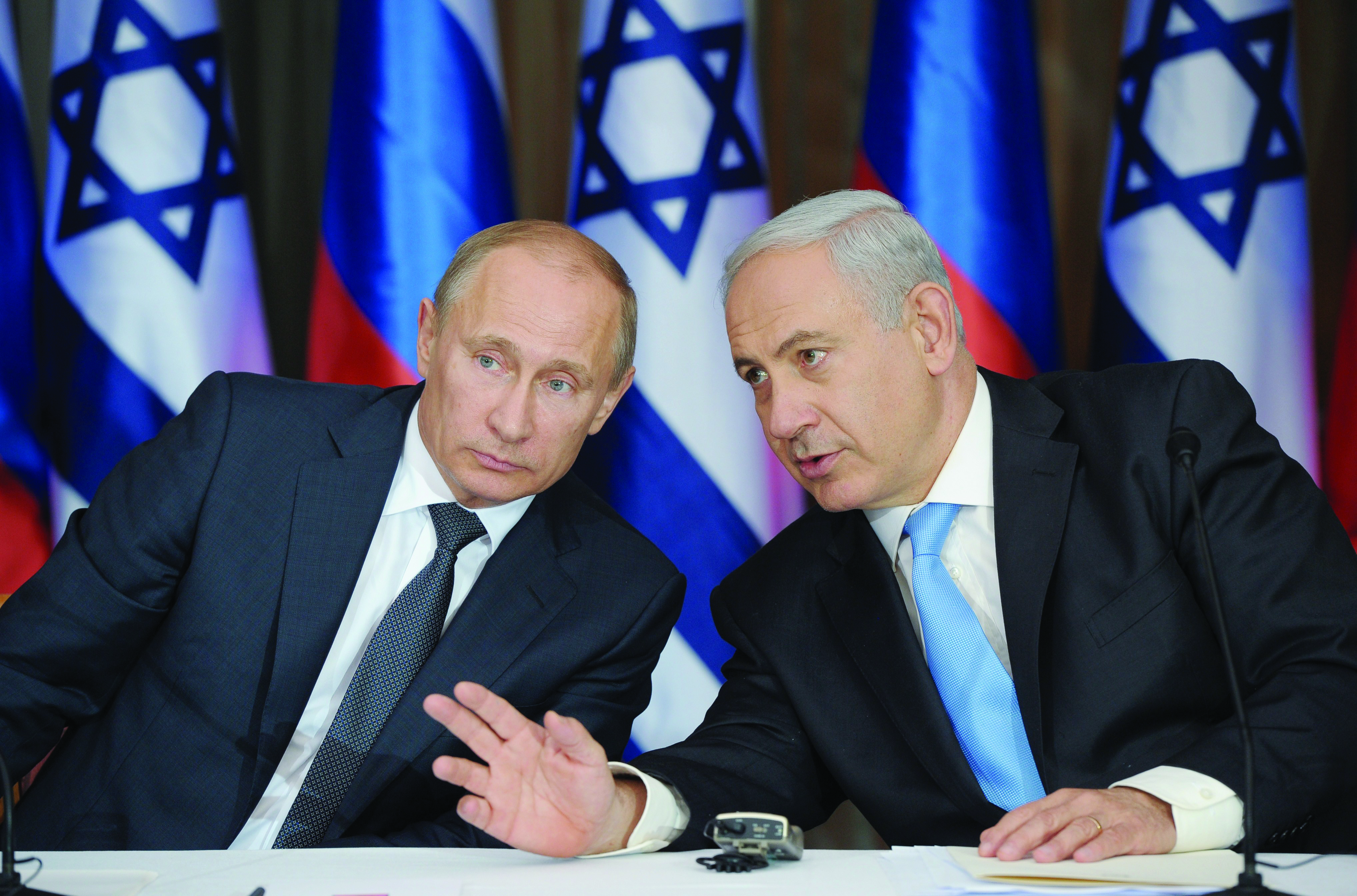 Last month, on the eve of Passover, Israeli Prime Minister Benjamin Netanyahu jumped onto his plane and rushed to Moscow. He returned later that same day.
The eve of Passover is arguably the busiest day of the year in Israel. It's true for every sector of Israeli life, politics included. Busier even than the eve of Rosh HaShannah or Yom Kippur. And yet, Mr. Netanyahu flew off to visit President Vladimir Putin. The trip took on the status of "high risk" even "near crisis." A pro forma visit to Moscow had been planned to Russia, but without the urgency.
The agenda was hurriedly changed after a Russian fighter jet was scrambled to intercept an Israeli jet. And the week before that, Israeli jets were targeted by Russian jets. Israel did not respond to these aggressive Russian acts, the air force showed maturity by not responding and risking a major international crisis.
On his trip to Moscow Netanyahu was accompanied by the head of the Israeli air force, Major General Amir Eshel, as well as his military advisor, Brigadier General Eliezer Toledano.
These issues between air forces should nevr have happened. In September of 2015, in a series of top secret meetings that took place in Tel Aviv, a special mode of communication was set up between Israel and Russia to resolve such issues. The objective of the September meetings was to prevent any mishap and to make certain that Israel and Russia would not fly over one another in Syria. Russia and Israel even exchanged specially designated and encrypted cell phones. But the system failed.
It was all supposed to be a coordinated effort. In fact, Russia agreed not to share any of Israel's information or movements with Syrian dictator Bashar Hafez al-Assad Assad or with Iran. And then, right before Passover, it all seemed to collapse.
So the Prime Minister of Israel headed straight into, so to speak, the lion's den. The situation needed to be resolved immediately.
The stakes in the air in and around Syria is very high. The atmosphere is very tense always. Fourteen air forces fly in Syrian skies. 14! That fact alone is cause for worry—mistakes are made all the time.
The US, Britain, Canada, France, Australia, Russia, Israel, China, Saudi Arabia, Jordan, Qatar, Bahrain, Turkey and of course Syria all fly around in Syria. They are bound to bounce up against one another and it is inevitable that some country, at some time, will fly out of bounds. That is what happened when Turkey shot down a Russian plane. The action resulted in flaming crash of Turkish-Russian relations.
But why now—and why Israel and Russia?
The meeting between Mr. Putin and Mr. Netanyahu lasted for about three hours. In the course of that meeting, Eshel and Toledano broke off and met with their Russian counterparts, Russian Defense Minister Sergey Shoigu and his military team.
Explaining the urgency of his pre-Passover flight to Russia, the Israeli prime minister said that  "there have been problems" between Israel and Russia in Syria. He was, of course, referring to the freedom of Israel to operate in Syrian without risk of Russian intervention.  Mr. Netanyahu went further and warned that "If you don't deal with the friction, it could develop into something more serious."
At the conclusion of the meeting Mr. Netanyahu briefed reporters. "I came here," he said, "with one main goal—to strengthen the security coordination between us so as to avoid mishaps, misunderstandings and unnecessary confrontations."
Mr. Putin is said to have been shocked by the information that Russian planes were aggressively engaging with Israeli planes over Syria. According to sources, he said that he heard it for the first time from the Israeli prime minister in the meeting. I doubt that. Russia has a series of both ongoing and evolving agendas for the Middle East.
Russia is very good at teasing out information and intelligence—maybe better than any other nation. This dangerous game that they initiated and were playing with Israel had an objective. Mr. Putin wanted to see how Israel would respond. He wanted to know how quickly Israel would be to react.
The Russians got what they wanted. They now have a font of information they sought to obtain.
For now at least, that game is over.