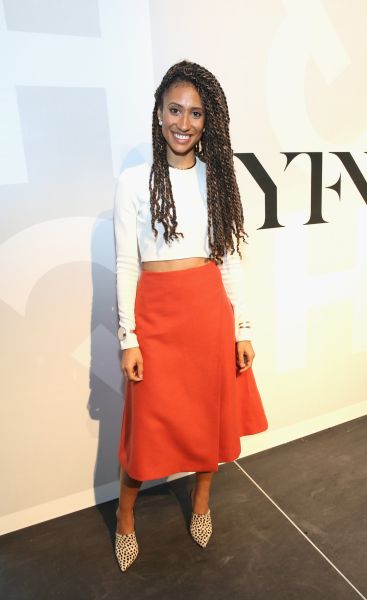 In a surprising move, Condé Nast today announced that Teen Vogue's Amy Astley would be leaving the glossy for the top role at Architectural Digest. The move sees Ms. Astley replacing Margaret Russell who has headed the publication for the past five and a half years — Ms. Russell was recently on an episode of Keeping Up With The Kardashians to reveal Kourtney and Khloe's cover shoot. And as for the new leadership at Teen Vogue? The Condé Nast brass has, in an unprecedented move, tapped a trio of editors.
Elaine Welteroth, who made headlines when she became Teen Vogue's first African American beauty director, has been made the title's new editor-in-chief. Having held roles at Glamour and Ebony magazine before this, Ms. Welteroth is now both the first African American editor-in-chief at Teen Vogue as well as the second African American editor-in-chief of Condé Nast at large. Keija Minor of Brides Magazine was the first when she was named to her role in 2012.
Ms. Welteroth is joined by digital editorial director Phillip Picardi who has been in his role since leaving Refinery29 in April 2015 and creative director Marie Suter. "Elaine, Marie and Phil are fearlessly at the forefront, inspiring young trendsetters with their sophisticated take on emerging fashion, beauty and pop culture, and they will lead Teen Vogue to the next phase of its success," Condé Nast Artistic Director Anna Wintour said in a statement about the change. "This team has thoroughly embraced the endless potential of social media and new platforms, and their understanding of the most effective way to use them to connect with audiences, embodies what it means to be an editor today." And the statement rings true.
Two weeks ago both Ms. Welteroth and Mr. Picardi sat down for a Met Gala-themed pop quiz as Ms. Welteroth was set to attend her first Met Gala that night. Both editors promoted the appearances on their Snapchat accounts, which they constantly use as ways to stay in touch with readers, and racked up 24,000 viewers on the live feed according to Facebook statistics. These savvy social media tactics are in lockstep with coverage that keeps a bead on diversity issues.
In 2015 Ms. Welteroth and Teen Vogue came under fire for a beauty spread that featured a bi-racial model in Senegalese twists. While the story for Ms. Welteroth was a personal one as she is bi-racial, many readers took issue with it for cultural appropriation. According to those detractors, the fact that the feature did not showcase women of darker skin tones at all was problematic. Since then, the publication has made an outsized effort to be inclusive.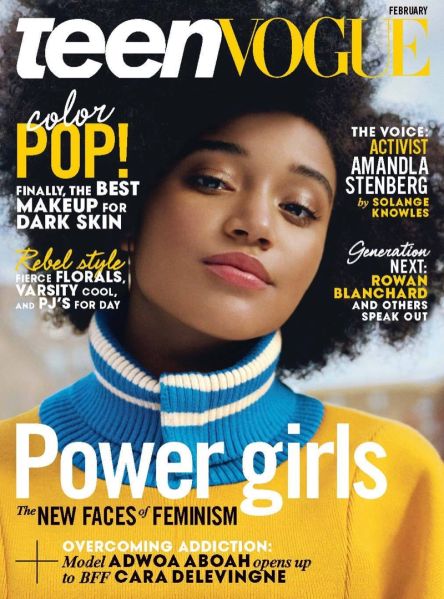 Recent covers have featured the likes of Willow Smith, Amandla Stenberg as well as models of the moment Lineisy Montero, Imaan Hammam and Aya Jones, all women of color. And it's not just race; via a Snapchat takeover done in concert with her cover release, Ms. Stenberg came out as bisexual. Online, under the leadership of Mr. Picardi and editors like newly tapped digital fashion editor Jessica Andrews, the publication has gotten high marks for publishing stories like 7 Girls Show What Beauty Looks Like When It's Not Appropriated.
Still, for some, today's news is just another step in a long closure for the monthly. Rumors persist that Teen Vogue, which shares publisher Susan Plagemann with Vogue under The Vogue Group, is set to undergo some heavy cutbacks with the entire print edition being closed as early as September. Others say that the title could suffer the same fate as Style.com, being integrated completely into Vogue.com. The new Style.com still hasn't surfaced under it's new e-commerce iteration that was due out early this year.