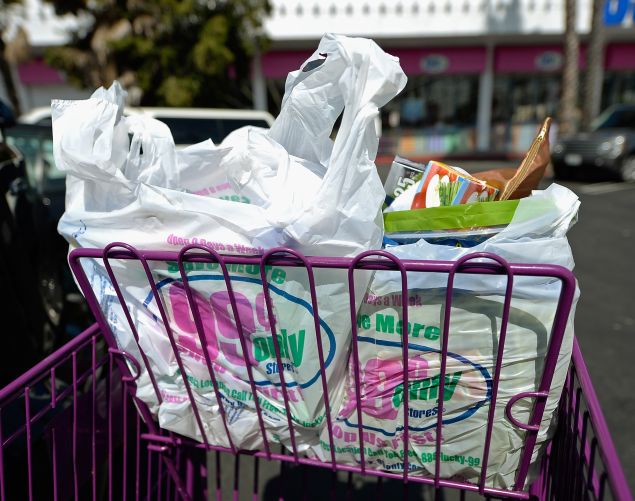 A controversial proposal to put a five cent impost on paper and plastic bags cleared the City Council today—and Mayor Bill de Blasio announced he is ready to ink it into law.
The liberal proponents of the proposal struggled for more than two years to push a 10-cent surcharge, before cutting the toll in half and winning the support of Council Speaker Melissa Mark-Viverito. The bill survived withering criticism on the Council floor to pass by a vote of 28 to 20, with no abstentions.
"This is a disaster of public policy," said Queens Councilman Barry Grodenchik, one of several legislators who resented that the bill allows stores to keep the extra nickel it requires them to collect, rather than passing the money along to the city. "Perhaps this intro should be entitled the 'Christmas in May for Retailers Act.'"
Mr. Grodenchik noted that even if the bill succeeds in slashing bag consumption in the five boroughs to a fraction of its current 9 billion per year, the extra fee would cost New Yorkers' far more than the $12.5 million the city pays annually to dispose of the pouches. Other council members pointed to studies showing plastic bag use is on the rise in cities that have instituted similar punitive fees, like San Francisco and Washington, D.C.
"This bill doesn't actually do anything," said Staten Island Councilman Joseph Borelli. "Think about what the people off camera, watching on TV, in the paper, think about what they think. They think that this is a stupid bill."
A poll last year found nearly two-thirds of New Yorkers are against the extra expense.
A sign of the odd political fault lines the measure revealed, Mr. Borelli—a conservative Republican—found himself aligned with Councilwoman Inez Barron, a proud radical from East New York, Brooklyn. She warned the measure would lend itself to exploitation by unscrupulous store owners in low income areas like her own, who might stock up on flimsy bags that require multiple reinforcements.
"A tax by any other name is still a tax," Ms. Barron said. "I see this as regressive, because it's putting a burden on people who can least bear the cost."
Councilman Brad Lander, who serves affluent Park Slope, Brooklyn, accused colleagues opposed to the proposal of mouthing propaganda from the nefarious bag lobby. He asserted that it was more significant that bag consumption went down in cities with similar laws after they imposed the fee, even if usage went back up afterward.
One of the original sponsors of the proposal, the liberal academic noted how disposable sacks clutter parks, cling to trees, accrue into islands in the world's oceans and strangle marine life. He insisted New Yorkers would soon learn to carry tote bags wherever they go, and the world would be a cleaner, cooler place for it.
"In order to make the climate changes we need to make, we have to transition from a dirty economy to a clean economy," Mr. Lander said.
Queens Councilman Donovan Richards—whose district, like Mr. Borelli's, suffered shattering damage during 2012's Hurricane Sandy—also underscored the impact of petroleum derived plastic products on climate change.
"New Yorkers must divorce itself from fossil fuels and marry renewals. We have to divorce ourselves from bad behavior and exercise best practices. Globally, plastic bags have significant ecological impact," he said.
The controversy saw a number of last minute realignments. Brooklyn Councilman Robert Cornegy, initially a co-sponsor of the measure, removed his name from the bill in recent weeks. Brooklyn Councilman Rafael Espinal, who took the Observer on a tour of a plastic bag warehouse in 2014 to demonstrate his opposition, ultimately voted in favor of the proposal.
The mayor quickly signaled his excitement over making the levy law.
"I congratulate the Council on the bill's passage and look forward to signing it," he said in a statement to reporters.