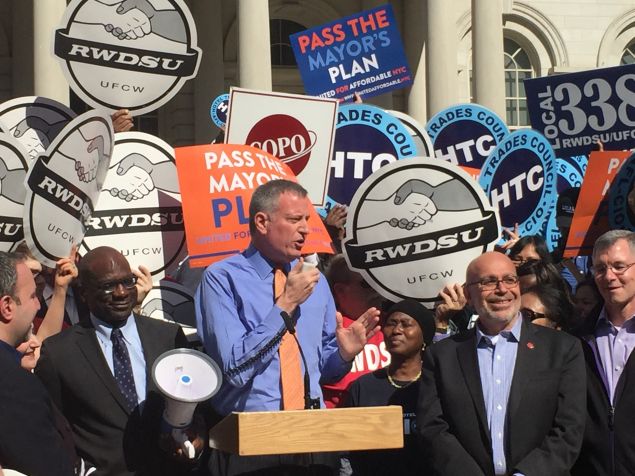 Mayor Bill de Blasio begged a coalition of below-market developers today to help him convince the State Legislature and Gov. Andrew Cuomo to revive the 421a tax abatement on new construction—the gas for the mayor's sputtering affordable housing engine.
Finding himself all but friendless in the state capital, Mr. de Blasio asked the New York State Association for Affordable Housing—an industry group of builders specializing in subsidized apartments—to lobby Albany to bring back the expired exemption. The four decade-old credit, which offered relief from increased tax assessments on new construction, lapsed in January, imperiling the mayor's mission to construct some 80,000 new affordable units by 2024.
"We need support in the state capital. We need help, we need partnership, to achieve a plan that speaks to the number one concern of New Yorkers," the mayor implored the crowd at the Times Square Marriot, noting that the legislative session in Albany ends on June 16. "We've got five or six weeks left in the Albany legislative session. And it's a chance for Albany to get it right now. It's a chance for Albany to help us all do this work."
The 421a credit essentially ensures construction companies and investors a profit on non-luxury development, and the consensus between the city, state, real estate interests and organized labor is that large scale affordable housing development would be impossible without it. Last year, Mayor Bill de Blasio and the real estate industry pushed for a package of reforms to the credit that would broaden and deepen its application, while tailoring it to encourage more below-market construction and to exclude condominiums.
The Building Trades Council of New York, representing union construction workers, launched a simultaneous effort to get prevailing wage standards written into the exemption. In June 2015, with the session at a close, Mr. Cuomo, State Senate Majority Leader John Flanagan and Assembly Speaker Carl Heastie announced a six-month extension of the credit that incorporated many of the mayor's proposals.
The abatement would continue for an additional three and a half years if the Building Trades Council and the Real Estate Board of New York, representing developers, could reach a deal on new pay floors. The two groups agreed to prevailing wages for workers on condo construction projects, if Albany would again extend 421a to cover luxury properties.
Politicians apparently found the resolution unpalatable, and allowed the abatement to lapse. Mr. Cuomo has vowed not to sign off on any new iteration of 421a unless the Building Trades Council approves it, but the mayor and his administration have insisted that prevailing wages would result in some 17,000 below-market units not getting built, as the increased costs would discourage investment in construction.
"Everyone worked hard together, including a lot of people in this room, to come up with a new vision, and a better vision. A more thoughtful, more effective version of 421a, a reformed version for today's reality," Mr. de Blasio told the NYSAFAH gathering today. "I am a believer that when something makes this much sense, it actually can get done—even in Albany, New York. And I'm a believer that the voice of the people matters most, and the people are demanding of all of us that we find a way to move forward and do the maximum to achieve affordable housing. So I'm asking for your help, in these next weeks, to get this job done."
"People have fought for their city for years and years, and they deserve the opportunity to stay here and reap the rewards of our great future," he continued.