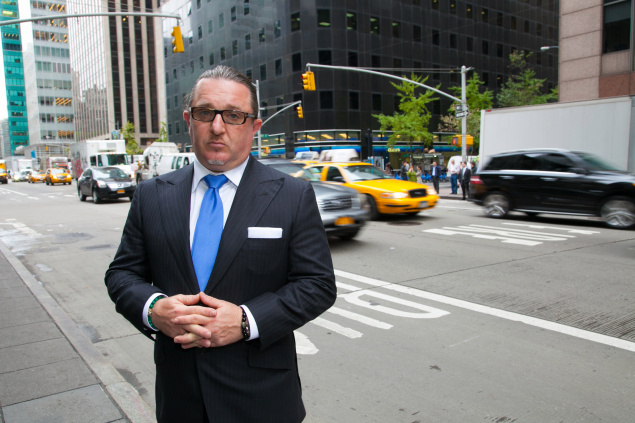 April is the cruelest month for taxicab tsar Evgeny "Gene" Freidman, the one-time undisputed heavyweight champion of New York City medallion ownership. In the good ol' days—i.e., before ride-sharing apps—the 1,100 or so medallions that Mr. Freidman's byzantine network controlled were worth an estimated billion dollars. Mr. Freidman borrowed heavily against the perceived value of those medallions to finance additional purchases. Unfortunately, he who lives by leverage can also die by leverage.
Last April, things started to crumble fast for the man who BusinessWeek called "The Taxi King" in a lengthy piece that both lauded Mr. Freidman's guts and also made fun of his personal quirks (the entire first paragraph was about his "f—ing divorce" and "f—ing haircut"). In a series of articles last April, the Observer chronicled the slow-motion collapse of Mr. Freidman's over-levered empire.
There was a secret meeting, first reported by the Observer, aimed at derailing Uber. It was closed to the press and attended by Ydanis Rodriguez, the chair of New York City Council Transportation Committee, who has been a loyal ally of the traditional taxi business.
Then, on the very day of the secret meeting, the Observer broke the news that Attorney General Eric Schneiderman would be suing Mr. Freidman, accusing him of reneging on a 2013 settlement and continuing to shortchange drivers, particularly those who collect fares via credit cards.
So that was last April. But now, things have continued to worsen for the ersatz billionaire. The locations are different (Chicago and Philadelphia) while some of the accusations are the same (shortchanging drivers) and some are freshly outrageous (forgery). In a document obtained exclusively by the Observer, Mr. Evgeny's taxi partners in Chicago and Philadelphia claim he stole from them, using privileged legal accounts; claimed his parents, girlfriend and children are cab drivers; and hid money from the government by using these businesses.
First was a suit filed by Everett Abitbol in Philadelphia on April 7 but not covered until now. Mr. Freidman's partners claim their shared business is being bled dry by Mr. Freidman, and one paragraph reads more like The New York Post than a formal court document: "Freidman's desperation is likely exacerbated by his high-profile divorce which is regularly reported in New York City newspapers. Allegations of cocaine use and domestic abuse (culminating in a guilty plea to shoving his estranged wife into a wall) have been widely reported as Freidman struggles to pay $31,000 per month in child support."
More troubling for Mr. Freidman is the Chicago lawsuit. In a memo filed in Cook County on May 4, plaintiffs Savas Tsitiridis of Dispatch Taxi Management LLC and Pure Taxi Media LLC accuse Mr. Freidman of "enriching himself and depriving the entities of operating capital needed to, inter alia, pay vendors and employees."
In sum, what seems to be happening is that Messrs. Tsitiridis and Freidman founded Dispatch in 2012 to manage the 350-400 medallions they collectively owned or controlled in The Windy City. Just like Mr. Freidman did in New York, they'd then rent the taxis to drivers for a fee. The passengers would pay the fares, either in cash or credit; the daily rental fee is deducted from what the driver collects, and the driver keeps the rest as his pay for the day.
Because the company processed the credit transactions, that was usually the portion from which the company deducted the daily lease fee. The company would also take care of stuff like insurance and placing ads on top of the cabs. According to the suit, Mr. Freidman originally invested money in Dispatch properly but soon started diverting money to unrelated entities—they've "identified a negative balance of no less than $465,780 in transfers to Friedman [sic] and other transferees to date."
According to the suit, Mr. Freidman needed the money directly because of Uber. "Friedman [sic] could not service debt he accrued in unrelated ventures and when questions arose regarding the worth of the collateral—a New York taxi medallion portfolio valued before ride sharing services gained popularity—creditors began enforcing their rights."
And there's more. In brutally plain language, the lawsuit accuses Mr. Freidman of crimes and posits on his motives.
"If the requested injunction is not granted, Freidman will continue to take Dispatch and Pure's assets. Freidman's other business ventures are in deep financial distress, and he is desperately trying to stave off the collapse of those businesses. It appears he is using funds improperly taken from Dispatch and Pure for that purpose.
"Moreover, it will be impossible for plaintiffs to recover any additional amounts Freidman takes for three reasons. First, Freidman is most likely already insolvent, and his financial status is currently deteriorating. Second, a court recently found the Freidman has engaged in a fraudulent scheme to move assets beyond the reach of his creditors, and there's no reason to believe he will not do so in this case as well. Third, the funds taken by Freidman were urgently needed by Dispatch and Pure to pay their debts, and if the embezzlement continues, those entities will not be able to remain in business. Fourth, Freidman has now been sued by his Philadelphia partner, Everett Abitbol, for action similar to these alleged in the complaint and substantial damages if that case was decided in Abitbol's favor."
Pure refers to the company the plaintiff and defendant set up to sell ads on top of the cabs. The plaintiffs allege that Mr. Freidman sold those ads but kept all the money for himself.
The scrutiny of the arrangement and ultimately this lawsuit seems to have been triggered by Mr. Tsitiridis discovering "a forgery of his signature on a financial instrument by Freidman." Mr. Tsitiridis had no interest in the New York deal involved in the forgery, and that deal was undone after the forgery was uncovered, but it clearly poisoned relations between the two taxi barons.
According to the suit, this caused Mr. Tsitiridis to comb through the books, at which point he discovered many unpaid bills, as well as outflow of nearly half a million to Mr. Freidman directly "frequently made by wire transfer to his personal bank account." Revealing himself an unlikely Derrick Rose fan, the Russian immigrant allegedly "used company funds to pay $360,000 in total for the purchase of Chicago Bulls season tickets."
According to the footnotes of the lawsuit, 22 of Mr. Freidman's companies filed for bankruptcy protection in June last year as lenders—mostly Citibank—tightened the noose. Furthermore, the chief judge for the U.S. Bankruptcy Court in the Eastern District of New York entered a decision in January of this year finding that Mr. Freidman's efforts to shield his assets by transferring them to offshore trusts "were fraudulent."
All of this takes place against a backdrop of an expensive and corrosive "f—ing divorce." Mr. Freidman, who is said to owe the former Mrs. Freidman $31,000 a month in child support, has accused his ex-wife of swiping two Baccarat chandeliers from their former marital home.
Emails sent earlier this morning to Mr. Freidman have yet to be returned.