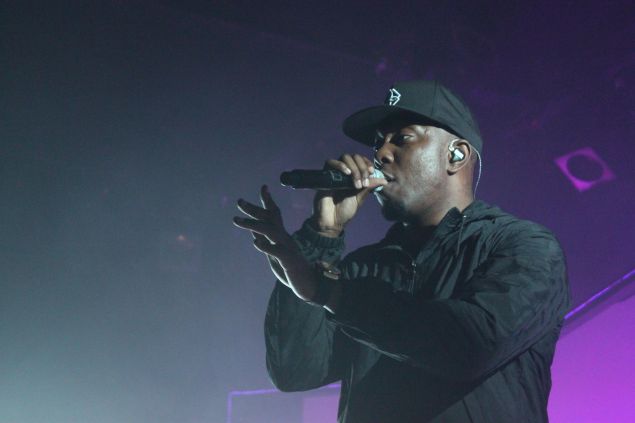 Which came first—the "debut album live in its entirety" show or the cash?
Among the litany of reasons why an artist might revisit their classic work in the live setting, the cash grab motive looms largest. Whenever a crowd zealously claims, "I liked their early songs better!" they're usually willing to throw some money at that shit again.
When Dizzee Rascal finally acquiesced to playing his debut live last week, though, he was only in it for himself. The first UK hip-hop success and poster-child of the recently cool-again early 2000s electro-rap genre called Grime, Dizzee performed his 2003 debut Boy In Da Corner live for the first time on Friday at Music Hall of Williamsburg. The performance was part of The Red Bull Music Academy, an annual weeklong collection of special shows, interactive performances and lectures that remains the high water mark of what branded media ought to look like.
Red Bull makes the smart move of curating performances and events that have a special cultural significance, then interviewing the artists involved and documenting their creative processes through words and other media. The word "curation," lame and bougie as it may sound when uttered outside of an art museum, is nonetheless accurate. All these years later, it's still an oddly culturally aware move from Red Bull, the folks who make sure there'll always be someone offering you a free energy drink on your way out ("to get you to the after-party!" they bellow).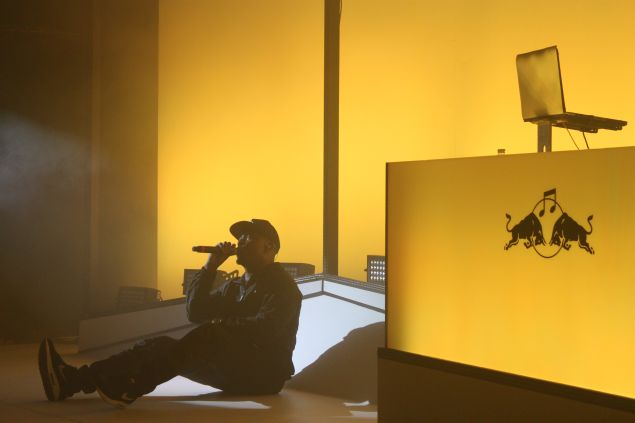 Friday evening's performance began with a set from Dizzee's tour DJ MK remixing songs off that shitty new Kanye record into vibrant Grime bangers.
A photo-op recreation of Boy In Da Corner's cover, which puts Dizzee in front of an abstractly angled yellow wall, allowed attendees to snap Instagram photos of themselves recreating Dizzee's famous pose, fingers playfully positioned above his head to resemble horns. When the curtain onstage dropped, Dizzee was seated on the floor in front of a giant, color-changing set resembling the album's cover. He immediately went into "Sittin' Here," which he told Red Bull earlier in the week was an opener intended to set the scene.
"I'm from Lincoln Estate in Bow [in East London]—we would all hang out by the off license and the shops out there," he explained. "Obviously I feel far removed from that mindset now, but because I've been rehearsing it, I feel it again when I'm performing it."
Far from that perspective in both his success and his fame, a new narrative emerges now for Dizzee, still young at 31, recapturing the youthful energy and disconnect that he felt for growing up in a neighborhood that's undergone radical gentrification. "I performed at the Olympics [in London in 2012] and the area has basically changed," he told Complex last week. "It's not what it was when I grew up. The crazy thing about it was when Red Bull asked me to do this show they told me that it was gonna be in Williamsburg. Williamsburg was the first place I performed in America in 2004 on the back of a flatbed truck, right when the neighborhood started getting gentrified."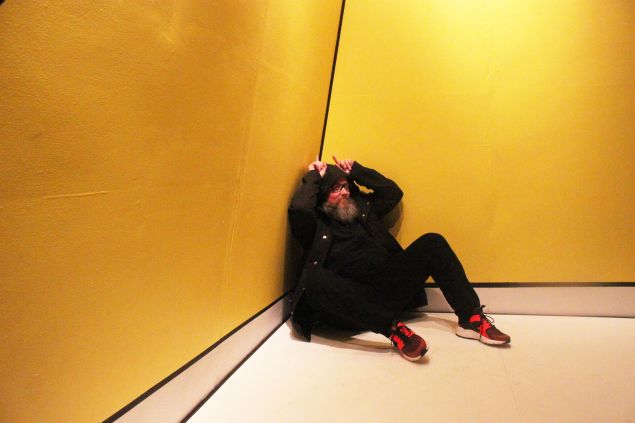 In this setting then, among the aging ravers taking selfies and the VIP musical know-it-alls in Brooklyn, the vitality of Dizzee's words was felt all the more. "I Luv U" slayed with help from his hype dude MC Scope. Its male and female call and response and samples of "What's Your Fantasy?" by Ludacris and "Is That Yo Bitch?" by Jay Z, captured Dizzee listening to American Southern rap before it was trendy, soaking it all up in his work.
That willingness to incorporate different sonics, to find energy in the stylistic juxtapositions, explains a big difference between what he was doing with Grime and what American hip-hop sought to accomplish. This was hybrid music you could rage to, not for the prim and proper; this was music for the street kids.
Recorded when he was just 18, Boy In Da Corner captures Rascal as a prodigious kid growing up in East London estates (projects), staying lean (stoned) and spitting from his dome over the U.K. garage scene that was already sounding played out. "It was a bit more of bougie thing, U.K. garage," he told Complex. "Even though it started with real street persons, as it crossed over, it got a bit more fancy. A kid like me would have turned up in a hoodie and some trainers and that's not what they wanted. They saw us as trouble even though garage and drum 'n' bass had its own trouble. We just looked like obvious trouble."
As such, drum'n'bass became the foundation for Dizzee to spit over. We hear it that night in the awesome turn-up track "2 Far"—not the hallmark sounds of the genre so much as the focus on speed and groove as they facilitated lightning-fast verses of Dizzee's old partner-in-grime, Wiley. Wiley isn't there, and the two reportedly have been on the outs for years, but Dizzee still pulled the track off swimmingly. The next collaboration on Boy, "Hold Ya Mouf" landed with its electronic keyboard samples filling out the negative space between beats and Dizzee's flow. I felt like a kid again, hearing Boy for the first time in high school.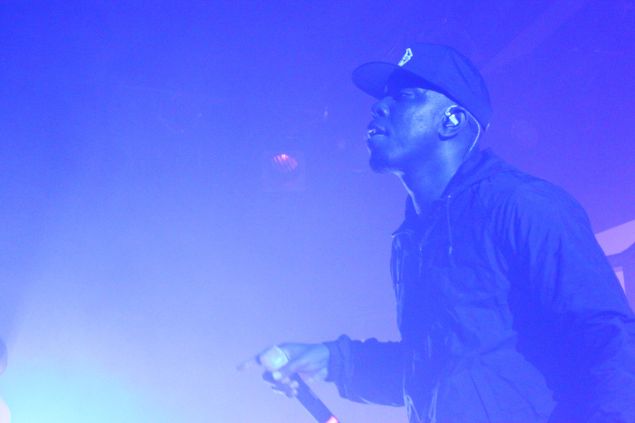 "Round We Go" came next, one of the Boy tracks Dizzee had never played live before, and the largely U.K. crowd around me lost it. A song about fucking as many women as possible, Dizzee's flow fell into nursery rhyme territory, highlighting his charming ability to sound playful and cavalier about anything. During this track it hit me—despite a solid discography and collection of future singles, this was Dizzee taking a genre that had only flourished in the form of single tracks and finding a way to make it work as an album. The Streets went for it too with his unique take on garage, but his cockney was too distracting.
In the years since, Dizzee will be the first to admit that his love of electronica has pushed his music more toward dance than rap, and the music he's made with EDM fucboi Calvin Harris offers further proof. So, whether he performs it again and again ad-nauseam over in London to capitalize on Grime's resurgence, Boy's live performance gave Dizzee a solid reason to work on showing off his flow again.
"As far as my album, I wanna rap," he told Complex. "I really wanna rap. I've missed that side of it. I was still rapping on my last album but that consistent rap album? That's what I'm into…The world's changed since Boy in Da Corner. The area that I come from is not the same. I don't want to be rapping like it was. This album is gonna be more based on the U.K. and how it's changed. That's my aim."
Maybe he will come back to Williamsburg when that album drops and remind us all that such gentrification narratives are universal. Dizzee's not naive in thinking that he can go and recreate an album with this much youthful fervor and aspiration again, but he still sees the value in playing Boy to remind us all of just what's changed.
When Dizzee applied his wit and flow to what he was seeing happen around him, the music world listened. And as we struggle to keep the spaces where raves and all-night ragers can still go down and turn up, we're grateful that, even if Dizzee doesn't have another Boy in him, the man still knows how to spit fire.