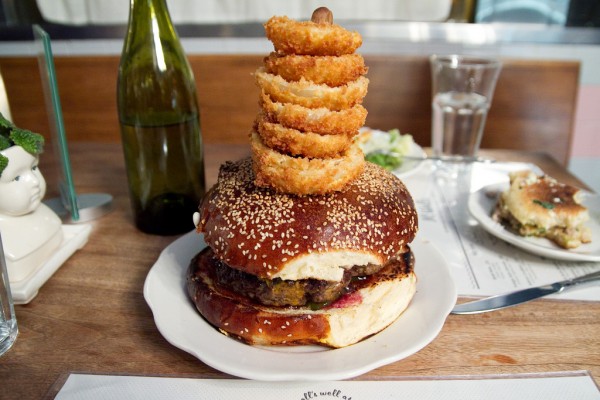 We all want to stay health conscious and stray away from foods that could be doing our bodies harm. With parties and backyard barbecues on the calendar in coming months, our minds automatically shift to burgers, a staple in most people's backyards. However we might want to limit the patties we put on our plates this year. Why would we want to limit our ground beef intake anyway? Safety might be one reason. There have been countless incidents of contaminated beef, and cases of E. coli related food poisoning over the years. Burgers are easily the biggest offender. If that hasn't made you think twice about cow meat, I'm not sure what will. But if you still aren't convinced then here are some more adverse effects of beef consumption.
Some more reasons to cut down on the beef:
Increased your risk of Alzheimer's
Can cause heart disease
Associated with atherosclerosis, or blood vessel hardening
Increases your risk of colon cancer
Increases your risk of Type 2 Diabetes
Can increase your risk of disease and infection through beef contamination
Increased risk of hormone related cancer and tumors
Vegetarians are known to live longer
Concentrated beef operations have a huge environmental impact
These beef side effects can be a scary thought for anyone. But don't fret, with lots of meat alternatives, there are still a ton of ways to enjoy a burger this summer. You can create some pretty flavorful patties using fish, turkey, mushroom, or vegetable combinations instead. Here are some ideas for healthy and tasty alternatives to the classic burger:
Chicken Burgers: Chicken burgers can be a bit dry and bland. But by adding mushrooms, barbeque sauces, or vegetables you can keep these patties bursting with flavor.
Turkey Burgers: A lot of people don't like turkey burgers, because much like chicken it can be dry and flavorless. You can get around this by adding red pepper, tomato or mayo to your burger mix.
Lamb Burgers: Lamb, especially the grass-fed kind, can contain healthy fatty acids, as well as vitamin B12, and zinc. This is a good source of protein without skimping on the flavor or juiciness.       If you want to be a true Greek, you can even opt for pita braid instead of a regular bun.
Black or White Bean Burgers: Beans are beneficial especially in support of a healthy digestive tract and colon. These small legumes provide a good source of fiber, regulate blood sugar and help lower cholesterol. An extra perk is they are high in iron and B vitamins – so if you are looking for a super healthy burger, this is the one to go for.
Tuna or salmon burgers: These high-protein burgers are a great alternative to beef while still tasting very meaty. Fish is high in good fat, clean protein and essential amino acids. Try to buy wild salmon or tuna to create an even healthier meal.
Portobello Mushroom burgers: Portobello mushrooms, topped with a cheese of your choice, offer a satisfying alternative to meat. These tasty fungi are high in B-vitamins, minerals and fiber.