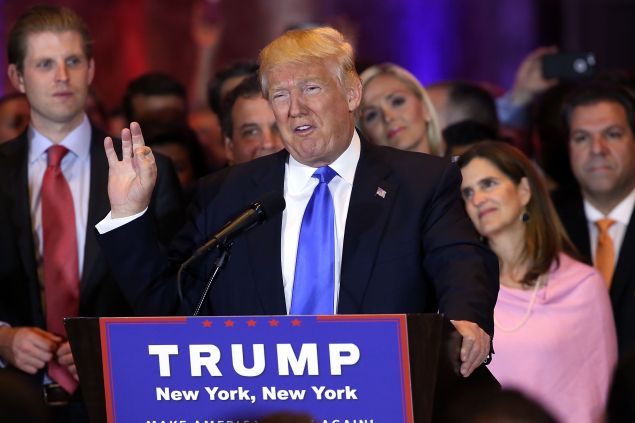 It's a long way to the Hoosier State from Fifth Avenue—so Donald Trump stayed home to celebrate tonight's victory and his solidifying position as the prohibitive Republican front-runner.
Mr. Trump claimed the state, his seventh conquest in a row, shortly after polls closed. Current estimates give him roughly 54 percent of the vote, and put him more than 160,000 ballots ahead of his top rival, Texas Sen. Ted Cruz. As with his triumph in New York on April 19, and his streak of wins last week in the Mid-Atlantic primary states, he held his victory party in the ornate lobby of his eponymous tower, even though he claimed "I thought 'maybe I'll never leave'" Indiana.
The magnate thanked and praised Mr. Cruz, who exited the race shortly before he began his speech—despite having long labeled the senator "Lyin' Ted" and insulted his wife and father. The Lone Star State pol's departure allowed Mr. Trump to focus his fire on presumptive Democratic nominee Hillary Clinton, citing a national Rasmussen poll released yesterday that showed him slightly ahead of her.
"We're going after Hilllary Clinton. She will not be a great president, she will not be a good president, she will be a poor president," he said. "We're going to win in November. And we're going to win big."
The Rassmussen findings are an outlier among the surveys that have shown even the controversial former First Lady to be more popular than the brash businessman.
Previewing his national strategy, Mr. Trump attacked the the free trade deals her husband signed in the 1990s and the legacy of corporate outsourcing, and promised a massive investment in American infrastructure—sounding at times like Sen. Bernie Sanders, the Democratic underdog. He also suggested plans to reach out to minorities on economic issues, who overwhelmingly favor Ms. Clinton.
"She doesn't understand trade," he said. "The Hispanics want jobs. Everybody wants jobs. The African-Americans want jobs. And we're going to bring our jobs back and we're going to save our jobs."
He also hit Ms. Clinton over her vow two months ago to "put a lot of coal miners and coal companies out of business"—and made an appeal to the white working class men of Appalachia and the Rust Belt who constitute the core of his support.
"The miners of West Virginia, and Pennsylvania, which was so great to me a week ago, and Ohio and all over are going to start to work again, believe me," he said, provoking applause from the elegantly dressed crowd of supporters behind him.
The win in Indiana automatically entitled him to 30 of the state's 57 delegates. The remaining 27 are distributed across Indiana's nine congressional districts, and go to the winner of the popular vote in each one.
It appears at present he will take at least 21 of the locally-awarded delegates, and he predicted from the podium that he would sweep all 57 by the end of the night. The victory has secured him a minimum of 1,047 delegates total.
Most experts viewed Indiana—mostly white, religious and deeply conservative—as Mr. Cruz's last, best chance to deny Mr. Trump the crucial margin of delegates the real estate mogul needs to hit the 1,237 required to clinch the GOP nomination ahead of the July convention. But the belligerent billionaire outpaced the Tea Party icon in polls in the final days before the vote, and defeated him outright tonight.
Trump campaign manager Corey Lewandowski called on the other candidates to drop out and allow the frontrunner to wage a campaign solely against presumptive Democratic nominee Hillary Clinton.
"We would love for Ted Cruz and John Kasich to leave the race and unite behind Donald Trump so we can have a unified party moving forward," Mr. Lewandowski told reporters at Trump Tower before Mr. Trump appeared. "It's a fundamental question: do you want a Republican in the White House, or do you want a Democrat in the White House? And the sooner we unite this party, the sooner we bring everyone together, the better chance we have of success against Hillary Clinton and her machine in November."
Reince Priebus, the chairman of the Republican National Committee, indicated his acceptance of Mr. Trump as his party's nominee over Twitter.
"@realDonaldTrump will be presumptive @GOP nominee, we all need to unite and focus on defeating @HillaryClinton #NeverClinton," he tweeted.
But the Kasich campaign announced shortly after the results came out that it would continue its quest for the presidency. The governor has won only his own state and not enough delegates remain for him to secure the GOP line before the summer conclave, but the Buckeye State pol has insisted that he has a shot in a contested convention—an event that becomes increasingly unlikely as Mr. Trump continues to win states and delegates, and without Mr. Cruz in the race.
"Tonight's results are not going to alter Gov. Kasich's campaign plans. Our strategy has been and continues to be one that involves winning the nomination at an open convention," Chief Strategist John Weaver declared via email. "Gov. Kasich will remain in the race unless a candidate reaches 1,237 bound delegates before the convention."
Updated to reflect the latest vote and delegate totals, and to include comment from Mr. Trump, Mr. Lewandowski, Mr. Priebus and Mr. Weaver.
Disclosure: Donald Trump is the father-in-law of Jared Kushner, the publisher of Observer Media.