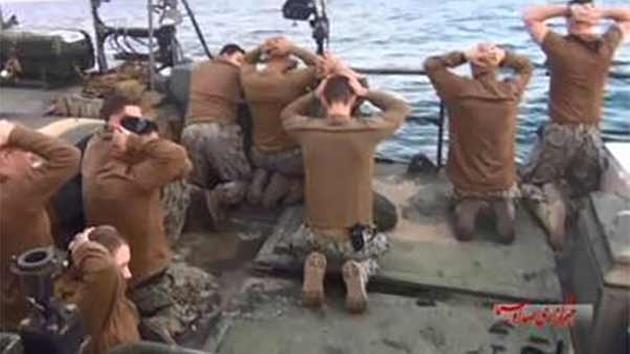 The image of 10 U.S. Navy sailors kneeling, with their hands held over their heads—their Iranian captors standing over them—remains both disturbing and unexplained. Two weeks ago, in a barely noticed story, the Navy announced that it was punishing the officer in charge of the riverine boat crew training.
That there were operational failures is clear: the two boats went off course and one apparently broke down. That a mid-level officer is being held accountable for training failures under his command is a testament to the culture of responsibility that brings honor—and success—to the U.S. military.
But there are two bigger questions that still need to be answered: first, what were the rules of engagement that the young sailors on the boats were operating under? And second, who gave that order to surrender?
'Those were sovereign U.S. vessels, they had the right to be where they were and they should not have been seized.'
Had the two boat crews been better trained, they would not have gone off course—perhaps entering Iranian territorial waters. But once they did, and were approached by hostile Iranian forces, what were the Americans' orders? Were they supposed to resist giving up their boats, even at the cost of lives or an international incident? Or were their orders to surrender in order to avoid escalation? Did they communicate with their commanders aboard the carrier flagship? Were they told to stand down, or was that a decision a junior officer on board one of the gunboats made independently? If the former, how high up the chain of command did the decision go? To the admiral? To the central command chief? The secretary of the Navy or Defense? To the White House?
Admiral John Richardson, the chief of naval operations, testified before a Senate committee in March about the incident. In response to questioning by Sen. John McCain, Adm. Richardson said, "According to international law, there was no authority to board those vessels—those were sovereign U.S. vessels, they had the right to be where they were and they should not have been seized."
The Navy has said it might take a year to complete its investigation. Whether that report will be released or held tightly under wraps—whether out of concern for real national security issues or political embarrassment—we don't yet know.
Congressman Randy Forbes, the chairman of the House Armed Services Subcommittee on Seapower, has received a full, classified briefing. "I think that when the details actually come out," he said, "most Americans are going to be kind of taken aback by the entire incident, both how Iran handled it and how we handled it."
The Navy has begun to hold people accountable for this unfortunate and dangerous incident. We trust it won't end with a mid-level officer—at least in the Navy. The bigger questions are whether political decision-makers will be held to a similar standard; and whether the Navy has been told to abandon "Don't give up the ship!"