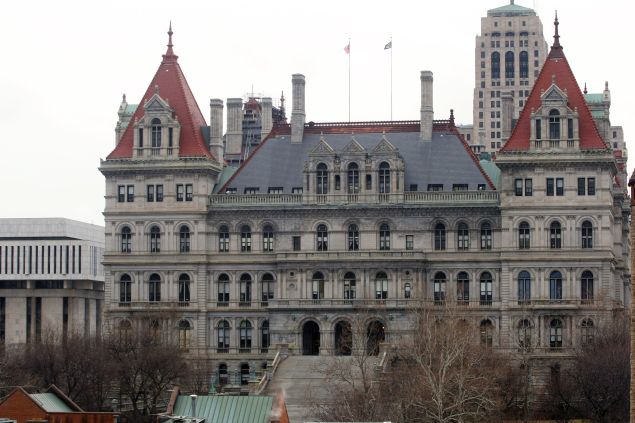 Former Assembly Speaker Sheldon Silver was sentenced to 12 years in federal prison this week. The punishment was a bit surprising to many; after all, Shelly was only doing what generations of Albany politicians have been getting away with.
This coming week, former Majority Leader of the New York State Senate Dean Skelos will be sentenced in the same courthouse; and a week later, John Sampson, a former leader of the Senate Democrats, will learn his punishment as well. Just across the courtyard at One St. Andrews Plaza, U.S. Attorney Preet Bharara's staff is investigating cronies of Gov. Cuomo—the only one left standing among Albany's notorious three men in a room—and Mayor de Blasio's fundraising team.
While Silver and Skelos are donning prison pinstripes, they will still be enjoying their state pensions—$80,000 and $95,000 every year.
What is it about New York politics that makes it so susceptible to—or ripe for—corruption? Certainly the size of the state budget makes it a very tempting target. In fact, we challenge you to figure out just how much state spending there is—or where it's going. Try to Google "New York State budget" and see how long it takes you to figure things out. Better yet, try reading the governor's 194-page budget briefing book. Understand it? We're still trying to find the total number. But we're feeling generous, so here's a present: the Empire Center's SeeThroughNY budget app. The proposed disbursements for fiscal year 2017 are $154 billion.
Back to Silver and Skelos: while they are donning their prison pinstripes, they will still be enjoying their state pensions. Silver will be taking home nearly $80,000 and Skelos over $95,000—every year. There is something fundamentally wrong with that. And despite promises, year after year to correct it, somehow Albany legislators never manage to end the gravy train for their convicted brethren.
We have a simpler proposal: do away with pensions entirely for all New York elected officials. Elected office should not be a sinecure; it should be public service. Brief, selfless and in the public interest.
Other fundamental changes that might stem the ever-stinking tide of corruption deserve serious discussion and a statewide referendum—as soon as possible. They include term limits, a reduction in the power given to the assembly speaker and the senate majority leader, and the end of the legislatures' ability to redraw their own and congressional district boundaries. (That power should reside with an independent commission.) If elected officials had less time and fewer tools to figure out how to manipulate the system, we might thwart the temptation or character defects that seem to plague Albany. We certainly cannot continue with business as usual.