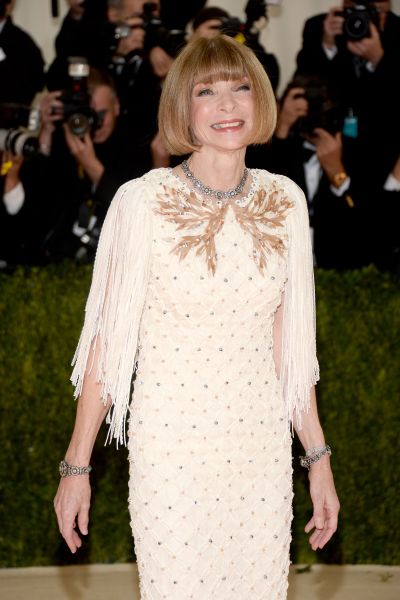 As tradition would have it, Anna Wintour arrived as the first guest of the evening at The Metropolitan Museum of Art's annual Costume Institute Gala earlier tonight. She was, after all, raising funds for an institute which bears her own name – The Anna Wintour Costume Center. The institute is led by Head Cutator Andrew Bolton, who selected Manus x Machina as the guiding theme for both the exhibit and the dress code this year. 
At exactly 5:50 PM Ms. Wintour made her way from the nearby Mark Hotel, the home away from home for most of the Met Gala guests, and ascended the museum's front steps clad in Chanel joined by her daughter, son, and daughter-in-law, Bee, Charlie, and Elizabeth Shaffer respectively. "It's a well oiled machine," Vogue Magazine's Director of Communications and Ms. Wintour's right hand Hildy Kurik, wearing Lanvin, said before the litany of celebrity arrivals ensued. "I've been doing this for four years. I'm like the newbie, the freshman! There are people who have been doing this for almost 20 years, so we really know how to do it, but there are always unexpected challenges with any event like this – a wedding, a bat mitzvah, a Met Gala."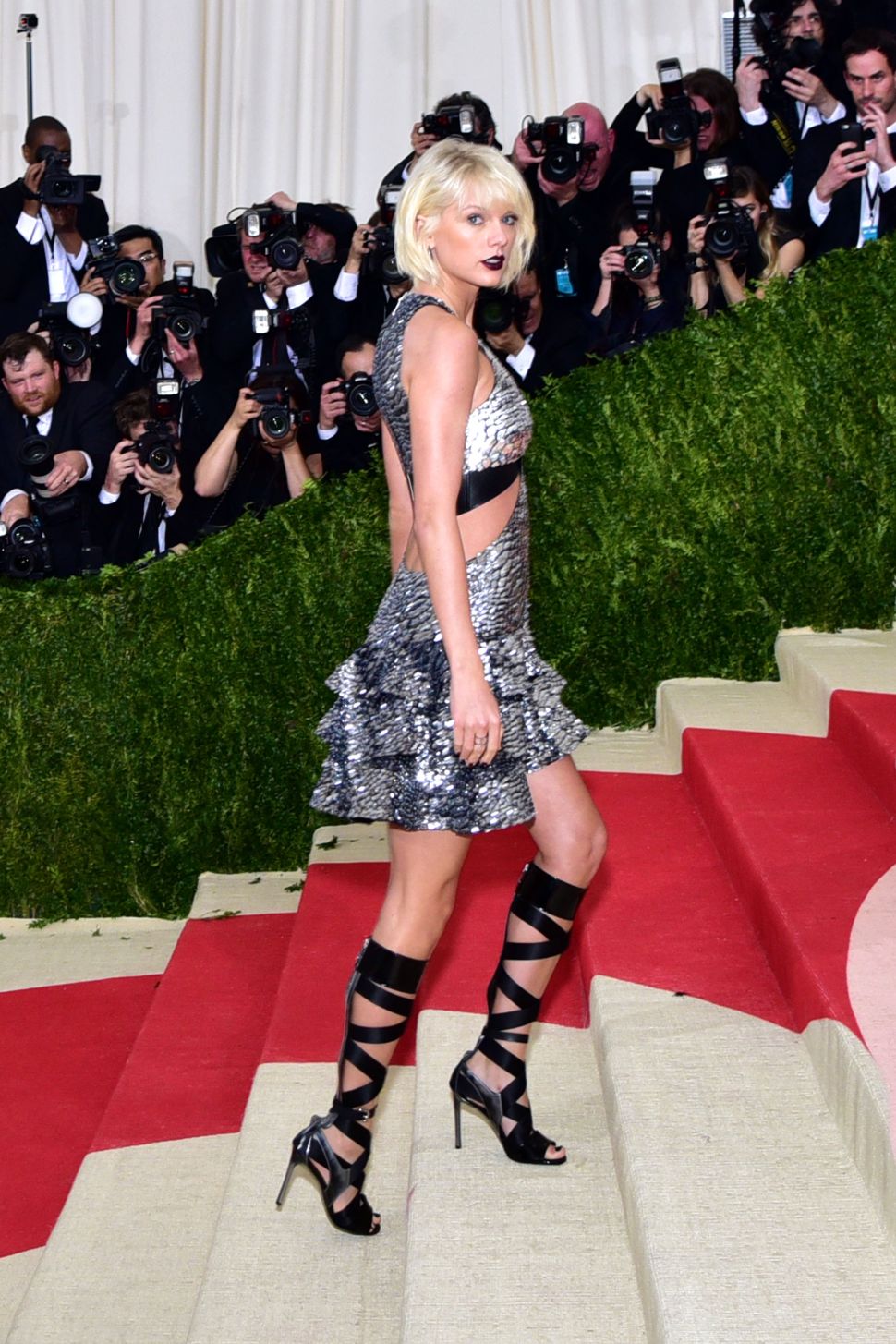 If there were any large hiccups, they went unnoticed. However, there were, of course, the usual hazards female guests encounter thanks to a deathly combination of flowing gown trains, sky high hells, and, worst of all, stairs. Instagram exec Eva Chen's Christopher Kane gown lost a tassel as it latched on to the carpet, and Michelle Williams grew so self-conscious of her daringly short Louis Vuitton look that she sped up the stairs, using her purse to cover her rapidly emerging assets.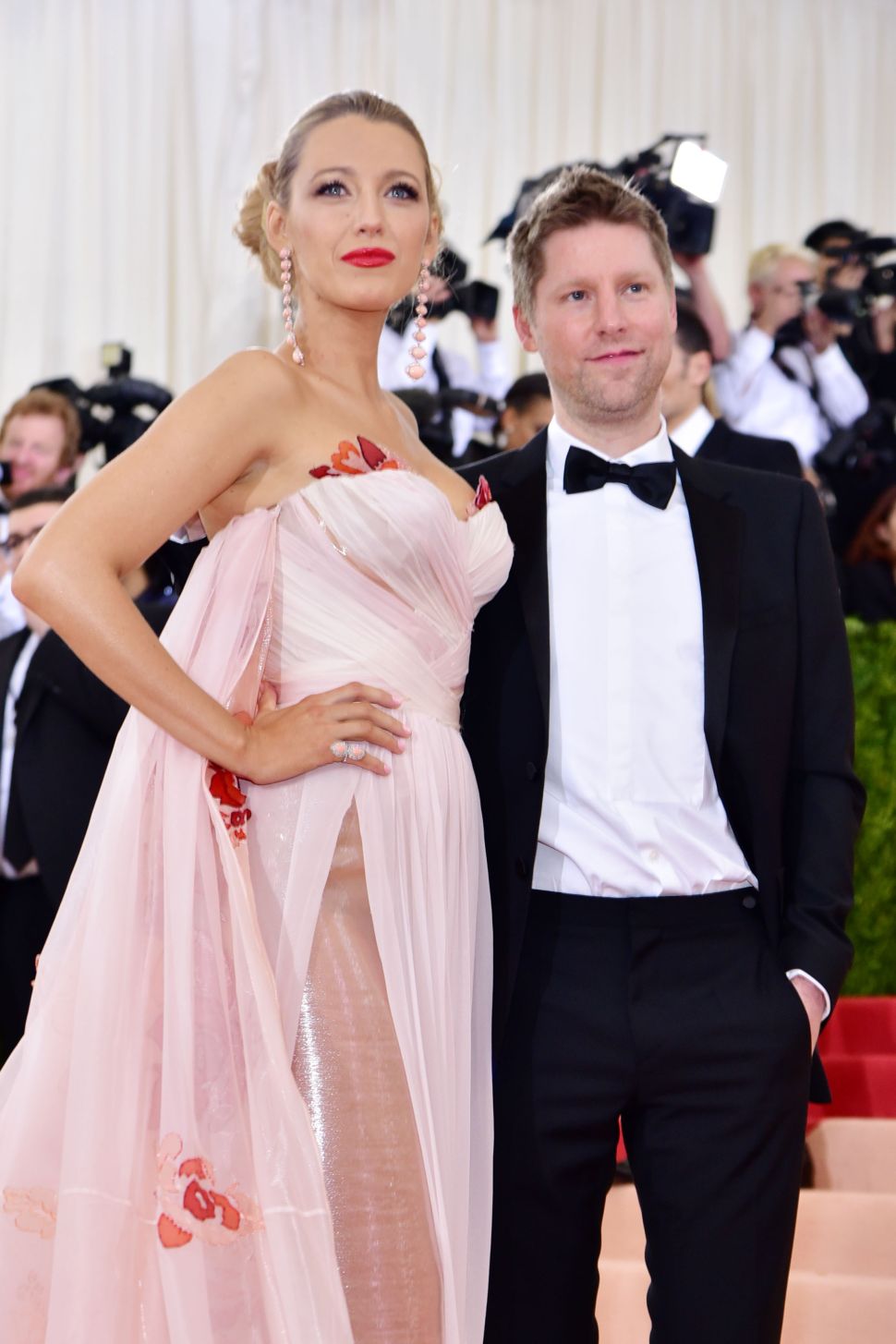 The evening also continued its informal title as the "fashion prom" thanks to several brand pairings between the likes of Alicia Vikander and Louis Vuitton's Nicolas Ghesquiere, J.Crew's Jenna Lyons in matching menswear looks with Lena Dunham, Gucci's Alessandro Michele with Jared Leto, Florence Welch, and Charlotte Casiraghi Grimaldi, Alexa Chung and Elle Fanning with Thakoon, Blake Lively with Burberry's Christopher Bailey, and, to top it off, Marc Jacobs with Bette Middler, who quickly emerged as the crowd favorite.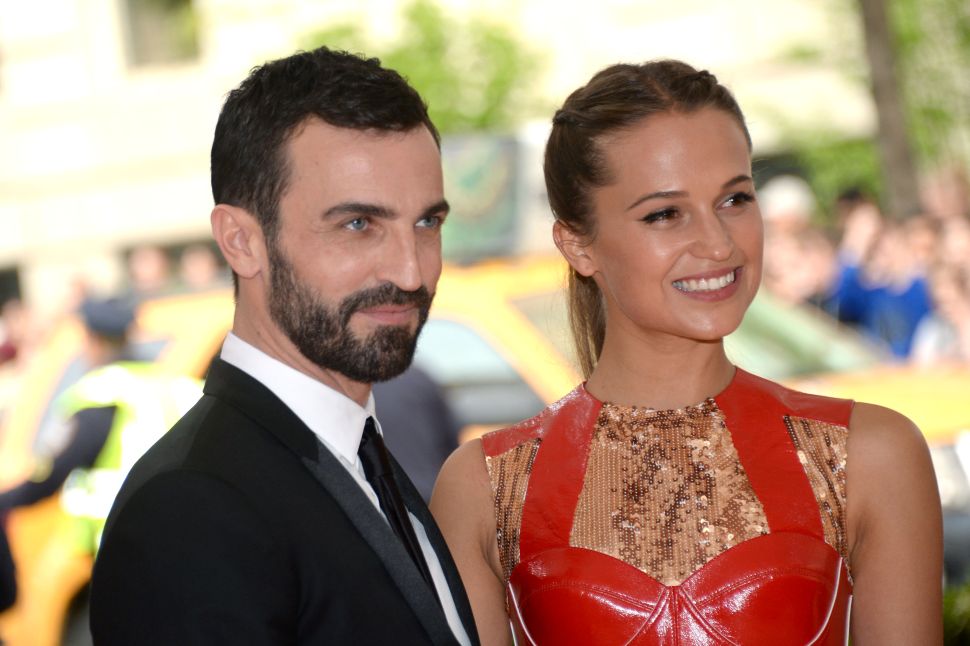 Thankfully there were real, unpaid couples too. Bradley Cooper arrived hand-in-hand with girlfriend Irina Shayk, Ben Stiller, who was jokingly heckled by the crowd as Derek Zoolander, with wife Christine Taylor, and Gigi Hadid who wore matching Tommy Hilfiger looks with her boyfriend Zayn Malik. Supermodel Kate Upton also used the massive media event to announce her engagement to baseballer Justin Verlander, but these bombshell couples mixed oddly with tech-world luminaries like Apple's Jony Ive and Tim Cook and Tesla's Elon Musk who all slinked through the museum's doors. They seemed unimpressed by the spectacle, including Lady Gaga who towered over them all on thick combat boots and blonde bouffant hair. "Hey, remember me?" Ms. Gaga yelled as she approached the International Herald Tribute's Suzy Menkes, sliding by a handful of tech-world billionaires. 
Sarah Jessica Parker, who arrived on the arm of Andy Cohen and designers Fernando Garcia and Laura Kim of Monse, had perhaps the most cerebral ensemble of the evening. The tailored men's look was inspired by Hamilton, after Ms. Parker developed a love for the "first act coat" worn by Alexander in the smash hit play. It was not outright futuristic, and instead represented a time period when man and machine came together. The 18th century coat was sourced from a vintage archive and made modern by the Monse designers using their own exacting eye along with some painstaking hand embroidery by Le Studio Anthost in Brooklyn. "I've seen it a few times, so you start looking at individual pieces, and I was watching with a keen interest in the men's suiting," Ms. Parker recalled of her most recent viewing of Hamilton with her two daughters and husband, Matthew Broderick. "Literally I was like, 'That's what it is! That's what I'm doing for The Met.'"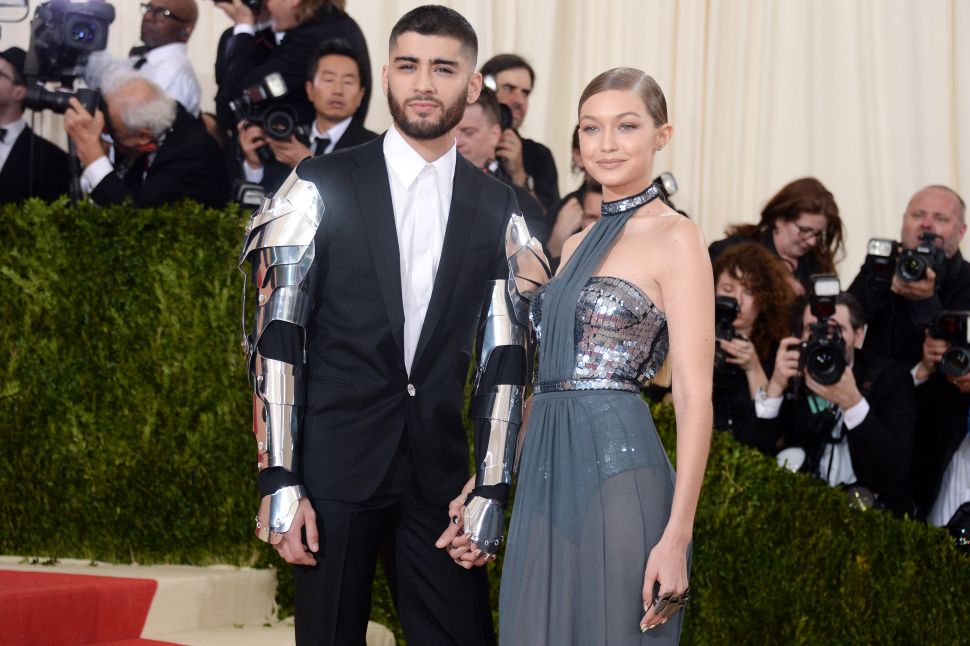 Those who did not adhere to the tech-heavy dress code included Uma Thurman, who wore a simple white column dress "made from scratch" by her pal Tommy Hilfiger, adorned with a massive diamond broach. "It came from a museum," Ms. Thurman said of the accessory. "It's vintage Cartier, but I think the dress selected the broach or the broach is wearing the dress." Ivanka Trump avoided all metallic gimmicks and went for a powerful red jumpsuit designed by Ralph Lauren. "It's certainly not the theme tonight, but I love it," she said with a smile. Maria Sharapova followed suit in a striking red gown by Juan Carlos Obando.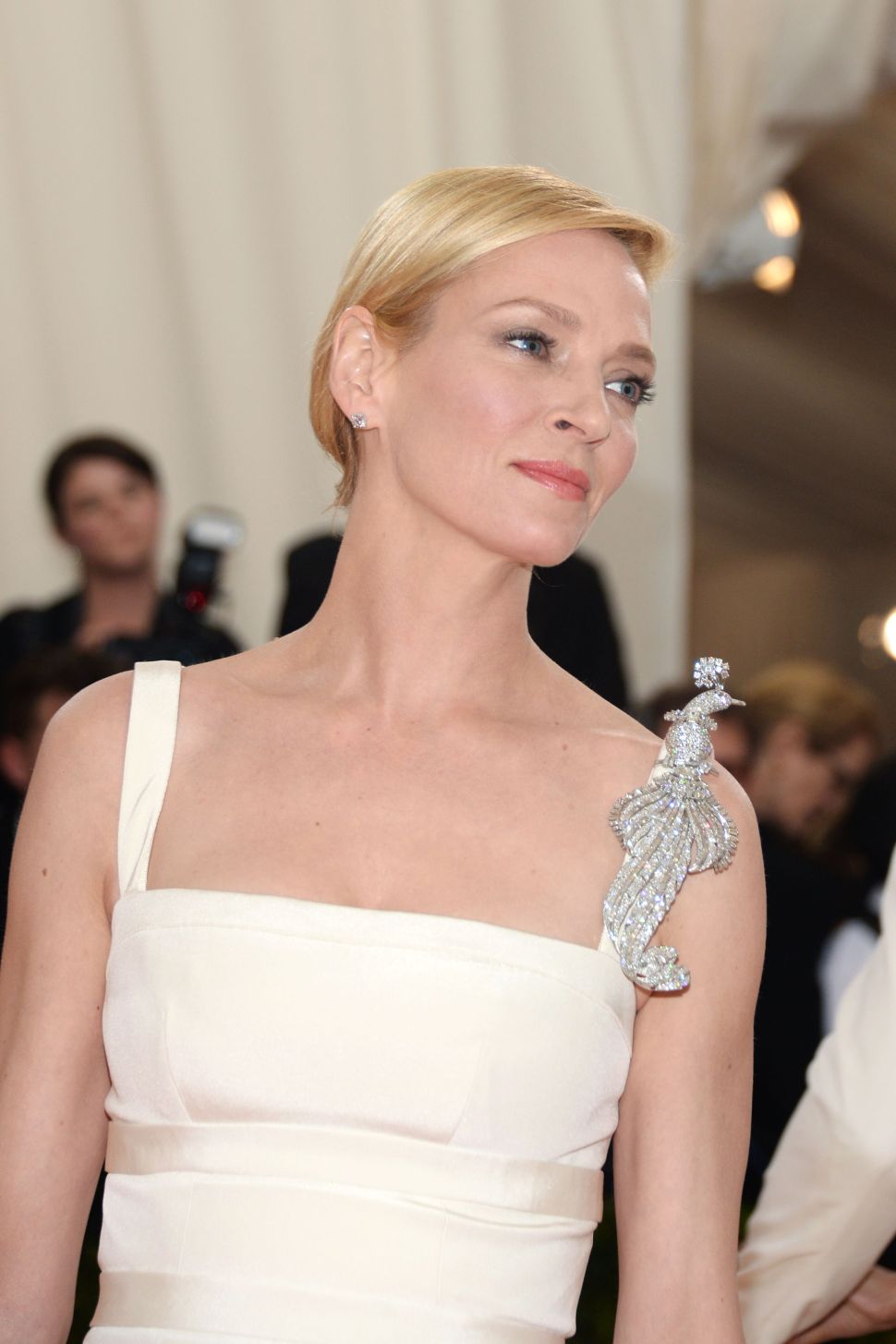 The Kardashian-Jenner clan arrived at tactfully staggered times, with Kim Kardashian and Kanye West aptly bringing up the rear. Ms. Kardashian shined in her metallic gown while Mr. West threw the black tie dress code to the wind, arriving in ripped, light-wash jeans, and a rhinestone embroidered denim jacket topped off with a pair of icy, sky blue contact lenses. The entire family wore Balmain save for Kendall Jenner, who opted for a skin-tight Versace frock. While she was rushed through the entrance by her handlers, she did make a point to stop and greet Leonard Lauder, the 83-year-old magnate behind the Estée Lauder empire. "The theme tonight is adventurous and great. Look at how the women are dressed," Mr. Lauder said gesturing toward Ms. Jenner as she dashed inside. "If it had just been another designer, it would have been the same, but this is over the top. It's great." Apart from the Kardashian-Jenner family, the only guest who elicited an even bigger roar from the crowd standing outside was the evening's co-hostess, Taylor Swift, who arrived to a sea of flashbulbs reflecting off of her short Louis Vuitton dress and thigh-high lace-up stilettos.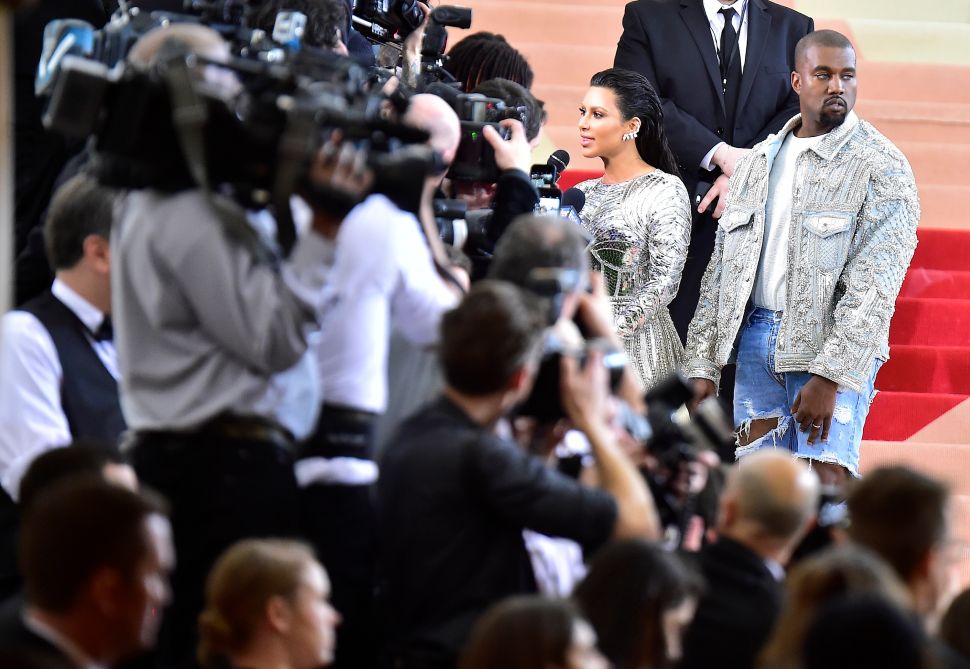 In addition to Anna's early arrival, Beyoncé swanned in as the predicted final arrival of the evening. She was clad in Givenchy by Ricardo Tisci, and was joined by her stylist, Ty Hunter, who flattened her train for photos. "It's actually a lot easier than last year," Beyoncé said of her 2015 Met Gala gown, which she struggled with despite several helping hands. Her entrance was noticeably calm. While she looked stunning, she was, however, missing one glaringly absent accessory: her husband, rapper Jay-Z.