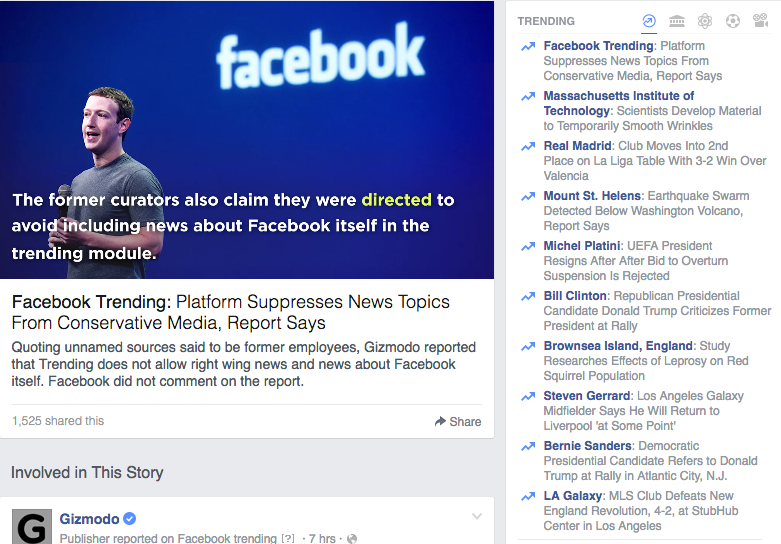 A Gizmodo story that claims Facebook workers behind the "Trending" news section on Facebook routinely suppressed certain stories became a top trending news topic on Facebook.
The piece, which was published Monday morning, cited an anonymous former "news curator"—a sub-contracted position that entails selecting and writing descriptions of news topics that appear on the upper right corner of the screen—who alleged that workers on Facebook's trending news team often used deliberately did not include stories about conservative topics in the list of trending stories.
Many of the curators who spoke to Gizmodo contend that burying conservative news was due to the workers' own bias rather than a corporate mandate. Still, the allegations of editorial judgements made by humans run counter to Facebook's narrative that its list of trending topics is a result of an algorithm.
"It was absolutely bias. We were doing it subjectively," a former curator told Gizmodo. "It just depends on who the curator is and what time of day it is," a former curator told Gizmodo.
However, several former workers also said that they were instructed to avoid posting stories about Facebook, even when those stories were, in fact, popular on Facebook.
"When it was a story about the company, we were told not to touch it," another former news curator said. "It had to be cleared through several channels, even if it was being shared quite a bit. We were told that we should not be putting it on the trending tool."
But by the end of Monday, the brouhaha sparked by Gizmodo about Facebook's "Trending" section was at the top of Facebook's "Trending" section. Some stories are better not ignored. Facebook also issued a statement, highlighting its politically neutral policy.
But the entire controversy highlights some of the unavoidable problems with employing human workers, even sub-contracted ones. Not only do they have an annoying tendency to behave like humans instead of algorithms, but they often end up leaking to the press.