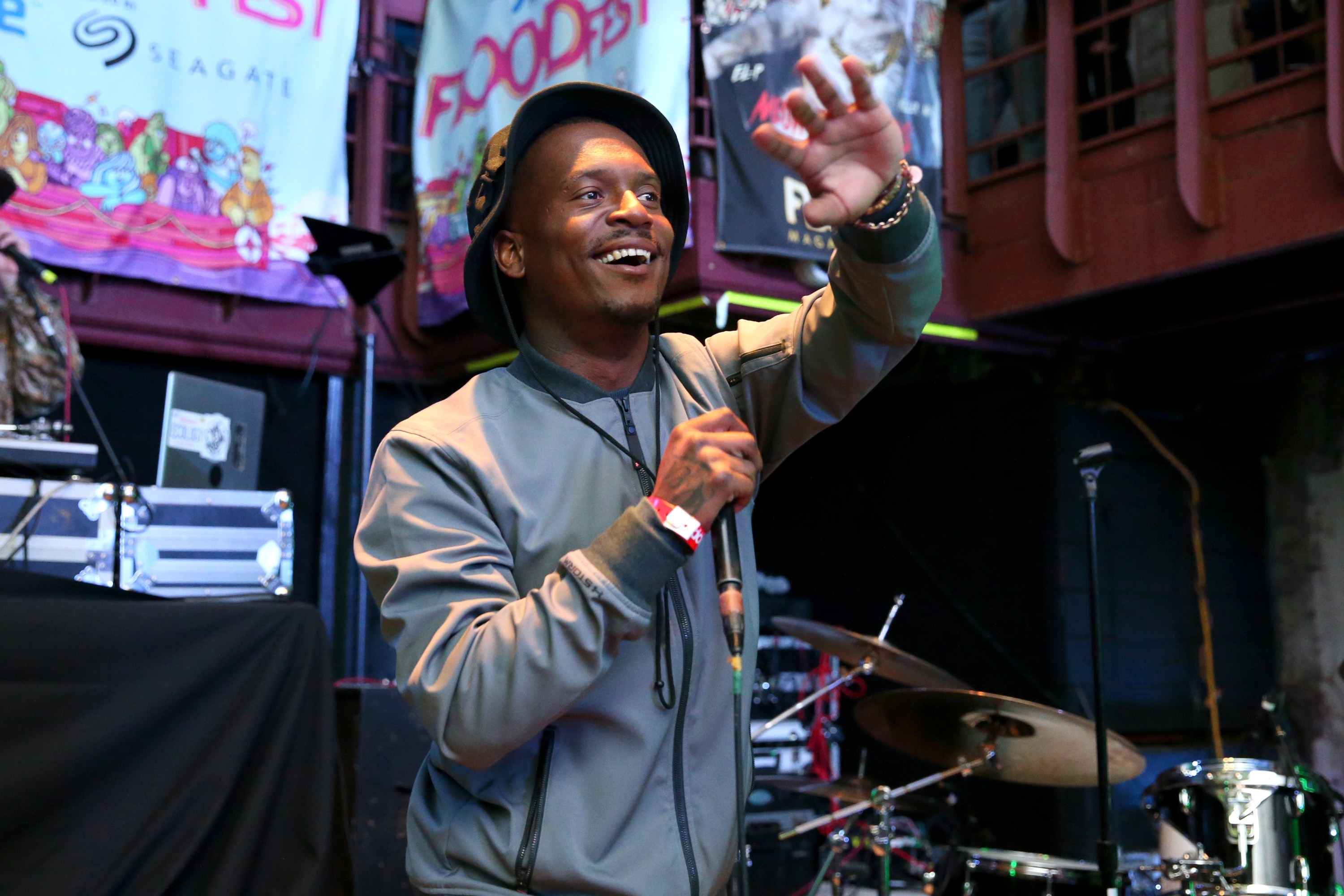 Two hours south of my hometown of Modesto, Ca., is the city of Fresno. With a population just north of 500,000, it's colloquially referred to as "bigger Modesto". It's a fair enough description, as both cities share an agricultural heritage and have fallen on hard economic times. Forbes has them ranked back-to-back as some of America's Worst Cities For Jobs. And if that weren't enough, a quick Google search has the neighboring cities on a wide array of unflattering lists like Men's Health "Drunkest Cities in America."
In the midst of Fresno's bad press stands Santiago Leyva, better known in the hip-hop community as Fashawn. His 2009 debut, Boy Meets World, received wide acclaim, with XXL Magazine saying "(it's) a strong debut from such a young MC, and it resonates a lot more than the work of some rappers decades his senior." Fashawn didn't disappoint with his second effort, as The Ecology received similar praise upon its release last spring. It's been nice to finally see Fresno—and the region—on the map for good reason.
Rappers have long had love affairs with their hometowns. For example, Jay Z gave us "Empire State of Mind" and Chris Martin helped Kanye West serenade Chicago on "Homecoming". So Fashawn's love of Fresno is no surprise. His style is fueled by his rough upbringing and his unconditional love for his hometown. As he said; "I want that to be respected and accepted. It's a privilege and a responsibility. Especially coming from where I come from, where there aren't too many role models or people of positive influence."
As he told me last year;
"I have Cen-California tattooed on my fists…I did that to be able to carry my region wherever I go."
He is a humble guy. Our conversation last year revolved around Bay Area Sports teams and our mutual love of In N Out Burger. It's as if he were oblivious to the fact that he was the first artist signed to Nas' label Mass Appeal. (For context, this would be equivalent to being the first person poached by Elon Musk for a new startup or being the first writer for a new ESPN Project).
As a fellow Central California native, I'm proud to see Fashawn in the spotlight. He's the perfect ambassador for the region. What is more, I envy his ability to channel his upbringing as fuel for his art and his music. It was unfortunate I couldn't contribute to Modesto in a similar way. I returned home from college in San Diego in 2010, with a desire to be part of the city's fabric and community. I was hoping to find inspiration and connection. I romanticized my homecoming and fancied myself a sort of Mexican-American Cincinnatus.
Back then, I conceived of the idea of home from an egocentric point of view. I projected my ideas, hopes and dreams onto a city that had changed in its own way. To me, Modesto wasn't as much a physical city as it was an idea of a city.
In his wonderful essay for TIME Magazine Kareem Abdul-Jabbar says "…in our disillusioned mind, 'home' becomes a romanticized symbol of our innocence, in which we dreamed limitlessly and were loved unconditionally." Therein lies the challenge in our relationships with hometowns; our version of "home" exists only in our heads. So, paradoxically, no matter how many times I visit Modesto, as I can never go home again.
For someone who didn't date much in college, this realization was the first heartbreak of my life. In that summer after graduation, I expected things to be the way they were, the way I remembered them. But I had changed and so had Modesto. In thinking back to the "good ole days", I completely ignored the challenges and discomforts of growing up there. It's a narrative fallacy, filling in the gaps of a tough hometown with idyllic memories of listening to music at the Bridgewood house or going to orchard parties on Friday nights after football games, conveniently glossing over the disappointment and incongruence of Modesto that first led me to move away.
I'm not implying I was too good for the city or that P. Wexford's is boring. The harsh (and humbling) reality was that my goals and ambitions were not aligned with what Modesto had to offer, or that I didn't have the love and sense of belonging to make them work. So after two frustrating years, I moved out once again, this time to the Bay Area to work for a little startup called Waze.
Despite my notebook of raps from seventh grade, I'm not one of the hottest rappers out. (Yet.) Also unlike Fashawn, I no longer live in my hometown. But Fashawn and I have the love of our cities in common. I want to make Modesto proud. It was the city that raised me and gave me a set of values. Modesto has a bad reputation. So I hold myself to a higher standard since my city doesn't have many role models. Not to say I am one, but I practice being deliberate in how I carry myself because of the city's negative connotation. It's a small part, but it's my responsibility.
For those of us who spent the majority of our formative years in one city, relationships with our hometowns can be complex. Often times we have to move to another city or state to pursue our dreams and accomplish our goals. Consider yourself lucky if you love technology and grew up in the Bay Area. Most of us, like myself, had to leave the comfort of home to sculpt the best version of ourselves. But whether we stay or go, it's important to remember where we are from. For as challenging as our upbringings were, those cities and towns are part of our fabric, of our DNA. And if you choose to make the best of the "material", it will help on your journey, whether you're making critically acclaimed rap albums or negotiating deals in South America.
Eric M. Ruiz is a writer and strategist for Waze, the Social GPS and Navigation app that was acquired by Google in 2013.  A native of Modesto, Calif., Eric currently resides in New York City.  Views and opinions are his own.