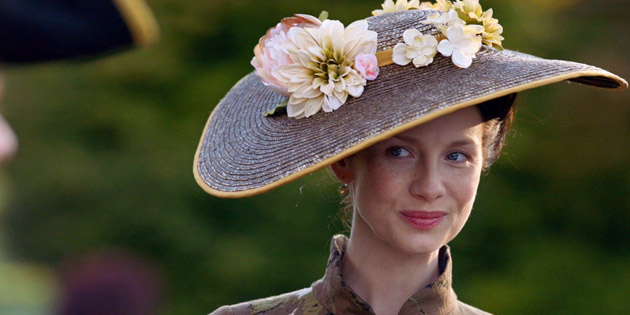 Welcome to our TV Fashion column, where TV Ate My Wardrobe's Emma Fraser discusses the trends in television apparel. This week: Fashion and style throughout time(travel). 
Switching out the highlands and tartan on Outlander for Paris and grand frocks takes us on a time travel adventure through fashion history by way of Dior's iconic New Look from the 1940s. One link between Claire Fraser in the 18th Century and Claire Randall in a post-World War II climate comes in the form of what she wears and Outlander costume designer Terry Dresbach looks to Christian Dior in the same way Dior looked to the fashion in France from two centuries previous. Styles repeat and get reinterpreted; historical ventures such as Outlander play with the look of the time and what has come since and in this case the visual spectacle is as big as the full skirts on each of these incredible outfits.
Every costume on Outlander features intricate workmanship that goes way beyond what we can see on screen, HD or not. Luckily for us, Terry Dresbach has an incredibly in-depth blog that not only shows the inspiration behind certain pieces but also includes sketches, mood boards and close ups of the garments in question. It is an invaluable resource that showcases the attention to detail of these garments from character motivation to story.
With Claire's French collection Dresbach explains why she embraced the New Look:
"There is a commitment to a time, a place, and a marriage. [Claire] is committing to remaining in a time that is not hers. But the heart of the story is still Claire, and how she maintains that heart in another century. This is not the story of the woman who gives up her identity easily. So it seemed essential that once again we look back to the 1940s for our inspiration."
Claire might be a woman flung out of her time, but this keeps her tied to her present beyond her original wedding ring. The items we have seen Claire wear in Scotland in the 1940s are very typical of this time period; a slightly plain silhouette, not too much color and reflecting a country recovering from war. What the Dior New Look did was shake things up in a big way; going back to nipped in waists and embracing an exaggerated feminine silhouette. So while Claire Randall has never worn these styles in her present day she does get to wear what inspired the New Look in the past where she currently resides.
With Claire's show-stopping red dress (a version of which was used as part of the Outlander season 2 key art) Terry Dresbach remarks that "the New Look has been reinterpreted so many, many times" and there are certain styles that fashion keeps coming back to. Dresbach also mentions how controversial the New Look was at the time; sometimes when designers look to the past the reception it can then be tainted with a tradition that is viewed as less than progressive.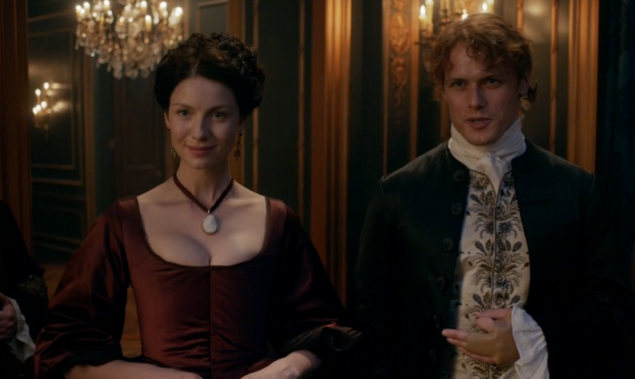 Which brings me to the current 90s fashion throwback we are currently in the midst of with varying degrees of "not that again" to "let me dig that out the bottom of closet please." I turned 13 in 1995 so this era gives me the nostalgia warm and fuzzies with equal parts shuddering at what was considered on trend. Seeing someone wearing a fanny pack as a going out bag in 2016 is just as nightmarish as seeing it in 1996 and while I loved a choker (velvet preferably) back in high school I am very glad this accessory has already hit its peak and been declared dead again.
Everything 90s is happening right now and this includes what we are watching, but it is the bleaker aspects of this decade that TV is focusing on with The People v O.J. Simpson: American Crime Story and Confirmation. Taking a look at recent history and the mistakes that were made illuminates just how far we have come with equal amounts of how much has stayed the same. Fashion is not the only thing that repeats, but there are things far worse things than chokers and anklets making a comeback.
If you're looking for the perfect marriage between time travel and 1990s nostalgia then may I suggest a Quantum Leap (re)watch (available over at NBC). You get the perfect mix of different periods of history all with a slight 90s interpretation of how we will be dressing in a future where leaping into other people's bodies is possible. If only this leap will be the one home.
Considering how many reboots and remakes there have been I am surprised no one has come up with a new interpretation of Quantum Leap and I would be more than happy to see another version of Dr. Sam Beckett travelling through time and changing history for the better. There is a lot to live up to, but with the right creative team and cast it could be really great. Plus they have 20 plus more years to leap through as this series ended in 1993. Maybe Scott Bakula can take on the Al role. Any dream Sam casting choices?
Television is a time machine (*cue an impression Don Draper pitching the Kodak Carousel or Ben Covington winning Felicity's heart with the aid of The Gold Rush*) letting us experience a decade you can remember or to somewhere long before moving pictures. Aspects that influence costume designers can vary from recreating a specific iconic look – particularly if it is based on a real person/event – to looking to pop culture from that period. With something like 11.22.63 costume designer Roland Sanchez told Fashionista that Hitchcock movies inspired both Jake and Sadie's looks and they weren't going for an exact replica of the time; "It's our interpretation of what that era is."
Production constraints can impact what costume designers have to work with as I found out when I recently spoke to Americans costume designer Katie Irish. Stunts mean multiple versions of costumes are needed and sometimes there just isn't this level of vintage clothing available even for a decade as recent as the 1980s. The same goes for when the same garment is required in several sizes for continuity purposes and viewers have maybe also noticed Elizabeth spending a whole lot of time in a tan Coach trench coat in recent episodes; this is one of the pieces that has been used to cover Keri Russell's real life pregnancy. It works because a trench coat from 2015 doesn't look out of place in 1983 and this iconic style has been worn for over half a century beyond its original wartime purpose.
This variety and mix of vintage, modern and custom give plenty of style inspiration pointers and the ability to mix and match decades. Fashion is cyclical and has always been repeating so Outlander using the late 1940s as a leaping off point for the 1700s can be backed up by the in-depth research we see on Dresbach's blog. And it isn't just Dior which links the past to what was Claire's present as her floral gown in the recent "Untimely Resurrection" has another mid-twentieth century element to it; Dresbach points out that "It felt like a 1940s chintz and fit into my overall scheme. Or it would be a riff on these fabrics from the mid 18th century."
Part of a casual day look can incorporate the past and present with Peggy Carter inspired accessories (sunglasses) with a nod to Kimmy Schmidt (colorful pants) and a Megan Draper star tee (via Sharon Tate in Esquire) which spawned countless Mad Men conspiracy theories that never panned out. For an evening outfit a different world and mythical creatures can give you necklace inspiration, your dress could be a wink to roaring 20s thanks to a Jane the Virgin fantasy sequences and your footwear from the early aughts courtesy of the shoe-obsessed Carrie Bradshaw. In 2016 you travel back in time via the shows you watch and the style choices they inspire; fashion looks to the past, present and future, which means we can do the same all without mystical stones in Scotland or a diner in Maine and the pressure to change the past.
Emma Fraser is the creator of TV Ate My Wardrobe and spends most of her time writing about TV, fashion and costuming; Abbi and Ilana's Broad City style, the wigs on The Americans and Mindy Lahiri's pajamas are just as vital as talking about '90s/'00s teen shows. Emma has a MA in Film and Television and she probably holds Angela Chase responsible for this path. You can find her on Twitter @frazbelina.