Cheers erupt as fans perched on the balcony of the Dolby Theater catch a glimpse of Cliff Curtis arriving on the red carpet. The iconic venue, home to the Academy Awards, is tonight filled with Fear the Walking Dead fans peeking at the stars arriving below. As Mr. Curtis walks the press line, his co-stars share their hopes that the 47-year-old New Zealander will be back at that same theater come February 26.
"I'm hoping…we see him nominated for an Academy Award. It's a great movie and he did an amazing job." " says co-star Rubén Blades. FTWD executive producer Gale Anne Hurd added: "It's one of my favorite movies of the year – phenomenal."
The movie they refer to–and the seed of that Oscar buzz–is James Napier Robertson's The Dark Horse, featuring Mr. Curtis' powerful portrayal of real-life, troubled speed-chess champion Genesis Potini.
Having already picked up a swag of international awards, the movie's long-awaited US theatrical opening has re-sparked Oscar hype with Variety touting Mr. Curtis as a Best Actor nominee contender. For the small-town New Zealand native, such talk is both humbling and just.
"It's frowned upon [in New Zealand] to talk ourselves up, but I really think with this movie we achieved something significant"
"I'm my own worst critic," he says, a week later at Hollywood's Broad Green Pictures. "I don't feel comfortable watching myself on-screen and it's not a big part of our culture to promote ourselves. It's frowned upon where we come from to talk ourselves up, but I really think with this movie we achieved something significant and it's worthy of that attention."
"In a lifetime of work," he continues, "it's an accomplishment I'm deeply proud of."
Yet the prospect of playing a character astronomically larger in size, experiencing the extreme highs and lows of bipolar amid gangs, violence and homelessness initially seemed unrealistically daunting. Mr. Curtis almost turned down the part.
"The physical side was really intimidating," he said. "I didn't relate to chess, it seemed like a very challenging role and I just didn't feel confident I could do it. I also didn't really understand what the story was."
After talking to Mr. Robertson and watching the Jim Marbrook documentary Dark Horse, Mr. Curtis discovered the "freight train" of a person that was Potini – a man who left his prison stint behind to make a better life for him himself while helping underprivileged children escape gang life and find purpose through his Eastern Knights Chess Club.
As he discovered more about Potini's story, the character went from "challenging to impossible", prompting Curtis to accept the role and embark on an intense transformation to gain around 60 pounds, with the help of his daughter.
"It's like a Raging Bull transformation," said Avatar director James Cameron before introducing the film at its Los Angeles premiere. "When you see him here and see him in the film, you're astonished."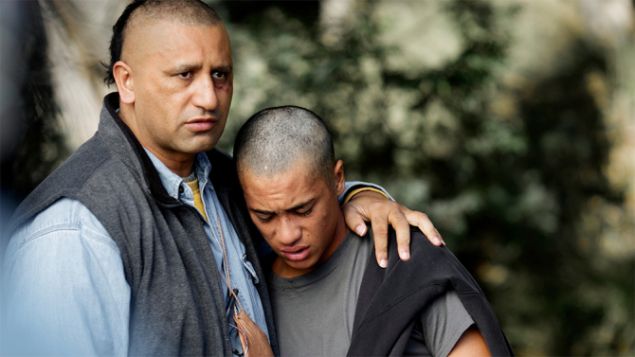 "My daughter gave me this regime," shares Mr. Curtis, a father-of-three who splits his time between the US and New Zealand. "She said that sumo wrestlers eat as much as they can, then go straight to sleep, so that was my strategy. It was fun to eat lots of confectionary and feel like you're accomplishing something by getting fatter – for a middle-aged man to go, 'I'm doing my job by getting hips,' is something."
Like Potini (who died while Napier Robertson was writing the script) Curtis started downing up to two dozen beers daily and staying up all night playing chess to understand the character's all-consuming obsessiveness with the game. The actor began to suffer sleep deprivation, anxiety, hallucinations and became so engrossed with the game that it "altered my state of mind and got a little scary." Mr. Curtis would keep his coaches up playing with him as long as they could stay awake, then revert to online chess.
His connection with Potini remains strong. He still plays chess for two hours a day and even brought his board to our interview so he could play with Mr. Robertson afterward.But it's the youngsters in the film who Curtis truly connected with.Asked at the Fear the Walking Dead panel where he draws from for the darker parts of Travis' arcs, Mr. Curtis responded "a troubled childhood!"
"Part of me as an artist is understanding my past and my troubles as a kid…I was a ward of the state. For a period of time, I was an orphan."
Later, he admits his tumultuous younger years play into every role he takes. His mother died in a car accident when he was three. His father, left nine children, was an alcoholic. After an occasionally violent upbringing, Mr. Curtis spent his teenage years as a job-hopping high school drop-out before finding purpose in acting.
"Part of me as an artist is understanding my past and my troubles as a kid, so in [The Dark Horse] I really relate to the kids," says Mr. Curtis. "I was a ward of the state. For a period of time, I was an orphan, so I understand what those kids have gone through and the temptation they have not to feel good about themselves and not to feel good about life.
Today, his greatest heroes include his family, who proved a crucial support in taking on Genesis. Mr. Robertson initially suggested Mr. Curtis spend time away from them to fully commit to the character. For Mr. Curtis, this wasn't an option.
"The biggest challenge with this role was not the physicality – it was how much love this man managed to exude wherever he went," the actor said. "I talked to many people from so many walks of life, who came into contact with Genesis and said he changed their lives just by meeting him. I was like, 'What did this guy have?'I narrowed it down to his sense of love. And for me, my greatest source of love is my family so that was my connection and the thing that helped me bring that into the role."
Of course, because of Mr. Curtis' method approach, his family "had to live with me as Genesis for a few months," he said. "I literally walked around the house with no teeth. They would wake up and there's a homeless guy in the kitchen."
Still, it's a role he relished despite its challenges, given his Hollywood success has largely hinged on villainous roles like in Blow and Training Day. This switch in gear continued beyond The Dark Horse into biblical drama Risen, in which Mr. Curtis plays, of all people, Jesus.
"It's a beautiful synergy happening for me as an artist. It's a blessing to play characters who represent love and compassion," Mr. Curtis said. "It was a gift that I got to play Jesus – a heart-centred man, who loves and wants to help others. And with Genesis, the work he was doing with those kids continues today. The Eastern Knights Chess Club is still going and just last night James [Napier Robertson] got a letter from a kid who was in a gang, watched the movie, and chose to change their life."
"It's the ultimate accomplishment as an artist," he continued, "to have our work as storytellers affect and change people's lives."