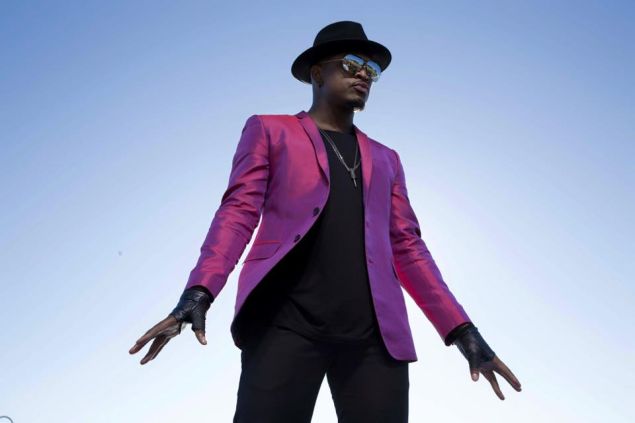 If this week's Brooklyn-wide inaugural Grammy Park event took you by surprise, you aren't alone.
Seemingly from out of nowhere, at the beginning of April the mega star-studded four-day event boasting artists with around 40 total Grammy nods was announced. Grammy Park is not only the first such Grammy-speckled event in the city, it's the first Grammy-branded multi-day live-music experience held anywhere.
Originally, around 30 performers were scheduled, with headliners like seven-time Grammy winner Toni Braxton, who will close Grammy Park with a performance at the Kings Theatre on Sunday evening, Robin Thicke, Ne-Yo, Christian McBride, and the Commodores on board. But just days before the event was to begin, the bill was slashed, cutting out the Social Stages, which was to feature online buzz artists, and the Latin Mix showcases completely. Also, Thicke's performance was switched to a private event. (No tickets will be sold for Thicke's gig, so take that one off your dance card.)
Grammy Park is organized by the California-based Recording Academy with the production company, Upsilon Ventures, which notably helms Winter Village at Bryant Park, Celsius at Bryant Park, and Lakeside at Prospect Park. At the time of writing, no representative from either organization was available for comment on the bill slashing.
Still, just because Grammy Park blew into town from out of nowhere (seemingly) and then shriveled (slightly) it's not like this event was thrown together at the last moment. Nor is it falling apart. Far from it, McBride, who performs on Saturday and Sunday, has been on board for months. "I was approached not only to perform, but to also be jazz advisor several months ago,'' he tells the Observer.
Indeed, the show will go on and over the course of four days the Prospect Park Bandshell, LeFrak Center at Lakeside, and Kings Theatre will host performances from artists in various genres, albeit within chart-topping types: heavy metal and experimental music fans will find little here. But it is the Grammys, after all.
Some concerts are ticketed, many are free, including Sunday's Gospel Concert at LeFrak Center featuring six-time Grammy winner BeBe Winans.
Three-time Grammy-winning R&B singer and songwriter Ne-Yo, who launches Grammy Park with a performance on Thursday at the Kings Theater with 11-time Grammy nominee Jazmine Sullivan opening, is thrilled to be part of the event. "I'm excited to be a part of the first one. The first is always best," he says from his home in Los Angeles.
Still, like any other performance, this is about delivering to his fans. He hopes to join Sullivan to perform their duet, "You Get On My Nerves."
"We haven't rehearsed anything, but this is the perfect time to do it. So, who knows? Also, I really want to do something special to remember Prince," Ne-Yo adds. "I have four kings who are my inspiration: Michael Jackson, Stevie Wonder, Sammy Davis, Jr., and Prince," he adds.
Ne-Yo once attended one of Prince's famous Grammy Awards after-parties: "We met in passing and though we never said much, what was said was very, very real. I'd just released an album and was getting a lot of negative comments. We locked eyes and he came across and without me saying anything, Prince said, 'It's a great album and don't let anyone tell you differently.' "
The Recording Industry, at the end of the day, is a peer-to-peer network all about supporting artists and the music industry. Grammy Park is not just about big name back-patting among winners and nominees, though: The Emerging Artists concert on Saturday at the LeFrak Center will feature buzzed about new blood with not a Grammy between them: Alex & Sierra, Chelsea Chris, Kevin Garrett and Morgan James.
[youtube https://www.youtube.com/watch?v=IkXyM1u69cQ&w=420&h=315]
Industry wise, Ne-Yo thinks a live event such as Grammy Park can only boost the ever-contracting revenue most artists are threatened with. "It's a different game now and having a high-profile live platform like this is another opportunity," he says. "And we need more opportunities than ever, right now."
Cash and careers aside, Grammy Park is the opportunity for music fans to hear great music and some of it for free: The Jazz All-Stars show, Saturday at the LeFrak Center, features the Commodores, Monty Alexander, Terence Blanchard and Kurt Elling and the Christian McBride Trio. It will notch up more than a dozen Grammy wins on its stage.
On Sunday, the Big Band Remix, another freebie at the LeFrak Center, features the Christian McBride Big Band with guests Jonathan Butler (two-time Grammy nominee) and Dianne Reeves (five-time Grammy winner). That's another dozen or so Grammy nods. Good thing Grammy Park isn't charging for tickets by the Grammy.
Big-name umbrella organization or not, at its heart Grammy Park is all about the magical exchange between musicians and songwriters, and also between performer and fan. Says McBride: "[It's] an opportunity for some great artists to play for some people who may or may not be familiar with their work, and also for me to perform with my band and some very special guests. I hope this whole event turns out to be a huge hit."