As the school year comes to a close, graduates clothe themselves in caps and gowns — the uniform of graduation — with the colors and insignias of their school. Uniforms are the timely subject of the Museum at FIT's latest exhibition, Uniformity. Curated by Emma McClendon, the exhibition explores the complex relationship between uniforms and fashion. "That push-pull between the two has always been really interesting to me," said Ms. McClendon.
A uniform is a visual indicator of one's function in society, a representative of the organization it signifies. In the military, one's rank, regiment and country is delineated in the uniform's color, symbols and medals. A school uniform could also give you prestige, particularly if your alma mater errs towards the exclusive. And while work and sports uniforms aren't necessarily about status (especially if you're wearing the uniform of menial laborers), they are about belonging, being a part of something bigger than yourself.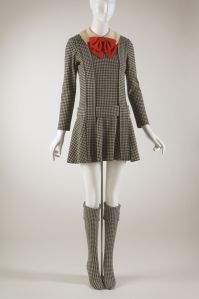 The exhibition is organized by different types of uniforms: military, work, school and athletic. Before you even walk into the small space, a giant screen displaying Thom Browne's 2009 presentation with dozens of regimented models in a giant, mock classroom, plays on a loop. The reference to fashion using military and school uniforms as inspiration is explicit, and is a teaser for the kinds of clothes you will see inside.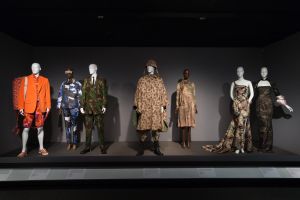 The bulk of the exhibition features military uniforms. "Designers are particularly drawn to military uniforms." Said Ms. McClendon. "Military uniforms are designed with a mind to empower an authority. Designers pick up on that, are drawn to that themselves, [and] want to give their models [and] their collections those feelings as well."
The various types of military uniforms are presented in contrast to the fashion they inspired. A mannequin dressed in a 1967 dark blue, double breasted Yves Saint Laurent coat stands next to a dark blue, double breasted short jacket worn by a member of the U.S Navy in 1981. A 1998 olive drab wool, sleeveless Comme des Garçons ensemble stands next to an olive drab wool uniform worn by a member of the WWII U.S Women's Army Corps.
There are also nurse and flight attendant uniforms for work, uniforms for Eton school, and an early football uniform for sports. The method of contrasting the real uniforms against the fashionable clothes is used here too (with the Ungaro football-inspired beaded gown being a highlight). The realization dawns that  many of the uniforms were designed for aesthetics as much as function, especially with work uniforms where the wearer is required to represent a  company. And they borrowed heavily from fashion trends to create the most appealing design. Fashion designers were often commissioned to create these uniforms. Notably, Stan Herman, the former president of the CFDA, figures prominently in the exhibition as a designer for brand uniforms, designing the TWA flight attendant uniform and even the McDonald's uniform.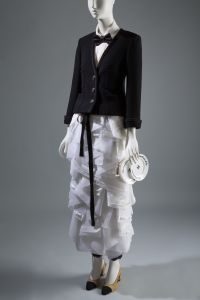 The relationship between fashion and uniforms is symbiotic, and each requires the other to function. Fashion needs uniforms to be a source of inspiration as it cycles through trends, to be the source of its subversive tendencies. But uniforms also need fashion, creating practical, yet attractive garments by borrowing from the rapidly changing trends.