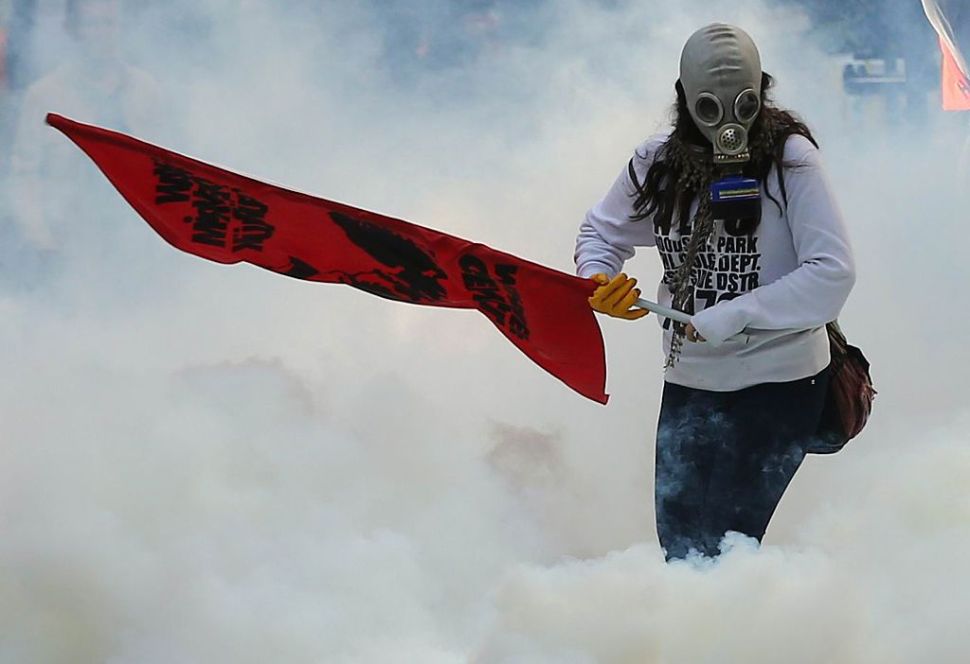 Here's something I know to be true: not all protests get into the newspaper. Formerly, I had a career convincing groups of people to meet me at different places and wave signs, for causes. My colleagues and I raised a decent amount of hell that no one ever wrote about. So it goes. These days, whether a protest does make the news or not, it shows up online anyway, because the organizers share it themselves.
In a new paper, researchers have shown that by plugging into the photo sharing site Flickr, they were able to find that protest photos ticked up in countries when real protests were going on (using media accounts to ground-truth that real protests took place), suggesting that social media could be a cheap way to monitor human behavior. Research team member and PhD candidate Merve Alanyali told the Observer in an email, "Our initial question was 'Can Flickr be used as a fast and cheap way of monitoring real world events?'" The short answer: yes.
Who needs surveillance cameras when we post the photos ourselves? 
Ms. Alanyali and two collaborators from the Data Science Lab at Warwick Business School, Tobias Preis and Suzy Moat, crunched data on 25 million geotagged Flickr photos from 2013, across 244 countries. They also crunched data from The Guardian to verify that the photos shared depicted real events. 
The team found that as the proportion of photos labelled with "protest" (in English or translated into one of 33 languages) increased in a country, the likelihood of a news story in The Guardian increased significantly (a 10 percent increase over the usual number of protest photos corresponded with a 34 percent increased chance that there would be a story about a protest in the same area).  
Could the causation be out of order, though? One explanation could be that the increased Flickr activity responded to the media account, after all. The researchers acknowledge this question, but argue that by limiting their study to geotagged photos they made it more likely that the photos come from the events in question.
The Observer has previously reported on efforts to better plug social media photographers into newsrooms. While the researchers didn't investigate whether or not Flickr photos might be a way to break news, that's the next logical question for reporters looking at this research. Flickr was not immediately available for comment on whether not news organizations were using its data to look for outbreaks of events worth covering.
"Our findings underline the potential value of photographs uploaded to the Internet as a source of global, cheap and rapidly available measurements of human behavior in the real world," the researchers wrote.
The intelligence community knows that, as The Intercept previously reported. Spies and their hired tech companies are watching social media closely. Another researcher, Jonathon Penney, of the University of Toronto's Citizen Lab, recently found that traffic to Wikipedia pages about terrorist groups plunged after Edward Snowden's leaks revealed that the spooks were watching online traffic, as Reuters reported. That said, sometimes—particularly in protests—communities want their activities to be noticed but struggle to get seen.
Activists are well aware that social media has made it possible to document events that the media might ignore. By putting photos online, leaders can't pretend a demonstration didn't happen. With a bit of code and some trial and error, social media could also become a means for journalists to catch more news that they might have otherwise missed.