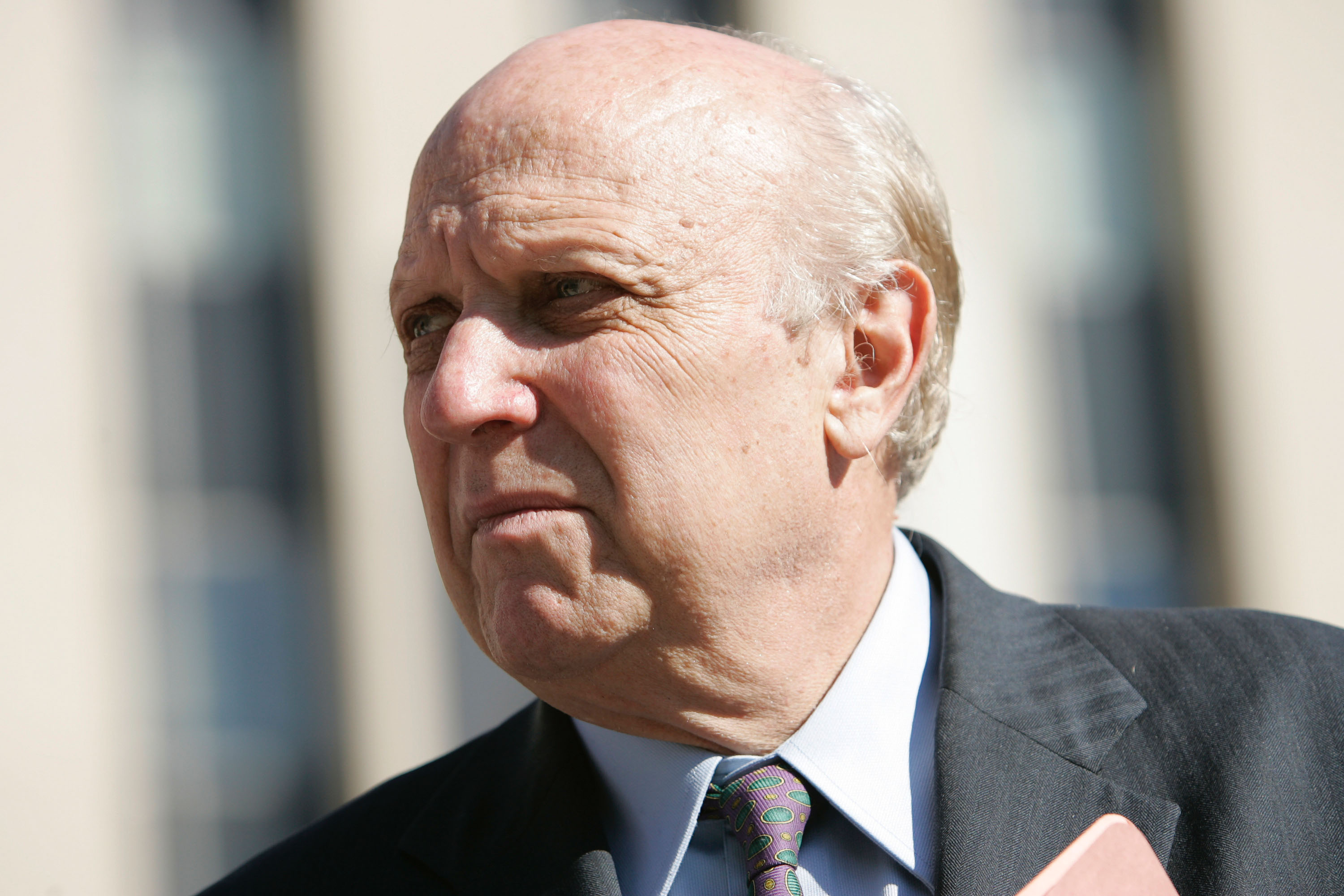 If you ask judges and lawyers to blurt the name that comes to mind when given the verbal prompt "First Amendment," a fair percentage will reply "Floyd Abrams." Since being asked by The New York Times to defend its right to publish the Pentagon Papers 45 years ago, the 80-year-old partner at the New York law firm Cahill Gordon & Reindel has become, as the late Senator Daniel Patrick Moynihan put it, "the most significant First Amendment lawyer of our age." He has been asked by ABC, NBC, CBS, CNN and Time Magazine, among others, to represent them in high stakes constitutional litigation, with clients as diverse as the Brooklyn Museum of Art, National Public Radio commentator Nina Totenberg, Al Franken and Senator Mitch McConnell. 
Last year, in bestowing yet another in a long series of honorary degrees and awards on Mr. Abrams, Yale Law School Dean Robert Post said about him, "No lawyer has exercised a greater influence on the development of First Amendment jurisprudence in the last four decades." A famed constitutional scholar who is perfectly content to join his colleagues in the trenches in hard-fought litigation, he has also earned the admiration of his peers. 
"He is a rarity," says Kevin Baine of Washington, D.C.'s Williams and Connolly—himself one of the country's preeminent First Amendment practitioners. "A brilliant lawyer without an ego."
So it got some attention when Mr. Abrams, disgusted by the proliferating problem of coerced disinvitations of speakers from college campuses and the shouting down of speakers whom a determined minority of students wish to prevent their fellow students from hearing, decided to speak out. In lectures delivered a year ago at Temple University in Philadelphia and a few weeks ago at the University of Iowa, Mr. Abrams declared that the greatest threat to American free speech presently comes not from government's mega-sophisticated electronic surveillance techniques, but from within academia—principally from "a minority of students who strenuously and, I think it is fair to say, contemptuously, disapprove of the views of speakers whose view of the world is different from theirs, and who seek to prevent those views from being heard." 
Mr. Abrams notes that it used to be that those guilty of suppressing speech on campus were university administrators, who felt threatened by campus speakers whose positions on political or social issues departed sharply from their own, and who didn't want students to hear them. Now the ones trying to prevent students from hearing political and social viewpoints are other students. 
"There's simply too much suppression of speech by students who don't want to hear or have others hear what they don't think should be said," Mr. Abrams says. "It occurred to me that if I had to identify one ongoing threat with respect to the First Amendment it was campus intolerance to speech and campus willingness to ban or prevent speech of which students disapprove."
The Foundation for Individual Rights in Education (FIRE), founded in 1999 to defend individual rights at America's campuses, maintains an extensive database of attempts to block or disinvite speakers from campuses because they espoused views that this or that segment of the student population wanted not to have expressed. Mr. Abrams has no shortage of examples to choose from, pointing to instances where groups of students were sufficiently powerful—or resistance to them was too intimidated or weak—to either force a disinvitation or force the speaker to withdraw.
He cites for inclusion in a hall of shame "Smith College for withdrawing an invitation to Christine Lagarde, the first woman to head the International Monetary Fund, to speak to the graduating class; Rutgers for so embarrassing former Secretary of State Condoleezza Rice that she declined to appear, and Scripps College, for effectively withdrawing George Will's invitation to speak after controversy about the invitation." 
The message is clear: Publish a view that contradicts popular orthodoxy, and there may be adverse consequences.
FIRE's database lists hundreds of such attempts, some successful and others not. Student-led efforts to keep then-Israeli Ambassador to the United States Michael Oren from speaking at Brandeis and then-Anti-Defamation League head Abe Foxman from speaking at Suffolk Law School were vitriolic and well-organized, but failed to persuade the universities to withdraw the invitations or the speakers to cut and run. Still, they inflicted significant damage to campus civic life, intimidating those who did not wish to be deprived of listening to a speaker, but who also didn't much like the prospect of being ostracized or condemned on social media by the disinvitation proponents. 
Unsurprisingly, these situations are not devoid of irony. 
Mr. Abrams recalls an article stating that the President of California State University had cancelled a speech by the editor of a conservative publication on the topic "When Diversity Becomes a Problem." 
"The explanation," says Mr. Abrams, "was—this one is worth saying slowly—'the need for free exchange of ideas.' According to the President of the University, the speaker could only appear as part of a group of people with varying viewpoints on diversity. He could not speak alone, as left wing speakers such as Cornel West and Angela Davis had spoken at CSU—with no request, let alone requirement, that the 'other' side be heard simultaneously."
Boston civil rights attorney Harvey Silverglate, who cut his teeth defending students who were prosecuted or disciplined for protesting the Vietnam War in the 1960s, agrees with Mr. Abrams. "The arbiters of what was acceptable speech on campus had been administrators until about five years ago," says Mr. Silverglate. "Now there are a large number of students who think censorship is the way to go."
Mr. Silverglate notes that student newspapers, which one might have expected to be defenders of freedom of expression on campus, have now "started to cheer on the censorship." He cites a recent controversy at Wesleyan University which may shed light on why that is. Wesleyan, as Mr. Abrams said, is "one of the nation's great, small universities, with a deservedly stellar reputation for academic excellence." It also has enshrined a "Statement on the Rights and Freedoms of Students" which holds that "free inquiry and free expression are indispensable" to "the transmission of knowledge, the pursuit of truth, the development of students and the general well-being of society." 
Nevertheless, after a student wrote an opinion column in the Wesleyan student newspaper, The Argus, critiquing Black Lives Matter, over 170 Wesleyan students and staff signed a petition stating that they would be "boycotting" the paper, demanding that funding for the newspaper be revoked and, in a chillingly Orwellian phrase, insisting that existing copies of the newspaper be "recycled"—which is Stalin-ese for "destroyed." 
The students did offer to reconsider the matter once the newspaper had complied with a number of their conditions, including "social justice/diversity training" administered and reviewed, presumably, by a kind of student-run Social Justice Commissariat. Student newspaper editors, like others on campuses where conduct right out of 1984 is occurring, will not have to work hard to get the message: Publish or express a view that contradicts socially popular orthodoxy, and there may be adverse consequences.
'As students at Brown University, we would like to apologize to Janet Mock for the shameful behavior of our peers.'
Sometimes it isn't even the ideas to be expressed that will force a cancellation, but the identity of those who are cooperating in hosting the event. Brown University, another of the country's elite institutions, has a website which notes with pride that "Brown was the first Ivy League school to accept students from all religious affiliations, a testament to the spirit of openness that still typifies Brown today." Nevertheless, when Janet Mock, a black transgendered human rights activist, was scheduled to speak at Brown a few weeks ago—invited by a wide spectrum of LGBT, women's rights and intercultural groups that included the Brown Hillel—some 160 students signed a petition demanding that if Ms. Mock were to speak at Brown she disassociate herself from Hillel, the organization that facilitates Jewish life on campus. 
According to a representative of Students for Justice in Palestine, which helped organize the petition, Hillel's support for an event illuminating transgender rights was an attempt to "exploit LGBTQ individuals for the sake of covering up [Israeli] was war crimes." 
"It becomes really important that we don't let a center who [sic] is time and time again supporting the Israeli regime to then claim that they are also supporting LGBTQ voices," he said. The student petition caused Ms. Mock to cancel her talk on the ground that "it was received with controversy and resistance rather than open dialogue and discussion about the issues closest to Janet's work." To their credit, nearly 200 Brown students responded with a statement of their own: "As students at Brown University, we would like to apologize to Janet Mock for the shameful behavior of our peers," their statement said, but the damage had been done. "To have that voice effectively silenced is extremely disappointing," one student said.
The problem with the epidemic of bullying, shouting-down or disinvitation of speakers is not merely that the speaker's freedom of expression and students' right to hear divergent points of view are trampled. It is the damage done to students. One political science major at American University, who describes herself as firmly on the left, says that students like herself "do not feel like they can express alternative opinions or challenge [acceptable orthodoxy] without being ostracized for being right wing, politically incorrect or offensive."
What began as "the sad and repeated episodes of disinvitation of speakers on campus," says Mr. Abrams, has now become "a pattern." While efforts to block or suppress political speech also come from the right, he says, they come more frequently from the left. That is, they come from quarters that profess to welcome free expression and diversity of viewpoints. 
Asked whether he thinks the epidemic will abate anytime soon, Mr. Abrams is cautiously pessimistic. "At best it will get worse before it gets better. We're likely to see more student instigated suppression of speech, rather than less."
Jeff Robbins served as Chief Counsel to the Democratic Senators on the United States Senate Permanent Subcommittee on Investigations. Twice appointed as a United States Delegate to the United Nations Human Rights Commission under President Clinton, he is an attorney in Boston. Follow him on twitter: @jeffreysrobbins