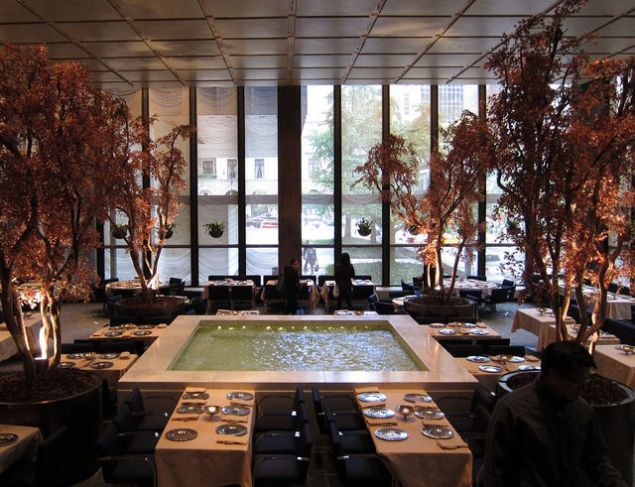 Everything at the Four Seasons is up for sale. On July 26, silverware, furniture and cookware from the famed Four Seasons restaurant—which is relocating in July because owner Aby Rosen decided not to renew the lease—will go on sale at Wright Auctions. The sale will feature chairs by legendary designers Ludwig Mies van der Rohe and Eero Saarinen, bar carts by Philip Johnson and dishes by Ada Louise Huxtable.
Artist disappears the Louvre pyramid with a giant optical illusion. French artist JR has covered one side of I.M Pei's glass museum entrance with a black and white image of the palatial institution. When viewed from the right angle, the past-up makes it appear as if the pyramid has vanished.
Bronx Museum of the Arts announces $25 million capital campaign for expansion. In 2012, the museum began offering free admission to visitors, and has seen its attendance quadruple in the last four years. To ease overcrowding, it plans to expand and will establish an endowment for the first time.
Terence Koh insists he didn't quit the art world on purpose. "I never had any intention of quitting the art world," Mr. Koh told the Times. "I just moved to a different part of the world. It was something that happened naturally."
175,000-year-old henges in French caves discovered to be the handiwork of neanderthals. Scientists have discovered strange circular patterns made from broken stalagmites they believe were created by neanderthals. However, their purpose remains a mystery.
Trail of pottery shards sheds new light on Black Plague's devastation in Europe. Scientists don't dispute that the Black Plague killed millions, but calculating exactly how many has long been difficult. Now, a study by archaeologist Cadenza Lewis shows that buried pottery shards in remote villages directly correlate with massive population decline from Black Plague deaths.