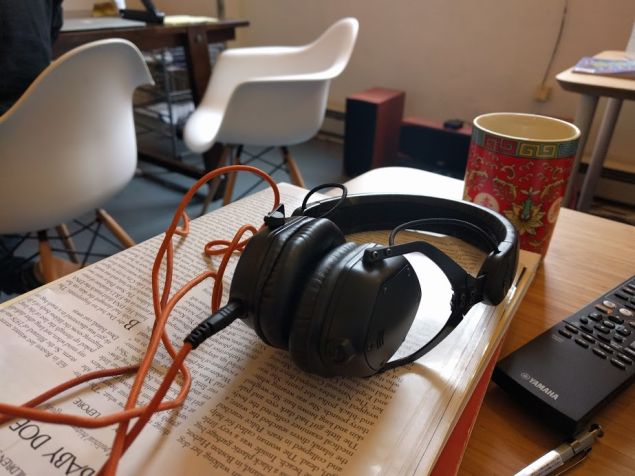 On a dreary Saturday afternoon in early April, young literary types crowded into a loft-like room in one of the industrial warehouses that pass for office buildings off the Morgan stop on the L train. The scruffy-chic audience sipped from cans of beer they had brought and perched on tables that had been pushed to the walls, leaned against bookshelves, or sat on the floor, as writers read their work in Study Hall, a co-working space for freelance journalists that was doing double duty as an event space.
Two days later, on Monday morning, it was back to business as usual at Study Hall. There were empty yogurt containers in lieu of empty beer cans, and the vibe was one of subdued concentration rather than socializing. Writers sat at handsome wooden tables, drinking coffee from a French Press and pecking away at laptops.
"It's the good parts of an office without the bad parts," Study Hall co-founder Kyle Chayka explained.
Last summer, Mr. Chayka, who has been freelancing for more than three years, along with fellow freelance writers Peter Moskowitz and Alanna Massey, wrote a post on Medium outlining their idea for a shared office designed specifically for journalists.
Unlike the majority of writing spaces, where rules prevent the noisy business of reporting, the place they envisioned would allow for phone interviews and audible discussions. But the goal went beyond giving freelancers somewhere to work that wasn't a living room or coffee shop. They envisioned it as "an artists' studio model for writers," providing the camaraderie and support in the form of group pitch meetings, workshops and events that can be hard to come by for freelancers.
"One of the things that differentiates us from other writing spaces is that we're all non-fiction writers, but the bigger thing is that we are really in it to build something larger than just individual writing careers," Mr. Moskowitz explained.
So far, it's working.
A second location is scheduled to open on June 1, nearly a year after the initial Medium post. Earlier this week, Mr. Chayka and Mr. Moskowitz (due to logistical reasons, Ms. Massey is not currently involved in the project) signed the lease on a 660 square foot studio in Gowanus—the better to serve South Brooklyn residents. There are now 20 members overall, including a few people who have joined in since the new space became official. The new Gowanus location will cost the same. $150 for part-time access (three days a week), and $250 for full-time use. Members can drop in at either, although they have to specify their primary location when they sign up.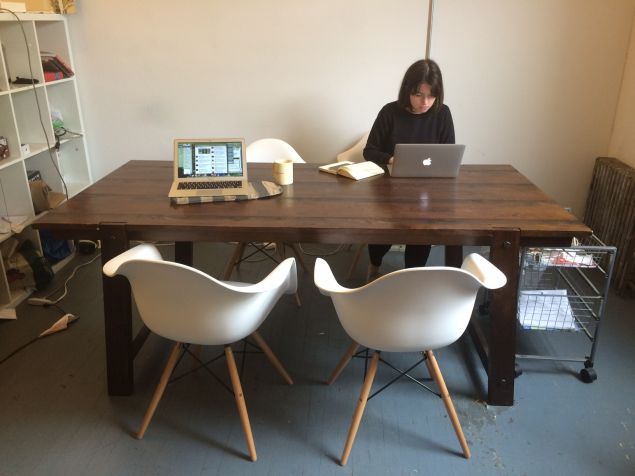 Co-working spaces are all the rage right now. Tech startups are renting out office space in places like WeWork, a global chain of co-working spaces that is itself a tech startup, recently valued at $16 billion. Other chains and one-off spaces are opening every day, speaking to a new economy where change is the only real constant. Many boast perks that mimic those at the tech companies that many of the tenants hope to become, such as beer on tap and free coffee.
In this corporate landscape, Study Hall is more like an indie zine. Run by freelance writers, for freelance writers. It's like a newsroom for freelance journalists, designed to look like the coffeeshops they would otherwise be working out of, or the living rooms that they might aspire to occupy.
"We want our spaces to have a vibe that's somewhere between a cafe and a library, a place you feel comfortable popping into but could also stay and get comfortable for a while," Mr. Chayka said.
The room in Bushwick looks like a spread in Kinfolk, the lifestyle magazine that Mr. Chayka recently profiled for Racked. Wooden farm tables serve as communal desks. Colorful mason jars filled with dried flower sit atop bookcases. A shelf over a lived-in caramel leather couch features recent issues of titles like Jacobin, N+1, The New Yorker and BusinessWeek.
"It's like going to a comfy living room," said Mr. Moskowitz. "I have FOMO when I'm at home because Study Hall has nicer furniture." The new space will be similarly furnished.
The Gowanus location will expand on Study Hall's goal of building a community for freelance journalists. A sense of community, of course, is one of the perks often cited by many co-working. But unlike the promise of a vast network across industries, Study Hall is dedicated to one facet of workers in one industry: freelance journalists. Eventually, one idea is that the members will be able to collaborate on editorial projects. 
Emily Stephenson, a food writer, joined Study Hall in January after trying out a co-working space closer to her Crown Heights apartment, where, she said, members worked in assorted fields, which didn't make for a particularly social environment.
"It was definitely part of the appeal, to be part of a community of people who do work that's similar to me," she said. "Then I found out that the subway ride isn't that bad."
Ms. Stephenson is currently running workshops on food writing, an example of the types of events that Mr. Chayka and Mr. Moskowitz envision as a way to build a community.
"Writing is a lonely pursuit," said Ian Frisch, another member of Study Hall, "but being alone at home all day makes it more difficult than it needs to be."