Legendary SoCal punk label SST Records—the DIY or die imprint known as the breeding ground for the Amerindie underground scene spearheaded by the likes of Black Flag, Minutemen, Hüsker Dü, Meat Puppets and Saccharine Trust—spewed out its fair share of iconoclasts at a furious clip. From the ever-controversial Black Flag guitarist Greg Ginn, resident album cover artist Raymond Pettibon to best pals D Boon and Mike Watt, there was no shortage of eclectic geniuses making life-changing music and art.
Then there were low-key cats like Joe Carducci.
During his tenure co-owning and operating the label along with roadie, sound man and partner-in-crime Steve "Mugger" Corbin from 1981 through '86, SST was the shit and those five years were its glorious heyday. The Flipper-obsessed and clean-cut Carducci (he didn't smoke weed and barely drank) scored his SST gig for this reason: he knew his stuff and that was getting records out there and into the shops, a skill learned from his fruitful time working at Systematic Record Distribution.
On Carducci's watch, SST was the launch pad for albums found on every best-of-the-'80s list, records that defined the punk rock and hardcore era: Black Flag's Damaged, Minutemen's Double Nickels on the Dime, Hüsker's Zen Arcade, Meat Puppets' II and loads more.
In 1986, upon cashing in on a healthy chunk of change for his share of SST, Carducci moved back to his native Chicago with a focus on his original passion, writing screenplays. That was ultimately sidestepped as he played the role of music scholar and historian when he delved into the definitive history of rock music, the must-read Rock and the Pop Narcotic.
Later on, Carducci, via his own Redoubt Press imprint, would add to his oeuvre by banging out Enter Naomi: SST, L.A. and All That (his poignant recounting of his SST friend and punk rock photographer Naomi Petersen, who tragically passed away from liver failure in obscurity in the mid-90's), a book of his screenplays called Wyoming Stories and Life Against Dementia: Essays, Reviews, Interviews 1975-2011, the comprehensive Carducci collection of writings culled from his career arc.
It's taken a mammoth 25 years to complete, but Carducci is back with his latest opus, Stone Male: Requiem for the Living Picture.
As the infamous "film book" he's been talking about since completing Rock and the Pop Narcotic, his lifelong obsession with action film acting, film history and film lit is examined and dissected with a fine-toothed comb in Stone Male's 400-plus page sprawl and all done in Carducci's trademark meticulous technique and DIY style. (Order Stone Male and it's "shipped directly from Joe Carducci's warehouse" from his Wyoming home base. Doesn't get more DIY than that.)
Carducci recently spoke to the Observer about Stone Male and stories from SST days of yore.
Writing this film book has been a concept brewing in your head for years. When and how did you actually hatch the idea for Stone Male?
Once I finished writing Rock and the Pop Narcotic, I didn't want to write about music anymore. I had moved to Hollywood in 1976 to get into film so all along at Systematic Record Distribution and SST Records I was thinking about screenplays and trying to figure out when to leave music and go back to film. Because in that era bands never got their due, I thought I'd like to write them into rock and roll history myself since no rock critic was going to do it, so I wrote R&TPN.
Then SPIN asked me to cover an Alice in Chains tour and Details asked for a music piece, and I didn't really want to spend time on that kind of writing. So Stone Male was a kind of pivot to film since I thought maybe I should write something other than screenplays.
You touch on this, but you write that the idea came to you in 1991. How has Stone Male changed and evolved over the course of 25 years?
Film history is so much wider and deeper than music history in that it's kind of hard to keep it straight in your mind even when you think you know a lot about it. When I first got more seriously interested in films in high school around 1971 the critics were going out of their way to write Clint Eastwood and Charles Bronson in particular out of decent society. So that might be the origin of the book's idea that the action film tradition and its performance approach was worth looking into. My chapter, "Picture Lit," goes into that early-1970s Manhattan filmcrit dust-up over Dirty Harry, Death Wish, etc.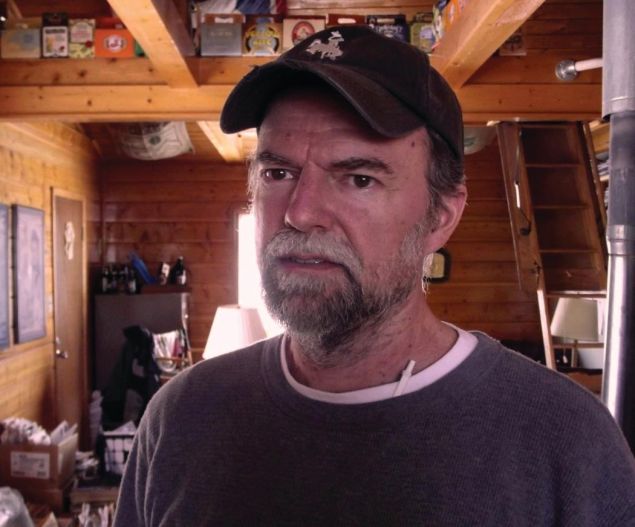 How and when did you actually discover the Western film genre? Were you a kid obsessed with film and with playing cowboys and Indians?
I wasn't particularly interested in going to the movies as a kid. The Saturday matinee Westerns weren't around for me. I was born in 1955 and in a large family the TV might be on a lot, but we were our own entertainment. We did like the reruns of Cheyenne, The Whirlybirds, Highway Patrol, Combat! and the old comedy teams and silent shorts WGN showed for kids before color TV came in.
We did play cowboys and Indians a lot with cap guns. Cap gun technology evolved away from the shiny Western pistols in the mid-'60s and more toward black police revolver-type guns. These too realistic WASP guns they made they had to color-up so you could tell they were toys! My brothers and I would pour catsup on the curb and then take turns pretending we were bashing each other's heads against the concrete when cars came by, so you could say we were fascinated by movie second unit production effects.
Can you talk about those first Westerns you rented out at Video Villa, a video store in Chicago you frequented when you lived there?
I mostly went through the genres since I was too tired after working on the building all day to do anything else. They didn't have a lot of Westerns, the Budd Boetticher-directed Westerns weren't all available then and only half the Anthony Mann-directed James Stewart ones were on VHS in the 1980s. They re-released The Searchers in 1988 or so with some theatrical screenings and a letterboxed edition with extras so for the VHS era that was an important stimulant to actors who pushed to make a new round of Westerns and I was interested in that.
[youtube https://www.youtube.com/watch?v=JG_XYVbq6vY&w=420&h=315]
You put out a book of your screenplays called Wyoming Stories. How has living in Wyoming the last two decades informed your vision for Stone Male?
A state like Wyoming allows you to see politics in a proper scale, and also you see political pretension in a town like Laramie for what it is, a dream to become Boulder or Berkeley by university types desperate to transcend the realness of rural life, especially because it's ranchers and miners who pay for their soft chairs. The mountains and the sightlines ought to put anyone in their place.
The cover of Stone Male is a collage of stars of Westerns like John Wayne and Clint Eastwood. Which actors, in your mind, are icons of Western cinema?
Hollywood was always balancing male-female marketplace realities so some actor everyone liked like James Stewart maybe made some great Westerns that some other actor may have been better for. Still, he's an icon of the West for those Mann Westerns. For my book's purposes I like the un-actorly ex-stuntmen/wranglers like Richard Farnsworth or Ben Johnson for their breakthrough clarity of performance. Farnsworth in The Grey Fox or Comes a Horseman and Johnson in Fort Defiance or Wagon Master are great examples to contrast to how other actors are on screen.
Can you draw any connections with some of the iconoclasts you were surrounded by in the SST Records/L.A. punk scene to ones in Western film? Can the two be reconciled in any way?
I used to joke that I found the punk rock in movies—the second unit culture—but of course a lot of punk rock was very theatrical and arch. But maybe the simple direct presentation of some of the bands was from a similar ambition. There are always competing quests for more realism and better fantasy in all movies. Realism has to trigger fantasy and fantasy has to be grounded in reality for things to work best.
Were you into Westerns already when you were working at SST? Did you hang out and watch movies with those guys?
I went to see the Bronson films as they came out with Dave-O, who roadied for Black Flag, and helped me around SST before that. I'd go see harder-to-find films with Pettibon at USC or UCLA fairly often. While working on the book I went out to see Eastwood present Dirty Harry and The Beguiled at the Directors Guild tribute to Don Siegel; Ray [Farrell] wasn't around so Mike Watt went with—I had bought tickets in advance. Probably Jack Brewer of Saccharine Trust is the most excited about my book of the old SST musicians. Ray dubbed me a lot of stuff early on from Eddie Brandt's video shelves but Jack [Brewer] is the most into Westerns per se.
"Greg [Ginn] was so committed to the playing aspect of [Black Flag], almost like the music wouldn't go together the right way unless it was like breathing. No one could have a job in the band because that would pull them."
A friend of ours lived across the street from [Don] Siegel and I should have taken her up on the offer to go meet him, but at SST I was busy and it seemed in 1985 that I'd be wasting his time. I wasn't thinking of this book then either. Don Siegel didn't have the right energy for Westerns, but he was the key director who brought the Western framework into the cityscape via cops and criminals off the rails.
You hit upon how, over the 25 years you worked on the book, that video stores were a dying breed. As a result, it was difficult to find DVDs and VHS tapes of films you needed for research, but ultimately you were able to find content via the internet. What were the biggest challenges in putting the book together?
It probably took five years to focus on the silent era to understand how intensely it developed in the years 1899-1911 and then how everything re-centered in Hollywood thereafter. Most silents that survive are from the 1920s and that's actually a somewhat less interesting period to me. And then it took another five years to really get a feel for how important TV production was for actors after 1955 when Gunsmoke, Cheyenne and Wyatt Earp premiered into the 1960s and 70s.
The film studios were less productive and for some actors and writers the half-hour dramas which recapitulated the old two-reeler of the 1910s and 20s were a perfect low-risk venue for learning how to act and tell a story. Bronson, Lee Marvin, Richard Boone, Steve McQueen, Brian Keith, Chuck Connors, Robert Thompson, and Sam Peckinpah did great half-hour dramatic work and Eastwood, Boetticher, Burt Kennedy and Robert Altman did great one-hour television work. And you'd see guest-star turns or bits done by Ben Johnson, Richard Farnsworth, Chuck Roberson and others in these shows.
But yeah, I was struck by the end of my work how much from now on someone else might work entirely from home online to do the research. I hope someone is out there looking into the stuff, but it seems to be more driven by institutional inertia than any demand.
Your book Enter Naomi was an investigatory challenge as well, and Rock and the Pop Narcotic was an exhaustive examination/dissection. Stone Male adheres to a similarly painstaking research-focused formula. Where do you think you got this business-like approach to your writing and research?
I hated doing homework assignments in school and quit college as soon as I could, but somehow I saddle myself with these horrendous years-long assignments where only my own sense of whether I mastered the topic and answered the question I had going in years ago tells me that I'm done. I used to say that if I'd known it would take me five years to do Rock and the Pop Narcotic, I wouldn't have done it. So what do I say about a film book that takes me 25 years?! I don't recommend it; it's obviously not how the publishing business operates.
Besides the recent Taranatino Spaghetti Western flicks, how do you see the Western genre now? Is it dead? Can you point to the last great Western?
The Encore Westerns channel, now rebranded Starz Westerns, was very useful as they run and rerun a clutch of features every month and then run the old TV episodes as well. They are a little light on '30s and '40s B-Westerns and no silents but if you get that, TCM, and oldies.com you can see most of the old stuff that survived.
"It was an ordeal to say, 'I have to see Black Flag, but I'm exhausted from Flipper.' "
The American imagination is now urban and suburban rather than rural-oriented. And more importantly it's a middle class imagination with elite aspirations. The old Westerns were the dreams of a working class, whether urban or rural. In that sense the Western is over but there are still some made because some filmmakers and actors want to make them when producers allow. PC sensitivities are middle-class concerns as if those schoolmarms alone inherited the West. The old working-class rough ethnic badinage is gone. But I liked how Michael Mann did the colonial period in The Last of the Mohicans and Hollywood could start all over from there if it wanted to. Is there a young audience for Westerns? Probably not in a generic sense.
If you were to make a short list of essential Westerns for the beginner, which ones would you put on it?
Production values were best in the 1939 to 1962 period, so maybe Stagecoach, Frontier Gal, Angel and the Badman, My Darling Clementine, Ride the Man Down, The Nevadan, Hondo, Ride Clear of Diablo, The Searchers, The Last Hunt, Across the Wide Missouri, Gunman's Walk, Day of the Outlaw, Flaming Star, The Naked Spur, Fort Dobbs, The Far Country, The Tall T, Hellbent for Leather, The Unforgiven, Comanche Station, Ride the High Country.
You've been putting out your own books DIY style via your own Redoubt Press imprint for a while now. How much of that aesthetic do you owe to your SST lineage?
Mostly it's just that you can't wait around for some A&R or publisher cement-head to decide they want to get behind the work. Even if somebody is awake to it they would dumb it down and iron it out to two dimensions from the three or four dimensions of any living work. Nobody out there in L.A. or N.Y. is looking for a Double Nickels on the Dime. And they aren't looking for Stone Male either. Yet it has to happen.
You've said Stone Male may be your last book. What does the future hold for Joe Carducci, the writer?
Maybe by the end of this year there'll be a script I wrote for John Savage shooting. It's not a Western, though I am reading some history for one, so I'll be writing that up later in summer.
[youtube https://www.youtube.com/watch?v=GCDahv5gb0s&w=420&h=315]
Let's talk about your time in music and at Systematic. How did Systematic's relationship with Black Flag get going?
It was a unique situation but Systematic got crunched by the other distributors that then came around once you're taking Joy Division and Young Marble Giants and some of those minor hits that were very big word-of-mouth records. There was nothing like that here, the hardcore kids were into Stiff Little Fingers and the Avengers stuff until Black Flag really branded that idea. There was a handful of records that had some interest but it took really the Jealous Again record for people around the country to identify this as some new turn of the screw.
SST ran an ad for the Nervous Breakdown record in Slash Magazine and we distributed Slash and the label, which at the time was the magazine's singles. I would write to ads that looked interesting and asked for sample copies. We never got the single but it was forwarded much later when we got it. They had sold out their first run.
When did Systematic actually get Black Flag records then?
We were in Berkeley in summer 1980 when we finally got Nervous Breakdown records to sell. The Minutemen came out and Jealous Again came out at some point later. When Jealous Again came out, they went on their first tour in about November or December of '80 and every shop they went to in New York, Chicago and Detroit and got their records from Systematic. We had a relationship with them from that point.
So in July '81, I was in Chicago visiting family and I went and saw Black Flag play Tuts. I went up to Greg and I didn't know him well enough but he remembered me—I had introduced myself to him because we had only met the one time. They were just starting to be mobile but I was never a big scene guy backstage—I stayed in the audience. I was interested in seeing the bands and nothin' else.
[youtube https://www.youtube.com/watch?v=09lox_vnJ9Y&w=420&h=315]
What do you recall about bringing Black Flag to Systematic for them to see what it was all about?
I met 'em out where I thought I could bring 'em to Systematic because we were in an industrial zone that was hard to find. So they saw what we were: we were just an empty space in Berkeley with plywood shelving and the records were alphabetized with the American stuff and there was British stuff over here. I played some records and I said, "Do you know this record?" and it was The Dicks' Hate the Police and they knew exactly how good it was.
What's the story behind your transitioning from Systematic to SST?
I went up to Greg in Chicago in July '81 and said, "I'm interested in being in L.A., so if you guys need someone to run your office while you're on the road and touring, I'd like to do it."
He said, "Well, we don't have an office." [Laughing]
They literally had been busted or kicked out of Torrance before they left on tour. That's why I sorta laughed about it because even he didn't know what had happened and what they were gonna go back to. So they stayed at, what they called the Oxford House, for a few weeks, when they got back with Henry now as their new singer and Dez still in the band. I didn't get down there 'til September, but by then they were subletting from Unicorn in West Hollywood.
I still wasn't where they were; I was glad when we finally got out of there and moved back down to Redondo Beach. I then felt like I was in the environment that they came out of.
What were your first impressions of them?
When you're around a band like Black Flag, you see the determination to not miss a day of the week playing and Greg being kind of disappointed when Dez had wrangled the seventh day so he could go smoke pot with the Stains [laughing] in East L.A.
When Biscuits was in there, there was these two guys who would drink beer in the band and smoke pot and you could just see that Greg was so committed to the playing aspect of it, almost like the music wouldn't go together the right way unless it was like breathing. No one could have a job in the band because that would pull them. The Descendents and the Minutemen couldn't tour because somebody had a job—a real job. George [Hurley] had a machinist job and Tony Lombardo of the Descendents had a post office job. They couldn't quite wrangle a second week vacation to make a tour possible. That wasn't gonna happen [with Black Flag]. Greg wasn't gonna waste time for that.
[youtube https://www.youtube.com/watch?v=57E97ap2YhE&w=420&h=315]
Do you have a favorite lineup of Black Flag?
Well, I was glad I saw the Dez four-piece before Henry came in. I like the Henry piece, too. I like the slower Black Flag a lot. I remember seein' Flipper, you know, Will Shatter standing behind 'em and watchin 'em play the slow songs—probably that was early '84. He was really into it, he was paying attention to it. They liked each other but L.A. people would come up and Flipper definitely didn't like L.A. people in that sense. They respected Black Flag and would open for them.
Any Black Flag shows that stand out in your mind?
The Barrington Hall one [at University of California Berkeley] in the basement where Dez was singing. It was a nine-foot ceiling and a three-inch stage and it was full of people. It was a sweatbox. It was the basement of cheap student housing [laughing]. The thing that stands out in your mind is, unlike Henry, Dez was so skinny and you'd see it in the photos of the L.A. shows. He'd be smiling at this chaos around him. He was scary because he was so fragile looking and fearless. I loved Flipper—my natural inclination is for slower music. There's no question Black Flag was amazing. But it was an ordeal to say, "I have to see Black Flag, but I'm exhausted from Flipper." [Laughing]
Did you feel like you fit into that scene?
Yeah, in the sense I didn't do the things they did but they didn't mind that. In Illinois, they'd go, "what's with the narc?" But I didn't have any of that problem; I'd proven myself already. I knew how to get the music out there. They knew I was really into Flipper so they assumed I smoked pot, at least. It turned out I didn't. Mugger told me later that Greg said, "This guy's gonna be good, but he probably smokes pot." [Laughing]
Coming from where you did at Systematic, did you go into SST and get the business in order right off the bat?
Well, I was a little annoyed because [laughing] they made this deal with Unicorn, which meant I wasn't gonna work on the Damaged album. But what that did allow was I got to see the Minutemen's The Punchline and Paganicons by Saccharine Trust into print and then it was about getting Jealous Again, Nervous Breakdown and Paranoid Time back into print and getting the Stains album. There was some stuff recorded and sitting around—an Overkill single and then we added the Meat Puppets first to that group of bands that they already had goin'. But it was very difficult to do that and Saint Vitus and Hüsker Dü.
When did SST actually get its shit together?
Mugger got off tour and we were a two-man office. '83 was when they kinda get organized.
Were you making any money working there? Where were you living?
I was sleeping in the office so I didn't need any money [laughing]. They cut me on a quarter share because there was nothin' else to do. I proved that I was gonna do it for them.
Did you have a hand in bringing bands to SST?
A little bit, just in the way of talking about 'em. Black Flag had likely seen everybody. Everyone wanted to play in front of Black Flag once they knew who they were and saw how good they were.
[youtube https://www.youtube.com/watch?v=11E_7qFeS9o?list=PL87428D8D78DD82E2&w=560&h=315]
Everyone knows about SST's seminal records like Damaged, Double Nickels and Zen Arcade. What about records and bands you think should have broken big but didn't?
The Overkill record should have—Triumph of the Will. But Merrill [Ward] wasn't in the band anymore so they were moving their way up the Sunset Strip metal scene with a new singer who was a real kind of styler singer. He didn't project and was more like those hair metal bands than Motörhead and Overkill was named after a Motörhead album. It was a shame that record was an afterthought.
The Stains were an important band for Greg and Dez as guitar players, Robert [Becerra], in particular. The Stains were always of two minds; they didn't really like playing for punk rockers. They were more like Dez's kind of people: they were really into Budgie, Hawkwind and '70s rock more than punk rock [laughing].
I think the second album by Angst we did, Mending Wall, was a really good record. I worked on the production and I liked the studio. They were coming off a tour, playing real sharp.
What other records did you work on in the studio?
Not too many. DC3's second album and I did all of the SST Saint Vitus records with 'em and Dez helped on the first record. I usually wanted to work with Spot and the band always had the last word on anything so they were just co-production jobs. I really enjoyed working on Saint Vitus records because the sound and the pace is a little more what I would prefer: psychedelic and heavy.
[youtube https://www.youtube.com/watch?v=0RCjEdeGmFk&w=420&h=315]
Did you hear records like Double Nickels right off the presses?
Yeah and the Minutemen [live] at the Anti-Club were about as much music as a human could take in. The stage was a foot tall and you're listening to the amps and there's nothing in the PA but the singers. It was good sound and there were people there but it was small. But that's really where they came together. They never practiced every day; they tried to do three times a week and then play a gig.
I remember Spot coming in with a cassette of What Makes a Man Start Fires? so that's the first Minutemen recording I heard that was unfinished and new to me—everything else was The Punchline or Paranoid Time or the gigs. To me, it's the gigs that you'd just be agog cuz it was nonstop.
What do you remember about the death of D Boon?
I wasn't even there. It was Christmas and D Boon was on his way to his family—his in-laws—and I was in Illinois. Mugger said he decided not to ruin my Christmas by callin' and tellin' me [D Boon had died]. Then it's Greg and Raymond's dad, Mr. Ginn, who picks me up at the airport. He's sort of an avuncular character so he goes, "So you're here for the funeral?"
I thought he was joking so I laughed. But my sister had just died of cancer or leukemia like two months or maybe a month and half even before that so I had just been in Chicago for the funeral and I went back for Christmas. So in actual fact, as much time I spent with D Boon—he was around SST a lot in '82 and '83—it almost didn't register. It never did register.
You were at SST from '81 to '86. How did it go down when you left?
I hadn't told them I was going to leave but I was getting ready to. At the end of '84, sometime in early '85, I told Greg on the phone, "We were now solvent and anything he wanted to do, we could do."
Joe Carducci will read from his new book Stone Male Requiem for the Living Picture at Book Thug Nation (100 North 3rd Street in Williamsburg) on Thursday, May 19 at 7 p.m.