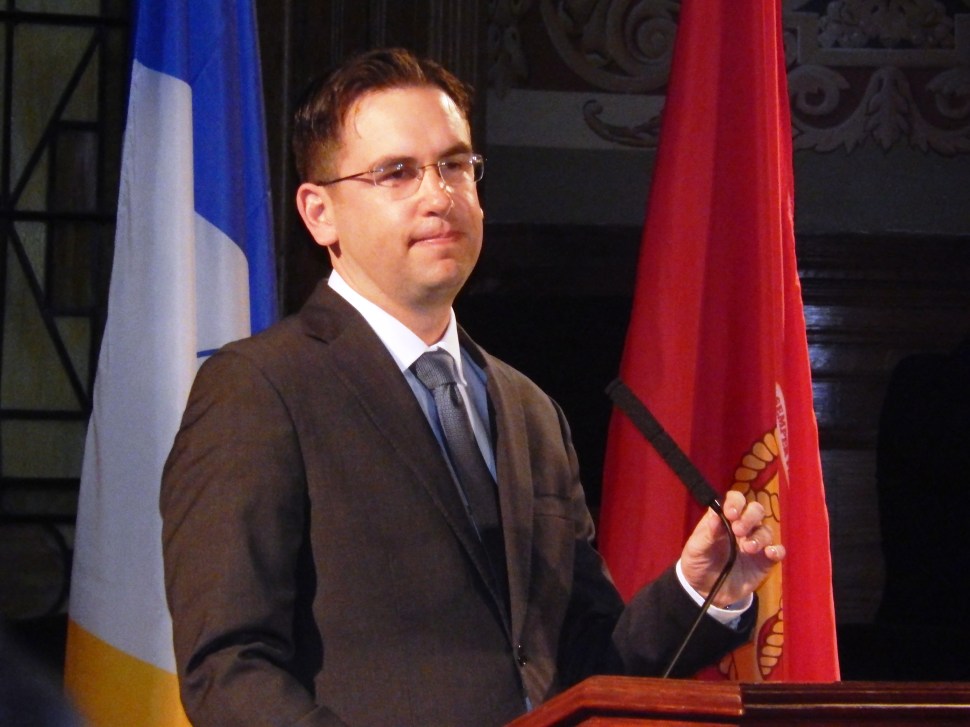 Amid the ongoing Atlantic City crisis and a north-south standoff with a bill he backs apparently in the docket on Thursday, Jersey City Mayor Steven Fulop unleashed a torrent of criticism aimed at the triumvirate of Gov. Chris Christie, state Senate President Steve Sweeney (D-3) and South Jersey Democratic Leader George Norcross III.
"I know people will say that what I am about to express will hurt me in a potential gubernatorial race — I don't care," Fulop said. "Also, I know that people will say that Christie and Norcross will use, as they have done in the past, government entities and law enforcement in Trenton to intimidate me – however, the truth is the truth.
"Residents throughout the state should ask themselves some simple questions — why is an insurance broker, a non-elected official, who has made tens of millions of dollars on the backs of public taxpayers actively involved in drafting Atlantic City's takeover bill and then lobbying for it all over New Jersey?" the mayor wanted to know. "Why is a non-registered lobbyist who is an insurance broker actively calling Assembly members throughout New Jersey? Does anyone in New Jersey actually believe that what is happening in the best interest of Atlantic City or New Jersey? I think it is really in the best interest of certain individuals. Just look at the track record here."
Fulop referred to a report over the weekend by PolitickerNJ detailing efforts by the three to get assembly people to vote down Fulop ally Speaker Vincent Prieto's (D-32) Atlantic City bill. Last night, those forces felt better about having intervened in time to trip up the speaker and force a reconsideration of Sweeney's version of a state takeover of Atlantic City. Throughout the process, Prieto, Fulop and Atlantic City Mayor Don Guardian have criticized the Sweeney bill for supplying too much state-concentrated power with this Republican administration.
"Why is a Republican Governor actively being dictated to on state legislation by a non-elected insurance broker?" Fulop wanted to know. "Does this make sense to anyone? Why are they so adamant about not compromising with the Assembly? The answer is simply that certain aspects of the state's politics in Trenton are rotten to the core and that is the truth."
Fulop and Sweeney (a longtime Norcross ally) are both widely seen as likely candidates for governor in 2017. Former U.S. Ambassador to Germany Phil Murphy, Assemblyman John Wisniewski (D-19) and state Senator Ray Lesniak (D-20) also continue to aggressively circulate at Democratic functions in hopes of building statewide party support. But it's been Sweeney and Fulop most consistently staking out Clash of the Titans turf, with the Atlantic City takeover bill just the latest in a series of fierce exchanges.
They get along personally and routinely chat amiably at party soirees. But they also hit each other hardest as they jockey for position ahead of the next statewide election.
The senate president offered a compromise to Prieto, which the Star-Ledger heralded as a well-intentioned move in the name of resolving Atlantic City's financial doldrums. But the speaker resisted the overture, while his allies throughout have decried what they say is the habit of Christie and Sweeney to go around Prieto during the course of important talks.
Fulop acknowledged the super-charged intensity level.
"I fully expect Governor Christie and George Norcross to use their tools to come after me but the truth needs to be said," the mayor said. "As Mayor of Jersey City, my only involvement in Atlantic City's takeover bill has been with regards to visiting Atlantic City because residents reached out to indicate to me that we should be wary of inviting casinos to Jersey City. Period. "