Welcome to our TV Fashion column, where TV Ate My Wardrobe's Emma Fraser discusses the trends in television apparel. This week: The Stark family on Game of Thrones proves you are what you wear. 
"I like the wolf bit."
And with that Jon Snow took his first foray into fashion commentary and while I don't think Anna Wintour will be giving him a job anytime soon he did latch onto the most important part of Sansa's new dress. It isn't just Sansa that has a wardrobe upgrade as she gifts Jon with a strong reminder of who he is beyond his bastard meaning name. He is far more Stark than Snow.
The North remembers and so does Sansa; those who have betrayed her receive little mercy including the man who saved her from monsters that murdered her family only to set her up with other monsters that murdered her family. Despite what outdoor theater in Braavos might suggest, her time as Tyrion's wife did not include breast baring debauchery and she suffered far worse in her second marriage; her Stark face was unharmed while every other part of her was violated and beaten.
When she left Riverrun with Littlefinger, Sansa ditched the pastels of King's Landing for a darker Goth look complete with feathers and her very own Needle like necklace mirroring the sword Jon gave to Arya. Descending the staircase at the end of season 4 after this dramatic makeover suggested this would be Sansa's time to avenge her family and gain some power; instead Littlefinger betrayed her and she endured a season of humiliation and brutality at the hands of Ramsay Bolton.
Now she is ditching her drab grey Winterfell 2.0 attire with another nod to her heritage. As Jon so astutely points out the 'wolf bit' is the focus and the fur is predominant, but the dark green color is also a nod to her mother; it is time to reclaim their home and as Sansa is now the official face of this campaign she needs to look the part.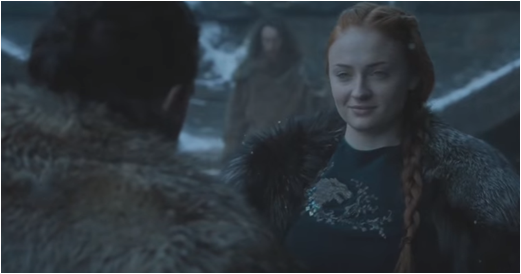 Some suspension of disbelief is required here as while we know Sansa is accomplished at sewing and dress making – while Arya dreamed of sword fighting, Sansa stuck to the more traditional activities – it is unclear where she would have gotten hold of materials like this while at Castle Black. I can't imagine there is much cause for sparkly embellishments in the Night's Watch, but as unlikely as it is perhaps she picked a few things up on the way back from Mole's Town and their meeting with Littlefinger. Regardless this is a powerful statement and one Sansa backs up with her gift to Jon.
Jon is of course still not an official Stark and therefore they might not be able to win the loyalty of Northern families with his face alone. Littlefinger can't let this little fact fall by the side and even after an admonishing of the highest order from Sansa, he can't leave without planting some seeds of doubt. Jon he reminds her is not actually her brother, but her half-brother (or cousin as some very popular Jon Snow parentage theories would suggest). The intention behind this statement is to make Sansa question her current situation and remind her that Littlefinger is integral to winning back her home.
Instead all it does is make Sansa go in hard on reminding Jon of who he is; he might bear the name Snow, however he is every bit Ned Stark's son (even though technically he probably isn't, but that is far from the point here). At the start of the episode we see Sansa sewing leather and fur so while she rejected these material when she became Goth Sansa everything that represents her family is very much back in focus now. The item she is making is for her brother and it further deepens their bond that they previously didn't share. Trauma has brought them together and they have both been through so much, but it takes Sansa's grit and determination to take back Winterfell and the North to get Jon back in the fighting spirit. Coupled with Ramsay's threats towards their youngest brother, Rickon and Jon's gonna put that brooding face to some good use. Although as Brienne points out he does have good reason to look so put upon having been murdered and all.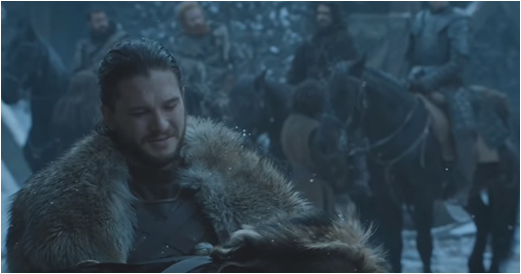 What better way to set off on a new mission than with a new outfit and while Sansa's dress is paying tribute to her mother, her gift to Jon is directly inspired by their father. The fur cloak she has crafted is a direct imitation of Ned's as best as her memory serves and she has done a pretty damn good job in recreating this garment. If there was ever to be a Project Runway: Game of Thrones edition I think we have an instant frontrunner in the form of Sansa Stark. The Stark wolf symbol is proudly stamped into the leather and I don't think we have ever seen Jon Snow look quite as touched as he does in this moment. A smile of pure happiness is etched across his face so take that Littlefinger with your shitty 'half brother' remarks. I don't think Sansa will be making you a new cape anytime soon, unless maybe if it were lined with something from Qyburn's laboratory.
Meanwhile there is another Stark who is trying all she can to rid herself of her title and Arya's ventures this week led to a bawdy play retelling of the first season of this show with some dramatic license and some excellent guest stars (oh hey there Richard E. Grant and Essie Davis). Sansa is doing everything she can to rebuild the Stark name and I wonder if Arya was made aware of what was going on she would ditch her training, grab Needle from its hiding place and find her way home. I think the answer to this would probably be yes and yet I guess one Stark reunion was a miracle so another of this magnitude is a pipe dream. Sorry Rickon, you matter too and I want them to save you, but you are no Arya in the grand scheme. And don't even get me started on the Bran of it all as I might start sobbing again about the events that took place at the end of this episode.
For now the Sansa Stark revenge lookbook consists of two characters and three outfits, but this is an excellent start to Game of Thrones Fashion Week and the Stark name is about to become the hottest in the North. It is time to remember.
Emma Fraser is the creator of TV Ate My Wardrobe and spends most of her time writing about TV, fashion and costuming; Abbi and Ilana's Broad City style, the wigs on The Americans and Mindy Lahiri's pajamas are just as vital as talking about '90s/'00s teen shows. Emma has a MA in Film and Television and she probably holds Angela Chase responsible for this path. You can find her on Twitter @frazbelina.