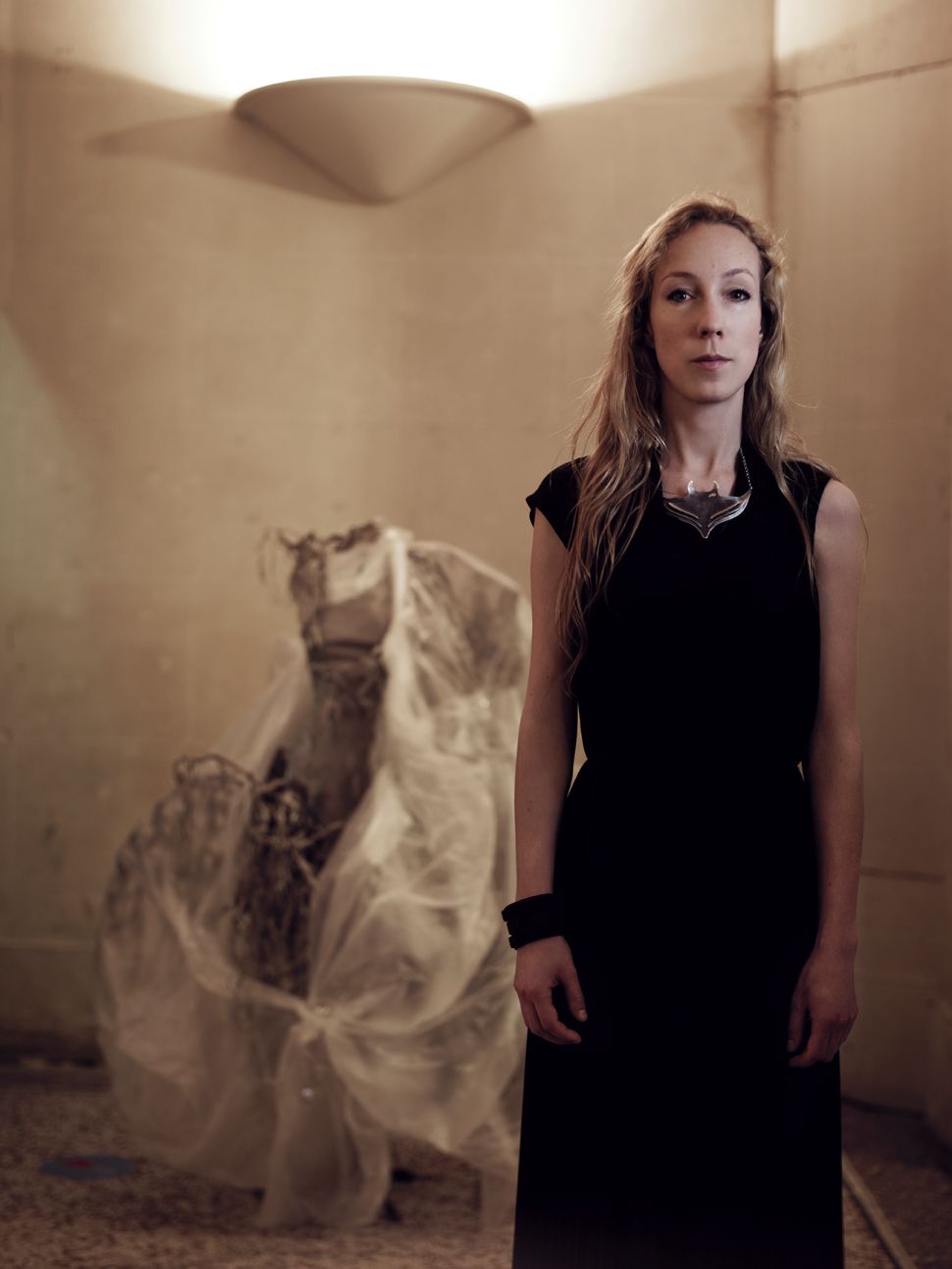 Iris van Herpen is a Dutch designer best known for her innovative use of technology, specifically for her work with 3-D-printed clothing going back to 2010. Now, she is a gently escalating fashion force, beloved of couture wearers in the art world. Aged 27, she became the youngest designer to show on the official calendar at the Chambre de la Syndicale de la Haute Couture's Fashion Week. Recently, her work has been featured in no less than three exhibitions: one in Atlanta, Georgia's High Museum in an exhibition called Iris van Herpen: Transforming Fashion, and two of which are currently open to the public in New York City at Cooper Hewitt's Beauty Triennial and the Met's Costume Institute's Manus x Machina: Fashion in an Age of Technology.
Most designers begin with an idea or a concept—like Bali at sunset, or tribal semiotics—that they build their collection around. But Ms. van Herpen begins with material research, looking for fabrics and unique materials that interest her with their texture or malleability. She doesn't like defining the direction of her collection in the beginning, often preferring to wait until she begins moulaging (draping on the mannequin] to develop the collection's concept. But even then, she "wants to keep her freedom in [defining the collection]," and avoids sketching out her designs.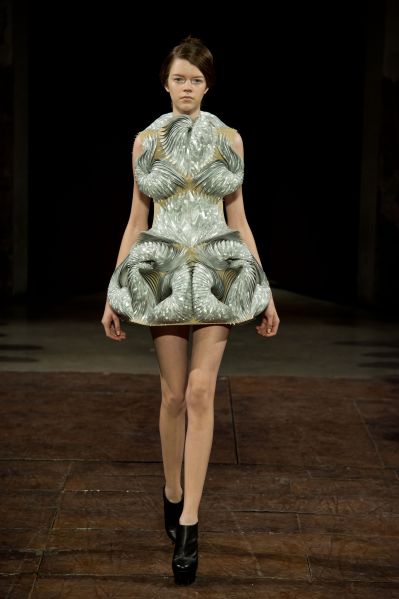 As Ms. van Herpen explains, "It gives me a very free way of giving my own interpretation to them."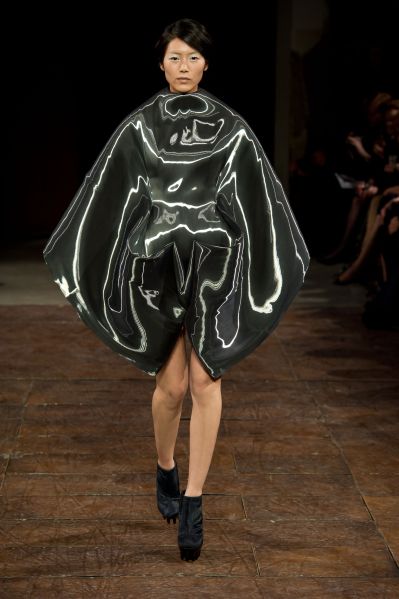 Ms. van Herpen didn't always want to go into fashion. At an early age, she dreamed of becoming a dancer, spending her youth at dance studios learning the art of ballet. But there were signs of her future career path embedded in her childhood. Her first memory of fashion was through her grandmother. Her grandmother collected clothing, costumes, shoes, jewelry and wigs and stored them up in her large attic. "She had a beautiful collection," Ms. van Herpen told me. Once a week, when she went to visit her grandmother, she would climb up to the attic and play dress up, the too-big swaths of fabric drowning her tiny body. But it was the first time she felt the power clothes had in transforming oneself, in transforming the body.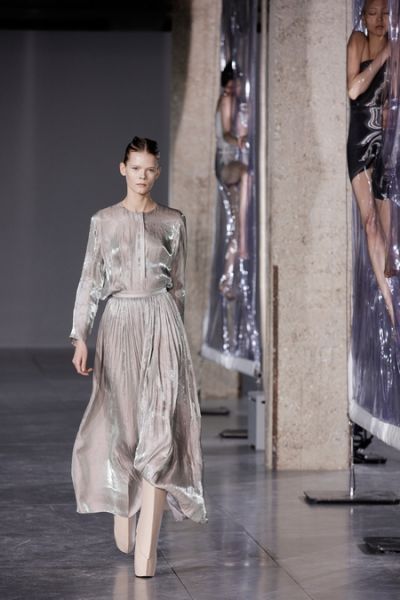 After completing high school, Ms. van Herpen attended the Netherland's famed ArtEZ Institute of the Arts, located in Arnhem, a large, bustling city, near Netherlands' eastern border with Germany. While there, she worked in nearly every artistic discipline: sculpture, drawing, painting and fashion. It was in the fashion department that Ms. van Herpen found her calling. "I knew I could combine my vision in fashion best. It's a way where I could be able to work with the body like I used to with dance and to still be thinking about the transformation of that body and the movement but in a more material [way]…[Dance] is only there when you do it. And what I really like about working with fashion is that I can create something for someone that is still there when I'm not there. That I can sort of create this dialogue with the body."
Ms. van Herpen's focus on creating fashion that communicates, that makes the wearer and the people around her think, is what brings her work out of the realm of futurism and science fiction. Futuristic fashion is depicted as this cold, robotic prototype that is more about the gadgetry and the circuitry than it is about form and aesthetic ideals. But Ms. van Herpen's work has a humanity about it—her clothes often looking as if they were biomorphic forms with a sense of self, a sort of sartorial AI. The reason for this is simple: for her, craftsmanship and handwork are equal to that of technology.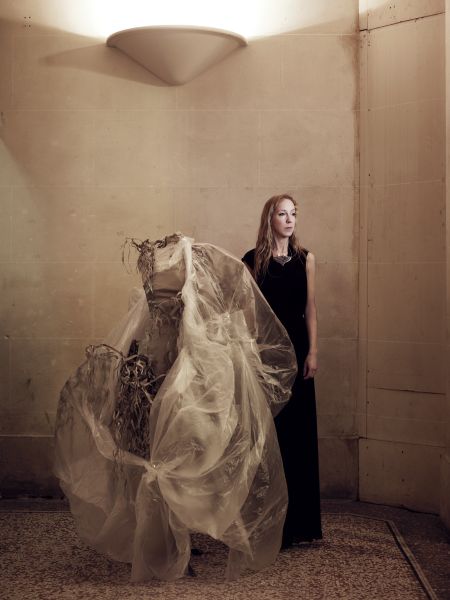 An integrated approach allows Ms. van Herpen's work to avoid the common pitfalls of a technology-centered approach to fashion, like a lack of aesthetic appeal. Architectural shapes, stunning metallic, textured colors and skilled proportions have made Ms. van Herpen's looks wantable for an upscale client, happy to make a bold statement and turn even the most artistically inclined heads.