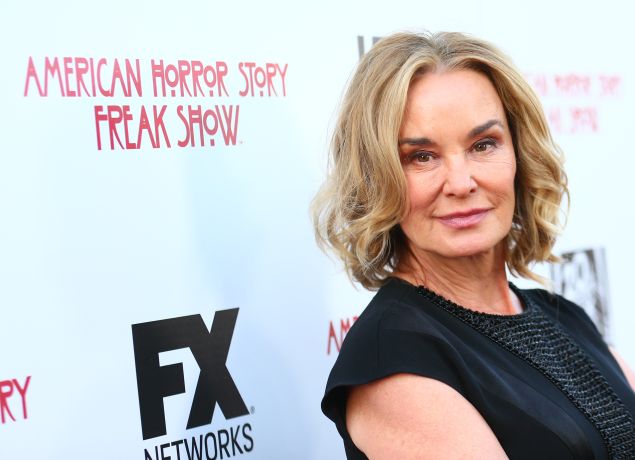 Have you ever wanted to watch Jessica Lange and Susan Sarandon fight each other? Haha, probably at least once, ya weirdo, and American Horror Story creator Ryan Murphy is here to hook you up. Today, FX announced Mr. Murphy is set to bring Feud to the network, a limited series that will focus on the "bouts and blows of epic conflicts." And if the term "epic conflicts" conjures to mind settings like the beaches of Normandy on D-Day or Spartans defending the mountain pass at Thermopylae, you…don't think like Ryan Murphy. Feud's eight-episode run "goes inside the legendary backstage battle between What Ever Happened to Baby Jane? stars Bette Davis and Joan Crawford."
Ms. Lange will star as Joan Crawford across Ms. Sarandon's Bette Davis. Alfred Molina, Stanley Tucci, Judy Davis and Dominic Burgess round out the cast. Mr. Murphy is set to direct "several episodes," while executive-producing alongside Brad Pitt and Dede Gardner.
"Ryan keeps re-inventing TV," FX Networks CEO Jon Landgraf said in a statement. "Nip/Tuck brilliantly extended the boundaries of ad-supported television. Glee re-imagined the television musical. American Horror Story pioneered the modern anthological series, which has rapidly transformed the television landscape and been widely copied. The People v. O.J. Simpson: American Crime Story was recognized by many as the best and most talked about new show this year…Feud adds a third and equally ambitious franchise to Ryan's unprecedented slate of FX anthological limited series…"
With Feud, Mr. Murphy essentially solidifies his place as King of the Anthology Series, proving he can place any random word between "American" and "Story" and FX will not only greenlight it but occasionally, like People v. OJ Simpson, it will turn into one of the most engrossing TV events of the last decade.
Feud, a.k.a. American Actresses Not Getting Along Story, is a Fox 21 Television Studios production, based partly on the script Best Actress by Jaffe Cohen and Michael Zam.