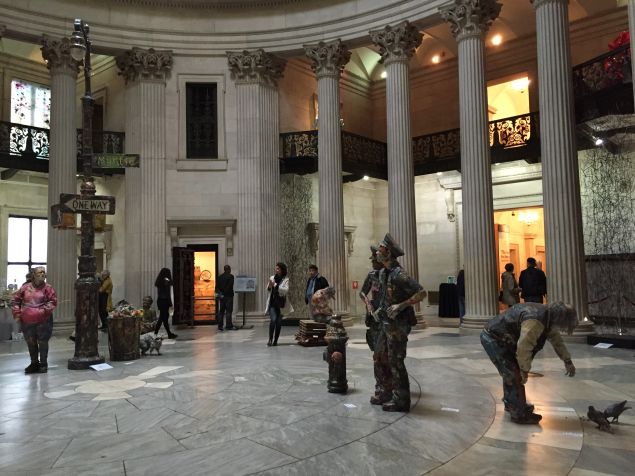 The site of this historic building is where George Washington was inaugurated as the first president of the United States. It's also where our nation's first Congress met. We're speaking of Federal Hall, of course, on Manhattan's bustling Wall Street. While the original structure was replaced in 19th century, the building that stands today is still among the most historic in New York City, and this week the former Custom House is home to a scrappy new art fair called Portal, which features large-scale installations and work by 28 artists.
There's an eclectic mix of emerging and established artists on view, and works run the gamut from delicately animated videos to oil paintings of cats and chiming gongs. There's even a scaled down model of Manhattan made of light-up circuit boards and solar panels.
Nothing is particularly heady by itself, but in a space so drenched in history the entire show is a milestone moment. This is the first time artists have taken over Federal Hall, a space usually occupied by tourists and peppered with displays dedicated to Washington and the birthplace of American democracy.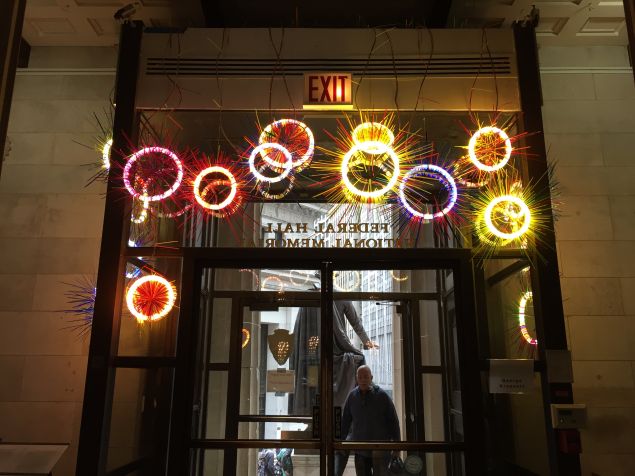 The folks behind Portal, which runs through May 10, are artists Nicole Laemmle, Jack Robinson and Antony Zito, of the arts nonprofit 4heads. The trio also oversees the Governors Island Art Fair, a sprawling exhibition that occupies that park's aging houses and military fort each September. Like the fair on Governors, Portal is free for artists to participate, but they must apply and be chosen through a competitive process.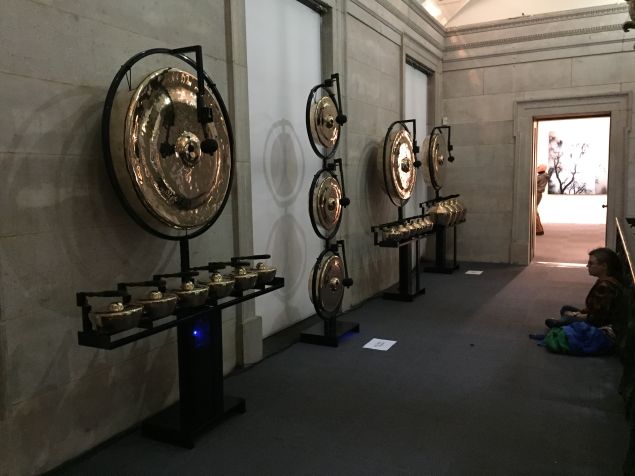 This is 4heads' first Frieze week event, and one they've been planning for several years, said Mr. Zito, while he carefully eyed a group of tourists who looked about to ignore signs that read "Please Don't Touch the Art." (Federal Hall is run by the National Parks Service and tourist groups visit daily.)
Portal overlaps with New York Frieze a citywide art extravaganza where galleries and artists from all over the world gather to buy, sell and network. And while galleries will shell out thousands for a booth at Frieze on Randall's Island, Portal is a unique opportunity for a select few to show and sell with no overhead. Profit artists make from sales go directly to them, with an option to give 30 percent to 4heads if they're feeling generous.
"There's a division in the art fair matrix," said Mr. Zito, who sees Portal as more aligned with alternative fairs such as Flux than with corporate-sponsored giants like Frieze. "But we like the side we're on."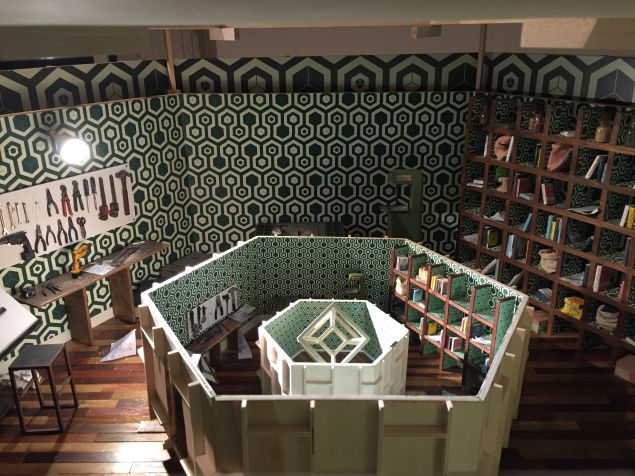 The building's marble halls and doric columns are fashioned in the recognizable Classical Revival style typical of most American government architecture. The Parks Department has set up exhibits throughout featuring historic models and artifacts detailing the significance of the site. There's a vault on the ground floor with fake money inside, a relic from the hall's time as a branch of the U.S. Treasury Department, and a cracked stone behind a velvet rope is carved with words indicating this is where Washington took his oath as president. Just next to that stone, in a perfect marriage of opposites, are a series of giant copper-colored geometric steel sculptures made by Rodrigo Nava. Across the rotunda, are heaps of what appear to be trash but are in fact an installation of found objects by Becky Brown. And in the center of the entrance hall, tourists mingle with Will Kurtz's life-sized statues of people dressed in everyday clothes.
Why has no one thought to show art here until now?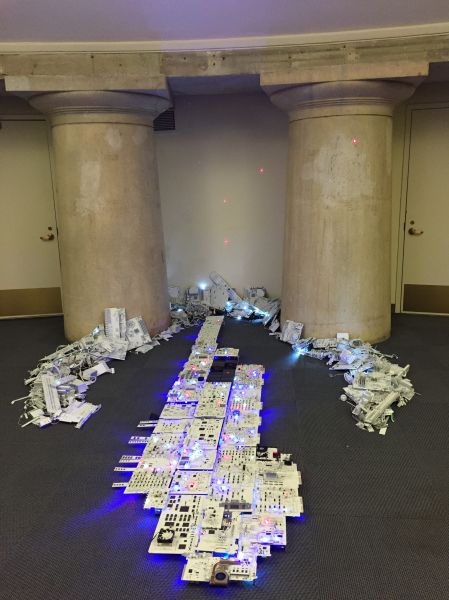 While not all works engage directly with the site's history, a few playfully pick away at the city's ever-shifting identity by making good use of its detritus. Jackie Mock's curiosity cabinets contain objects seemingly found on street corners such as pigeon feathers and soda cans, and the signs on Mr. Kurtz's soaring papier-mâché lamp post read "Myrtle" and "Broadway." "We brought a lot of garbage in here," said Mr. Zito. "We're proud of that."
He explained that the intention was to purposefully show work that appears out of context in such a "grandiose" space. "We like to play with that contrast," he said.
Other highlights include an installation of rounded fluorescent lights by George Kroenert above the entryway, a blinking display of LEDs and computer parts arranged to look like New York City by Taezoo Park and a large ominous black sphere by Dong Hee Lee tucked inside a concrete well in the lower level.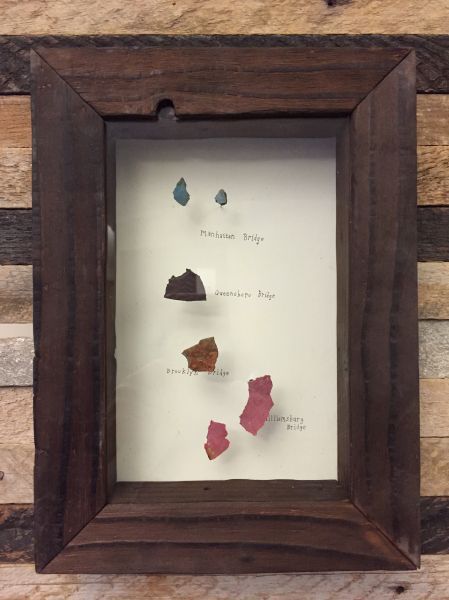 In a way, 4heads are pioneers repurposing New York's forgotten spaces. When they launched the Governors Island Art Fair in 2008, the park was used infrequently by the public. Today, Governors' spring and summer calendar is chock full of festivals and free events.
"We've sort of fallen into that role unexpectedly," he said. He hopes the show at Federal Hall won't open the proverbial flood gates for just anyone to use the building, and admits the project is not hugely profitable.
"You have to be nutty to take this on and play ball with the Parks Department, but we were crazy enough," he said. "It feels special, like we're doing something worth while."
Portal is free and located at Federal Hall on 26 Wall Street, through May 10.