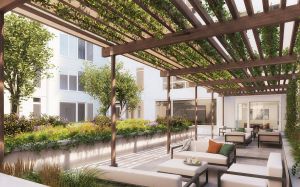 Earlier this year, four of New York's most prominent architects—Rick Cook, Bjarke Ingels, Annabelle Selldorf and Richard Meier—gathered for a roundtable discussion at the 92nd Street Y titled "The Future of New York's Skyline." All four immediately spoke not about height but rather about New Yorkers' increasing desire to be connected to nature. "Nature creates spectacular beauty, and people have an inherent desire to be connected to it," said Mr. Cook. Mr. Ingels, who is from Copenhagen, shared a story about searching for a New York apartment with the most outdoor space, then sleeping on his Dumbo terrace and "waking up to bird tweets." He added, "I realized I hadn't heard birds singing almost since I moved to New York…but they're here." And Mr. Meier, who noted, "High-rise building is here to stay," criticized the soaring luxury towers for their lack of "public outdoor space."
Indeed, New York is seeing a renaissance in outdoor space and not just at its public parks. The city may be full of people who reject the suburban ideals of a house and a yard, but that doesn't mean its apartment buildings can't provide something better. New-look "urban backyards" are an amenity practically required now in new development. "I've lived in New York 20 years, and I've seen an overall shift, a sea change, in our relationship with open space and ecology," said Steven Tupu, founding principal of the landscape architecture firm terrain-nyc. Whether it be roof decks, terraces, courtyards or urban farms at residential buildings, the image of New York as a "concrete jungle" is slowly fading.
There's a long history of backyards as a quality-of-life attraction for city dwellers. It begins in 1901 with the New York State Tenement Act, which banned the construction of dark and poorly ventilated tenement buildings. Physicians had drawn a link between tuberculosis and congestion in the city's tenements. So the law required new building construction with outward-facing windows in every room, an open courtyard and proper ventilation systems. Initially, courtyards were mostly used for trash disposal. But the law set a precedent for outdoor space and access to light and air, all of which were directly tied to physical well-being.
There were also architects around this time designing so-called "model tenements" that strongly emphasized better access to the outdoors. The buildings of philanthropist Alfred T. White—such as the Home Buildings in 1877 in Cobble Hill, Brooklyn; the Tower Buildings in Cobble Hill in 1879; and the Riverside Buildings in Brooklyn Heights in 1890—only took up about half their lots, preserving space for large courtyards that could be used for concerts and recreation. The Cherokee Apartments, which opened at 517 East 77th Street in 1912, were four interconnected buildings meant to house poor families with tuberculosis-infected members. Apartments came with floor-to-ceiling windows, which tenants could step out of onto wide balconies to take in fresh air—or even sleep on.
The rich were thinking about outdoor spaces, too. When the Astor family started developing land on the Upper West Side in the early 1900s, they lured well-to-do Manhattanites, who were coming from single-family townhomes, to elegant apartments by designing "introverted palazzos," a variation on the European-style courtyard, which provided a social setting for residents as well as plenty of light and air for surrounding apartments. The first such Astor building was Graham Court, which opened in 1901 in Harlem, followed in 1908 by the Apthorp and the Belnord on the Upper West Side.  
'It's usually profitable for developers to pay a lot of attention to open spaces. It's driving a lot of the marketing and imagery of urban living.'—Steven Tupu, founding principal of landscape architecture firm terrain-nyc
As New York forged ahead into the 1900s, the city tore down overcrowded tenements to build government-supported housing for low- and middle-income New Yorkers. First Houses, the country's first public housing project, opened on the Lower East Side in 1935 with courtyards containing trees, playgrounds, benches and sculptures for tenants. Green space in affordable housing, in fact, became so prevalent that developments earned the title of "towers in the park." Here, high-rise buildings were placed away from the sidewalk, surrounded instead by parking, lawns and trees. It was an effort, in part, to "suburbanize" New York at a time when many were leaving the city for the suburbs.
In time, however, this was seen as a misstep. These so-called "passive" outdoor spaces felt removed from the rest of the city, weren't near any commercial activity and became home to crime. And as development increased, there just wasn't room for sprawling parks surrounding large buildings. Today, architects are challenged to create engaging outdoor areas with little land available. "Outdoor spaces are much more in demand for residential and office spaces," said Dan Kaplan, senior partner at the architecture firm FXFOWLE. "Not just in quantity but in quality."
Steven Yavanian, of Steven Yavanian Landscape Architecture, echoed the sentiment: "Since I came to New York in 2007, there have been more innovative ways to incorporate greenery in buildings, and you see more advertisements promoting that 'back to nature' feel," he said. "It might be a backlash to our highly technological world…People want to connect back to something that's real."
New Yorkers are surrounded by innovative greenery, from the High Line to the rapid development of waterfront parks—it only makes sense they'd want that where they live, too. And in a more environmentally conscious post-Hurricane Sandy city, buildings with native plants, storm water retention and green roofs prove appealing. Developers also see it as a good monetary investment, just like the Astors did. "It's usually profitable for developers to pay a lot of attention to open spaces," said Mr. Tupu. "It's driving a lot of the marketing and imagery of urban living." Today, 91 percent of the sales inventory in the Financial District comes with access to outdoor space; in Dumbo it's 98 percent, according to StreetEasy. In fact, at least 80 percent of the sales inventory includes outdoor space in six Manhattan neighborhoods and nine Brooklyn neighborhoods.  
At Circa Central Park, a new 48-unit condo at 285 West 110th Street, FXFOWLE "set the building back to create a 'stepping stone' or 'terracing' as the building diminished," explained Mr. Kaplan. "We came up with a graceful shape, as well as an indoor and outdoor relationship with Central Park." Thirty-five percent of units have private outdoor space; FXFOWLE selected folding glass accordion doors to offer a seamless connection between the living room and private terrace and maximize park views. For many new developments, "we're showing off these outdoor spaces at the front door," said Mr. Kaplan. "At Circa, you walk in and can see beyond into the courtyard."
FXFOWLE has designed a number of outdoor spaces for affordable housing, as well. "[Housing Preservation and Development] is very interested in promoting outdoor space," explained Mr. Kaplan, a continuing tradition since the days of "model tenements." Mr. Kaplan didn't see a big difference between designing outdoor spaces in market rate and affordable buildings but did note "there is an interest in rooftop gardening [for affordable housing], to the degree that some neighborhoods are located in food deserts." Mr. Tupu was challenged with designing "a skinny little courtyard in the back of the building" at 2388 Creston Avenue in the Bronx but was able to include a performance space, seating and raised garden beds irrigated by rainwater captured on the roof. "With a commercial developer, we usually come in later in the design process," he explained. "With affordable development, we come in once they purchase the site to decide where to place the courtyard and utilize the open space in the best possible way."
Tight space is a common challenge for landscape design: At the 74-unit Dumbo condo 51 Jay Street, Mr. Yavanian was tasked with creating a "micro birch forest" in a central courtyard.
"We had a tight space—it's a courtyard—so we wanted a significant visual effect with the trunks, which have a gorgeous white bark, without making anything too overtly dense, without too much shade. There's a lightness to the canopy." He countered another challenge—growing grass on the roof—by covering the roof deck with artificial turf instead. "It's become more aesthetically pleasing and has a nicer feel on feet," noted Mr. Yavanian.
There are many challenges, in fact, to creating a rooftop landscape. Wind creates a harsh environment for plants, not to mention New York's climate, which gets very hot in the summer and very cold in the winter. To deal with heavy loads on roofs, architects often place trees or heavy soil over the building columns. And to combat noisy mechanical systems, they must be creative in dampening sound.  
Today, 91 percent of the sales inventory in the Financial District comes with access to outdoor space; in Dumbo it's 98 percent, according to StreetEasy. In fact, at least 80 percent of the sales inventory includes outdoor space in six Manhattan neighborhoods and nine Brooklyn neighborhoods.
Some developments have the luxury of extra square footage, allowing for more ambitious spaces. URBY Staten Island, which will hold 900 units over two different buildings, is located on a former U.S. Navy homeport. (The first 571-unit building opened in April.) "It's a big complex that sprawls, so we wanted to orient people in public spaces," said David Barry, president of Ironstate Development. The team nicknamed the main connecting pathway "the zebra" for its alternating wood and stone sections. URBY is anchored by a communal farm, manned by a full-time farmer-in-residence, Zaro Bates. Ms. Bates, who is growing hundreds of seedlings at her URBY apartment before transferring them to the farm, called it "a vehicle for a fun, lighthearted but food-oriented culture." There will be a pop-up stand where residents can buy veggies, opportunities for residents to harvest and "pick your own" days.
At the mega development Pacific Park, being built over rail yards in Brooklyn, there will be eight acres of open space for both residents and the public as well as private outdoor space in the residential buildings. "We knew it couldn't just be green space," said Susi Yu, executive vice president of residential development for Forest City Ratner Companies. "It's about activities, programing and activating the ground plane in a way that's specific to the experience."
Mark K. Morrison, founder of MKM Landscape Architecture, said he goes into projects "trying to create patches in the urban landscape." He added, "We want to calculate green space to match or exceed the footprint of the building." He has completed lots of residential work—including a garden, fruit orchard and berry patch on the 35th floor of the 247-unit Visionaire condo in Battery Park City—but his visions of greenery expand to hospitals, prisons, offices and the like. His firm is currently developing four wraparound terraces, which will use native plants and retain 95 percent of stormwater, for 300 Lafayette Street, a high-profile retail and office building replacing a Soho gas station.
"You give people access to color, the sight of flowers or trees, and over 90 percent recognize that space adds value," he said. "We're in a hardcore urban environment. Who doesn't want a terrace?"