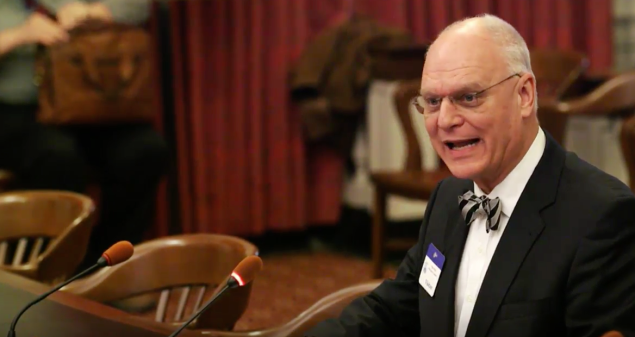 In this eleventh hour grappling over a state takeover of Atlantic City, mayor Don Guardian responded to Senate President and takeover sponsor Steve Sweeney (D-3), who laid the blame for the city's near-insolvency at the feet of city officials. The budget, Sweeney said Wednesday, has not shrunk at the necessary pace. Guardian allowed that there are still deeper cuts to be made, but reiterated that the takeover's accompanying PILOT legislation for the city's remaining casinos would have gone a long way on its own.
Governor Chris Christie, who supports Sweeney's takeover bill and will likely veto the competing bill from Assembly Speaker Vince Prieto (D-32), pocket-vetoed the PILOT earlier this year after months of delay. The gridlock between Sweeney and Prieto, Guardian wrote in a statement, could have been avoided.
"There is still a lot of work to be done," Guardian said. "I will be the first one to acknowledge that; but, there are 330 less city employees working for the city than when I was sworn into office in 2014. We have reduced costs and streamlined services. We have outsourced and privatized. We continue to look for solutions and ways to save money.
"For the past two years, I have appreciated Senator Sweeney's leadership towards Atlantic City. He was actually the first one to put out the PILOT bill back in 2014, which today is still a major component of the comprise needed to bringing Atlantic City solvent. However, we must all remember why we are here today. Atlantic City lost 70% of its property tax in just the last six years. Last year, the state told us to put $33.5 million into our budget, assuring us that the PILOT bill would be signed. The PILOT was vetoed twice. We were left with a gaping hole in our budget. Now time is running out."
Sweeney, meanwhile, alleges that his concession of a 195-day grace period during which Atlantic City could reduce its per capita spending by half was rebuffed by Prieto. Prieto's camp denies that Sweeney ever brought that proposal to the Speaker.
"I had already extended my proposed deadline for action by 130 days," Sweeney said in a statement. "But at the meeting on April 20th, in the spirit of compromise, I told the Speaker I was willing to offer the government of Atlantic City an additional 45 days to come up with a solutions.
"In response, the Speaker immediately rejected my offer and extended nothing in return."