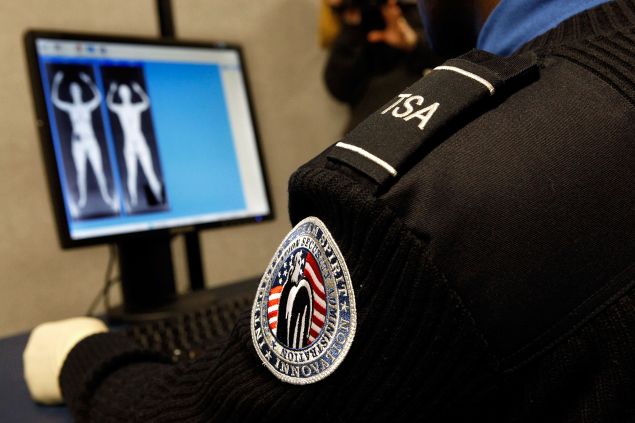 Last week, the Port Authority of N.Y. and N.J. complained to the TSA that security lines at the region's three main airports were unacceptable—hitting 55 minutes recently—and getting worse. Between March 15 and April 15 of this year, the average wait time was 21 minutes, up from 11.5 minutes a year earlier—an 82 percent increase. During that same month-long period a year ago, travelers at Kennedy, La Guardia and Newark had to endure security-line waits of more than 20 minutes only 10 times. This year, it was a shocking 253 times.
Such delays are becoming commonplace. The Drudge Report, the country's foremost authority on what's angering America, has been detailing the spiraling crisis. Yesterday in Chicago, both airports began recommending that passengers arrive three hours early to allow for lengthening security lines. New York fared slightly better than Chicago, where delays exceeded two hours and thousands of people missed their flights.
In response, the TSA blamed passengers for bringing too many carry-on items. Seriously.
A day after this surreal exchange, we thought it might be prudent to actually sign up for the TSA's PreCheck program. (We occasionally get diverted to the PreCheck line, though we're not sure whether it is because we are already members of Global Entry—issued by the same federal agency—or because we shelled out a few bucks for more legroom and early boarding.)
The TSA has blamed unconscionable delays on passengers for bringing too many carry-on items.
Shorter lines and not having to remove our shoes or computers does reduce the stress a bit, and that is worth the $85 fee TSA charges. What we can't quite figure out is why it costs $85 for this privilege. Electronically cross-checking our application data costs a fraction of a cent; the visual inspection of our passport pennies; and the collection of our digital fingerprints under a dollar. When approved, our preclearance and use of the faster line actually reduces their staffing costs.
It took about 10 minutes to complete the TSA's online questionnaire. We then had to schedule an in-person appointment to show our documents and get fingerprinted. (Why our Global Entry data—the same fingerprints and passport—couldn't be transferred to the sister agency still baffles us.) When we chose one of the three Manhattan locations, we saw that the next available appointment wasn't until late July. So we thought we would check out a different location.
Big mistake.
When we hit the back button, all of our data was lost. There had been no "save" button and we couldn't retrieve it. (That we filed a complaint via the TSA's online form is of little consolation. Some matters take as little as 48 hours they advised, but others much more—like their baggage screening.)
That the TSA's website is about as customer-friendly as its airport screeners should not have been a surprise. But it is just another example of why airport security in New York and New Jersey should be privatized—just as it has been in San Francisco, Orlando and 20 other airports.
The TSA was created in response to the horrific security breaches that resulted in the 9/11 attacks. Those were private screeners who simply didn't do their jobs. We hope that we have learned something since then. Unfortunately, the TSA itself is often guilty of not learning these same lessons. Last June we reported that in a test of the TSA's ability to find simulated explosives and weapons in baggage and on passengers, the contraband got past airport screeners on 67 out of 70 occasions.
Sadly, air travel has become pretty unpleasant, and the TSA is a big part of the problem. Perhaps they even recognize it, because they have a "Screening Partnership Program" that encourages airports to take over screening with approved private companies. In fact, the online application is only a single page; and the TSA promises to notify applicants within 120 days. That assumes of course, that the airport manager doesn't hit the "back" button. But we urge the Port Authority to make the effort; and keep a back-up copy.
This is not a partisan issue and we don't blame any party or even philosophy for these ongoing struggles. The attacks of September 11 made it crystal clear that security must not be an afterthought at our airports. But it's equally clear, from the screaming tabloid headlines about the waits and the fact that millions of Americans encounter these winding lines every day, that the presidential candidate who can credibly make the case that America's crumbling systems can be made to work again, will greet a receptive electorate.