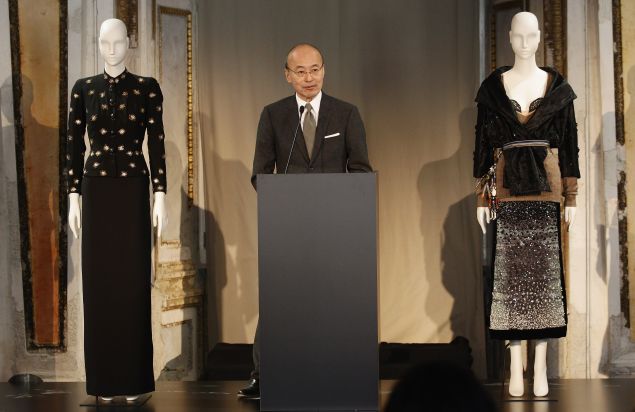 When Harold Koda accepts his Pratt Fashion Award for Lifetime Achievement tonight at the institution's annual fashion show and cocktail benefit, it will actually be the second honor he's garnered from the school. "[Last year,] the Black Alumni of Pratt gave me award and it was actually then that I met the president!" the former Metropolitan Museum Curator-in-Charge told the Observer via phone.
That Creative Spirit Award saw the Hawaii-born fashion expert honored alongside the likes of a New York City Department of Parks and Recreation commissioner as well as an architect, in a much more diverse gathering, hosted at the Four Seasons Restaurant. This latest accolade will involve the star power of Barney's Simon Doonan, this year's award presenter.
"I'm kind of surprised," Mr. Koda said of the ceremony. "Mine has been a life where I've just been doing things that are really enjoyable with people who are really inspiring — to be acknowledged for it is frosting on the cake." That life saw Mr. Koda move from a volunteer assistant to the head restorer under Diana Vreeland's era at the Costume Institute, to running the division outright. And for an islander who self-identifies as lackadaisical, it's been quite the ride.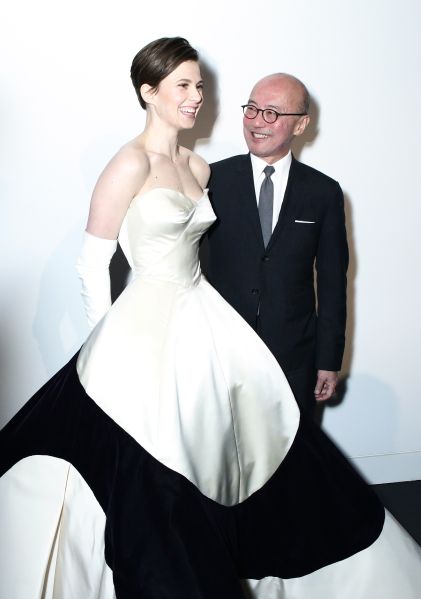 "One of the things I want to communicate to the Pratt students is to always be around people who are out of your league," Mr. Koda explained. "Working with the directors at the Met, working with someone like Anna [Wintour], you learn so much because we're all so different and all of our approaches are different." That work has seen the former FIT associate curator have a hand in mounting exhibitions like the recent Met blockbuster's China: Through The Looking Glass and Alexander McQueen: Savage Beauty as well as exhibitions like a Giorgio Armani retrospective for the Guggenheim in 2000. The latter two shows have gone on to tour the world in museums across London, Berlin and Bilbao.
"With Anna I just learned so much!" Mr. Koda continued. "One of the things I learned is: make a decision, make it fast, while understanding all of the different aspects of it, and generally move on forward. Even if it's not exactly the outcome that you want, don't just brow beat yourself, just move on."
Having been curating since 1979, Mr. Koda has seen quite a bit of industry change. "It's much more sophisticated now," he reasons after likening curation to observation. "If you compare the qualities of Andrew Bolton and myself, I think we share an ethos but the conceptual complexity of what he does was never required when I started." Mr. Bolton took over the Costume Institute on Mr. Koda's departure and is generally credited with the success of both the Looking Glass and McQueen exhibitions. The current Manus x Machina exhibition is his first as curator-in-charge. "One could be very monographic [before], one could look at history with a little bit of fantasy and murkiness. Now the presentation of historical and contemporary dresses has to be as factually accurate as possible; you can't just make up stuff and you can't just be anecdotal. It now has an intellectual rigor which was never required because as an applied art it wasn't taken as seriously before." That anecdotal, sensationalized methodology was much more of Mrs. Vreeland's style.
But Koda's retirement comes at a time when the industry is large is rife with change. "It's complicated, but it's very exciting at this moment," he said when talk turned to the rapid pace at which designers now work. "The whole concept as fashion as a business and certainly as a creative enterprise is being completely rewritten. When you read that certain venerable houses are suffering, [it's clear] that there's a paradigm shift." But what does that mean for curators? Should Mr. Bolton be worried like New York designer Chris Gelinas? Will, as Raf Simons put it "all [this] stuff still be relevant in 30 years?" It will to someone, according to Mr. Koda.
"The Met is about masterworks, innovation and the highest levels of technique, aesthetic judgement and cutting edge so it tends to be clothing of the elite rather than the working class, but there are other museums that are specifically about what we wear," Mr. Koda explained. "They would be collecting Lululemon, but that's not going to be at the Met. The Met would be collecting those fearless people that aren't necessarily about being lauded internationally, but rather be working in a way that their pears really admire them. Someone like Azzedine Alaïa who works off of a calendar and a standard of his own making." In some ways it's a sort of "wheat from the chaff" way of looking at things.
But what now? Having been the head curator at the Costume Institute, working in a way that has been largely influential on how fashion exhibitions worldwide are staged and even considered, what is there left for Harold Koda to do beyond retirement. "I told myself that i wasn't going to take fashion projects other than what i'd already committed to because if i wanted to do a fashion project i would have stayed at the met," Mr. Koda said. "You have Anna, you have the directors that are incredibly supportive, donors who are incredibly supportive, why would you do it anywhere else?" Instead, he's going to put the Master's Decree in Landscape he earned from Harvard to work in a way.
"I had a huge menu of projects that i wanted to do but it's honing in on one thing," Mr. Koda said. "They have this little cottage in a historical part of the Bahamas that has been devastated by hurricanes and storms. There are very few relics left of the historic place but it's such a poetic site. What I've decided that i want to work on an architectural intervention of one of those ruins." And having been curating for so long, it'll no doubt be a beauty when it's done.