Welcome back to "Here For The Wrong Reasons," where we deconstruct The Bachelorette with all the grace and elegance of Chad throwing back fingerfuls of cold cuts.
It's week two which means I'm just now finally being able to identify the interchangeable brown haired-blue eyed boys on sight, and JoJo is allowed to take them on ridiculous and meaningless dates just because she can.
SHAWTY FIRE BURNING ON THE DANCE FLOOR
For her first group date, JoJo brought ten of the guys out to a parking lot to run mock-firefighter drills in the heat and make fire-related puns.
Poor Wells. Reminder: Wells is the only one of the boys who looks like he has never had a protein shake in his life (probably because he's too busy listening to indie music on the L train, which seems like it would be his natural habitat.)
Wells nearly faints, but gets extra time with JoJo while she nurses him back to health, most likely out of guilt for making the tiniest group of strangers who are already in love with her run around in 80 pounds of gear.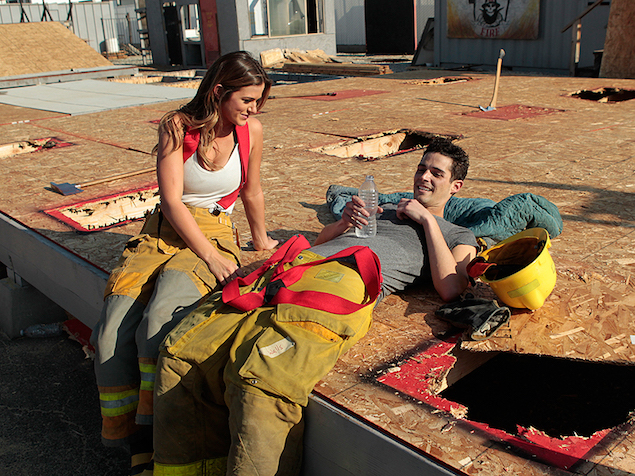 And then when it's time for the final round, where three of the guys get a chance to race the course and "rescue" JoJo from where she's just chilling out on the top of a totally not-on-fire building, the Fire Captain chooses Grant (who's an actual firefighter), Luke (veteran), and–you can almost hear his internal monologue just saying fuck it, this will be hilarious­–Wells.
Shocker of shockers, Grant, the real firefighter wins. But JoJo gives the group date rose to Wells because he tried the hardest, and also because he is adorable, and so funny, and so smooth. (Wells, if you're reading this, please ask me out.)
ONE-ON-ONE WITH… SOME GUY
JoJo chooses Derek for the one-on-one date, and brings him on a choose-your-own adventure that brings them on a private jet to San Francisco. They kiss, but I honestly cannot remember anything about the date, or their conversation. I had him in my notes as "Devin." Devin is very forgettable.
With an eerie foreboding melody that plays in the minor key every time he's on screen, the show has turned Chad into the bona fide villain of the season. While Derek/Dylan/Devin was choosing "sea" or "air," Chad was back at the house, basically embodying the name Chad in every conceivable way. Doing pullups with protein powder as a weight belt? Check. Making lots of weird protein shake-related metaphors? You got it. Bonding with the creepy Canadian contestant, Daniel? Chad-tastic.
Chad has a bad habit of telling the camera what JoJo wants. "JoJo doesn't want an actor or a performer. She wants a man," "JoJo wants a man who can take care of her," "JoJo agrees with me that we should euthanize all short guys," etc.
He's also the only guy who calls out the silliness that the first few episodes of the show always require. While the other guys are singing a song they wrote about how much they love JoJo, Chad is the one lurking in the corner, eating protein, saying things like, "We met her yesterday. It's very weird how you all pretend like you're in love with her." Damn this show for making Chad have sort of a good point.
SPORTS TIME!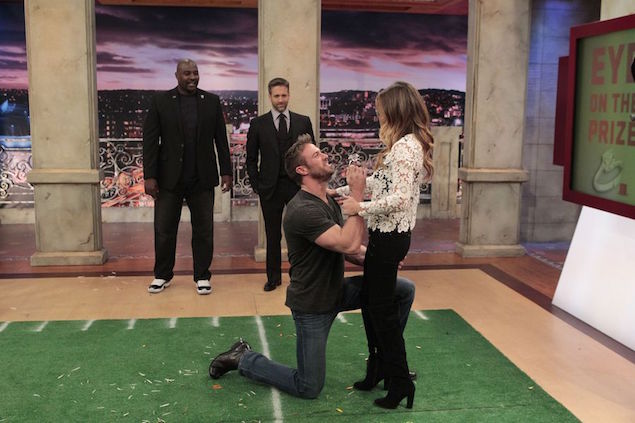 Did you have any doubts that JoJo was a Cool Girl? Doubt no longer! She likes Sports! For her second group date, she brought the herd to ESPN studios where the hosts of SportsNation would power rank the boys after they did a bunch of meaningless challenges. Note: this looks way easier than the firefighting assignment.
You'd think this would be a shoe-in for Jordan Rogers, former pro-quarterback and (as a poorly-spliced audio clip reminded us) brother to Green Bay Packers QB Aaron Rogers. But all attention was on Chad, the walking masculinity complex who couldn't get in the spirit of fake proposing to JoJo because, as he reminded us again and again, he just met her. And then he called JoJo "naggy" when she complained about his mediocre proposal effort because in addition to snorting protein powder like cocaine, Chad also time-travels back regularly to the 70's to brush up on gender roles.
And, to everyone's surprise, Chad's nagging worked! Even though James Taylor won the rose for a sweet note and serenade, JoJo said she liked Chad's honesty, and then started liking him even more when she found out he had a puppy and his mom recently passed away. Something about the order we've seen Chad's interactions with JoJO– the show of masculinity, the nagging, the conscious effort to appear vulnerable ­– makes it seem like he's following the steps of some pickup artist book.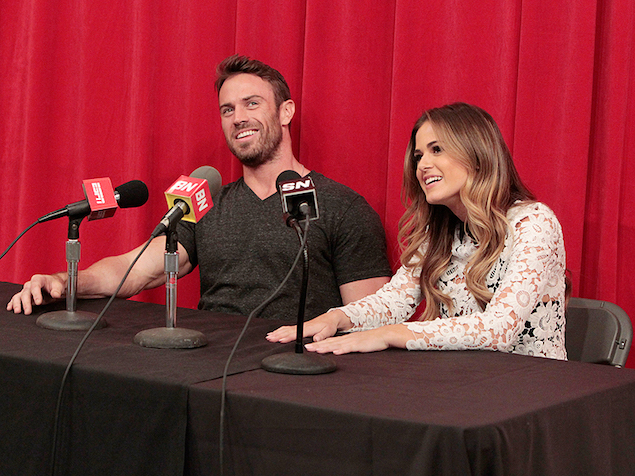 If Chad's strategy is working on JoJo, it's definitely not making him any friends in the house Chad is the male equivalent of the girl who talks about how she just doesn't have any real girlfriends, because girls are so dramatic and she just gets along better with guys, you know?
Before JoJo gets to the cocktail party, Chad emerges from the shadows like the guy with glasses at the beginning of Willy Wonka and the Chocolate Factory who wants an everlasting gobstopper. But Chad just wants to talk, and even though JoJo initially seemed a little creeped out by his Slugworth maneuver, they entered the party arm-in-arm, ensuring that the rest of the guys would hate Chad until their dying days.
Chad spent the rest of the night eating cold cuts with his fingers, defending himself against the slightly pathetic threats of the other guys, and making fun of the short Alex for being short. (Did they really need to have Alex sit on that giant chair though?) Chad is the alpha in his own mind, and while you got to admire him for not caring what the other contestants think (and for eating on TV), one wishes he could be a lone wolf who also happened to be non-violent with updated concepts of gender.
THE GUYS JOJO TOLD TO LEAVE (GET OUT):
WILL
R.I.P. you beautiful generic brown haired-blue eyed man. You will not be missed.
BRANDON
My only regret is that we loose the self-appointed hipster before he could mansplain The Antlers to JoJo, or explain why the house should really be composting.
JAMES S.
James S., the Bachelor superfan, seemed sweet, but I guess getting rid of one of the more generic brunnettes will make it easier to keep track of the rest of them from now on.
THIS WEEK'S WORST GUY: CHAD
Isn't it obvious?
THIS WEEK'S FRONTRUNNER: LUKE
Wells might be my favorite, but JoJo has really clicked with her fellow Texan, Luke. They're giving him a lot of screentime in non-obvious ways and even though he didn't win the fireman challenge, he made out with JoJo and you could feel the chemistry.
DANA'S PRE-SHOW PREDICTIONS
Let's see how I'm doing, shall we?
26. Evan
25. Brandon
24. Nick S.
23. Vinny
22. Nick B.
21. James Taylor
20. Luke
19. James F.
18. Grant
17. Coley
16. Daniel
15. James S.
14. Sal
13. Peter
12. Jonathan
11. Jake
10. Ali
9. Alex
8. Christian
7. Will
6. Robby
5. Derek
4. Jordan
3. Wells
2. Chase
1.Chad
AND I lost my first top-10er. How is Vinny still in this? Tweet me screenshots of your brackets and predictions @DanaSchwartzzz so I can see if you're doing better than I am.