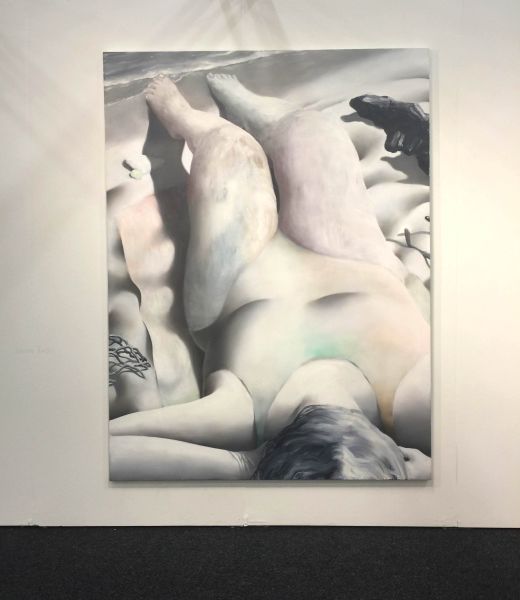 With thinner crowds and less amped up dealers, day 2 of the New Art Dealer's Alliance New York fair was the perfect day to hole up in the Basketball City compound and see some new art from up-and-coming artists.
Though this year's fair looked decidedly more amateur than last year's (perhaps due to an influx of faux-naive figuration) it remains a breezy, easy to navigate affair, and it still offers the potential to stumble upon some exciting work.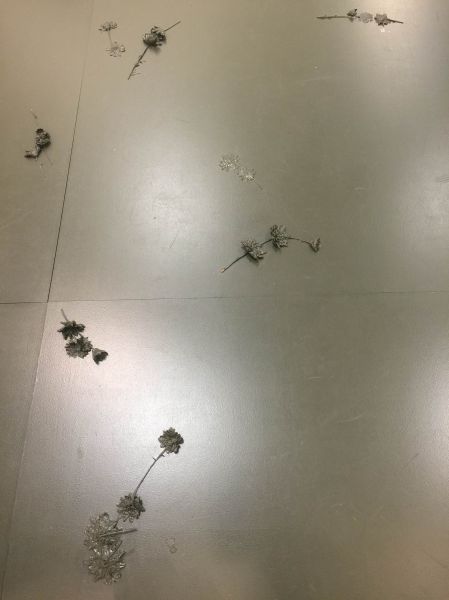 One gallery that always seems to deliver at fairs these days is the Toronto-based space Cooper Cole, who offered up a sizable helping of dreamy and wistful material from three Canadian-born artists. The highlight was Jenine Marsh's floor work, which consisted of polyurethane-infused flowers that had been painted over into one gun-metal gray area with protruding annuals. The work was perfectly completed by some one-off silkscreens of subliminal messages in commercials by Jesse Harris and hypnotic photos that reinvent horse clichés by Davida Nemeroff, who also happens to be the dealer that runs the successful Los Angeles-based space, Night Gallery.
Not far from this was a solo presentation from the master of the essential touch, painter Joe Fyfe, at the booth of Galerie Christian Lethert. A range of modestly-sized collage works—made up of textured paper, printed photos, tape and painted paper or cloth—commingled here, always to a delicate and beautiful balance, like a dirty boulevard version of Richard Tuttle. Needless to say, Mr. Fyfe (unlike Mr. Tuttle) has been overlooked for too long and deserves a longer look.
The artist-run space Regina Rex proved that they are not only here to stay, but that they're becoming a go-to gallery with one of the most impressive booths at the fair. Victoria Roth's jazzy and mottled large-scale paintings, which hint at weather systems, vegetation and flesh but wholly become something else, were an ideal fit with the veteran sculptor Dave Hardy's biomorphic forms made from tinted furniture foam, plexiglas, and other materials that range from ballpoint pens to coconuts.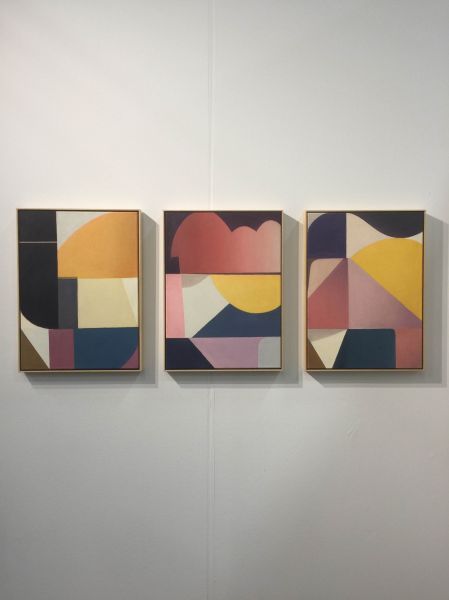 On the other side of the fair, Carbon 12, who came all the way from Dubai, had some luminous paintings on display by Viennese artist Bernhard Buhmann—a suite of highly controlled yet vexing objects. With an austere yet surprisingly wide-ranging palette, Mr. Buhmann fills his abstract spaces to the brim with partitions, lilting curves, thrown shadows and shimmering tints that all suggest the real world, but which stay utterly of another world. Pure painting at its best.
Speaking of painting, Nicelle Beauchene mounted an utterly gorgeous pairing of very different painters: The young breakout figurative painter Jordan Kasey and the masterful mid-career abstractionist Jim Lee. Mr. Lee, who has been perfecting his own balance of formalist painting and DIY Mr.-Fix-It-isms for years, offers up a wonder-wall teeming with small, gerrymandered flat works, complete with beautifully convoluted frames. Adjacent to these is an operatic, almost brazen, painting by Ms. Kasey, who, at the age of 27, has already forged a distinct style that mines the gutters of art history to brilliant effect. In this painting, a distorted female figure (in black and white) lounges on a disturbingly calm beach, with her face obscured by windswept hair. Using tropes nearer to Botero and Kostabi than Richter or other sycophantic favorites, Ms. Kasey also manages to integrate subtle color shifts that hint at computer or mechanical manipulation, making these works a marvel of timeless and finely crafted emotion (by the way, she also has a solo show coming up at the risk-taking Brooklyn gallery Signal, which was represented at the fair by a booth of also excellent paintings and Virtual Reality works courtesy of artist Rachel Rossin).
The smaller project spaces which ring the fair were generally disappointing this year, but there were a few standouts, including gritty, punchy abstractions by Tracy Thomason at the Cuevas Tilleard booth, the postcard-sized, postminimal spatial mappings of Sophia Chai in the Brooklyn gallery 106 Green's booth and a wallpapered reproduction of another Brooklyn gallery's space, Safe Gallery, which contained a suite of lovable works, highlighted by a bewitching painting by Andy Cahill that successfully picks up on the fairytale madness of Mike Kelley.
Other highlights included strong updates from Elise Ferguson in the booth of the East Hampton gallery Halsey McKay, Marlon Mullens via Portland, Ore.'s Adams and Ollman and Sam Levi Jones courtesy of the young gallery Patron from Chicago, Ill.
Overall, NADA has become more mixed talent-wise in order to survive (only so many great galleries can afford booths in major cities year after year) but as a fair known for being a "place of discovery," it continues to do its job, and patient viewing always seems to reap rewards.