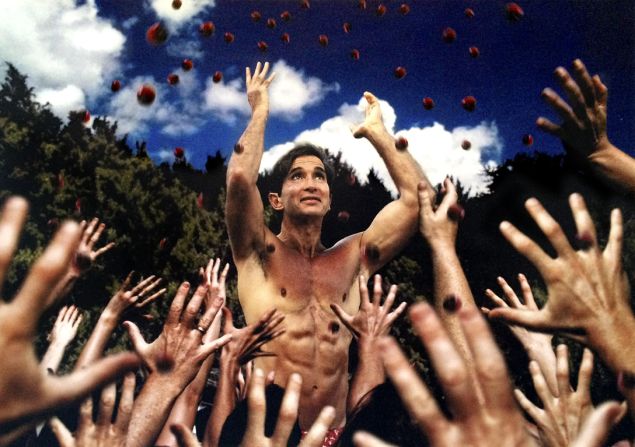 Head north past Echo Park on Glendale Boulevard and you will pass the massive Angelus Temple. Once able to house upwards of 5,300 true believers, the massive church was built in the 1920's by pioneering mass media evangelist Aimee Semple McPherson— that was before her life turned into a Coen Brothers movie, complete with an alleged hoax kidnapping.
If you are fortunate enough to be invited up to Andy Samberg and Joanna Newsom's 41 room estate in the hills, which comes complete with manmade meditation cave and atrium, you will be luxuriating in one of the main buildings built for the Krotona Colony, the proposed utopian headquarters for the Theosophy Society, dedicated to ancient wisdom and divine knowledge. And it's hard to throw a rock in this town without hitting a perfectly-restored monument to Scientology, which has recently shifted from Hollywood's unofficial house religion to resident exposé generator.
Not all the former and current centers to what can generously be called Los Angeles' history of religious pluralism are so ostentatious. In West Hollywood, The Flowering Tree, long a reliable source for veggie burgers (if you're into that sort of thing), was once a frozen yogurt shop owned by the Buddhafield, a spiritual community centered in a long ago demolished house down the street. The group's members lived in homes all around the neighborhood in the late 80's and early 90's. Its leader, a former ballerina, failed actor, and Speedo enthusiast known variously as Michel, Andreas or The Teacher, lived in a house on Genesee Street for 17 years.
"People like to think that L.A. is extra weird. The truth is there are vulnerable people everywhere in the world."
In Los Angeles' long and colorful history of religious movements, the Buddhafield has managed barely a blip. But that appears to be changing this month with Holy Hell.
The Sundance Grand Jury Prize nominee documentary is from Will Allen, a filmmaker and survivor who entered the cult as 22-year-old film major out of SMU and left 22 years later damaged, confused and with several stacks of video tape. The film stitched out of that footage is one of the most intimate and emotionally involving examinations of how easily a seemingly benign spiritual movement can shift into a damaging, destructive cult. It also may be one of the most L.A. stories ever told.
"This is something that could happen anywhere, and does," says Mr. Allen, whose film opens and L.A. over Memorial Day weekend, and will expand to CNN and Netflix later this year. "People like to think that L.A. is extra weird. The truth is there are vulnerable people everywhere in the world."
Really? It is hard to imagine a more L.A. villain than the pathological narcissist who Mr. Allen still refers to as "The Teacher," a onetime extra in Rosemary's Baby who claimed to be a conduit to divine knowledge while rarely wearing more than a Speedo or a leotard. "Maybe it was easier to go around wearing a Speedo all the time," allows Mr. Allen. "It is a place forgiving of eccentricities."
Adds Allen, who grew up in Altadena and Newport Beach playing a lot of water polo and was not unfamiliar with Speedos, "It is just not comfortable wearing Speedos all the time. It is one of those things where you have to 'drop your mind.'" Mr. Allen is slipping, as he sometimes does, into Buddhafield speak. "The program runs deep," he says.
"We all look a little stupid, and naive— but that's what we were. We were innocent and agreeing to things that we never should have been doing."
The film is Mr. Allen's attempt to document his two-plus decades in the thrall of The Teacher, a man who used hypnotherapy among many other manipulative techniques, as closely as possible to how he actually experienced it. As a result, the first half of the film plays almost like an infomercial, with Mr. Allen's and his fellow 100 plus member's naiveté and devotion in full bloom.
"I really suffered making the first half of the film," explains Mr. Allen. "It was like, 'I can't make this man look good.' But I had to. It was the only way to make people understand how we were thinking and what we felt. We all look a little stupid, and naive— but that's what we were. We were innocent and agreeing to things that we never should have been doing."
That includes graphic allegations of rape and sexual abuse of the male members of the group by the Teacher, and physical and psychological abuse of the female members that included forcing them to get abortions. The Teacher was also obsessed with health and appearance, which could manifest itself in ways that were benign (they ate extremely well and avoided drugs and alcohol), odd (twice a week enforced ballet lessons), and disturbing (he made members try out plastic surgery operations before he would to see how it looked).
Needless to say, immersing himself back in this world, first to make the film and now to talk about it, has been a singularly challenging experience. Mr. Allen, like many of his friends and former members featured in his movie, often tears up when recounting his experience.
"The Teacher triggers me," he says. "I hear his voice, and it's like Pavlov's dog. I hear a lot of his teachings— and a lot of them are not actually his— and I still agree with them even though they are coming out of his fucking mouth. That is a major trigger. But he bastardized my experience. He took something that was pure, and he integrated a lot of his own very bad energy into it." Adds Mr. Allen, "I don't like to meditate now."
"We even noticed that we had a lot of the characteristics of a cult. We would say, 'Well, we have a charismatic leader.' And then we would all have a good laugh."
The Teacher would eventually move the group to Austin, Texas, where they reconstituted and built a theater to stage their ballets. One of the most troubling revelations in the film is that Michel, now called Andreas, is still operating out of Hawaii. But it is hard to imagine it coming to first flower anywhere else than Los Angeles.
The writer Mike Davis, whose book City of Quartz is required reading for anyone hoping to gain any sort of understanding of L.A's dystopia, has a kind of five pronged theory as to why cults and religious sects flourished in the area before World War II.
As the nation's sanatorium, the area attracted an inordinate amount of the nation's sick, doomed, and generally vulnerable. It was also catnip for failed businessman and religious hucksters attracted by both the willing marks and the area's history of political and religious utopias. Perhaps most significantly, says Mr. Davis, Los Angeles "did not have a dominant or clearcut Protestant church establishment and thus was open ground for heresies."
You can add to that list the West's natural predisposition to Eastern religions like the kind co-opted by The Teacher. "We had never seen anyone do what we were doing," says Mr. Allen. "He was introducing the Eastern philosophy to the West. We were all raised with Western philosophies. This wasn't Catholicism. We weren't being born again. We didn't see the same harm in it."
What Holy Hell proves definitively is the answer to that age old question: are people in cults aware that they are in one? The answer not only is no, but according to this harrowing account, they joke about the idea while it is happening to them, like the pop culture savvy victims in a Kevin Williamson horror movie.
"We never thought we were in a cult," says Mr. Allen. "We even noticed that we had a lot of the characteristics of a cult. We would say, 'Well, we have a charismatic leader.' And then we would all have a good laugh."