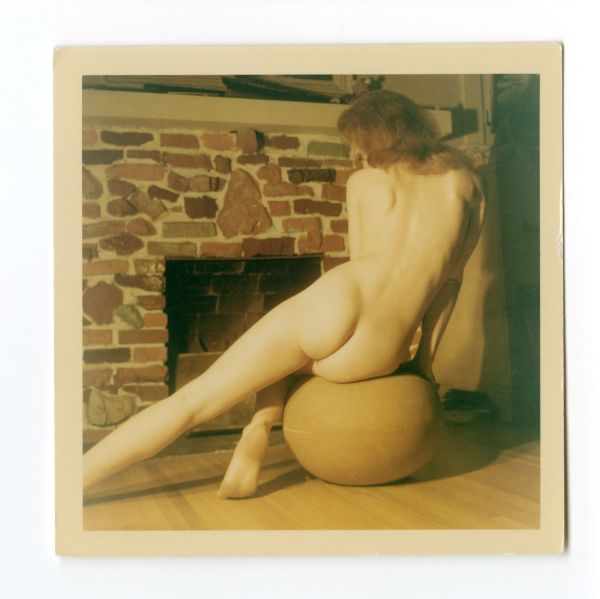 In 2007, an unwitting contractor with a penchant for flea markets arrived at a Hollywood home, its owner having recently passed away, and ended up purchasing its remaining contents. It wasn't until later on, however, as he sifted through the general clutter, that the contractor stumbled upon something unexpected: thousands of photographs and transparencies, 350 films and a variety of paintings spanning several decades.
The never-before-seen archive was that of unknown photographer John Kayser, who spent much of his life obsessively photographing women. Exploring female sexuality through both snapshot and staged imagery, his work brims with a brand of erotica unusual for its time.
Now, an exhibition of around 500 photographs and 13 8mm films by Kayser, titled "Sitting," is on show at the Journal Gallery in Williamsburg through June 19. They date from the 1960s to the 1980s.
"His work was destined to be discarded," Michael Nevin, who owns the gallery, told the Observer. "There is tons of speculation as to why he made this work and why he never showed this work."
Little is known about Kayser's life. Born in North Dakota in 1922, he was an art school graduate and World War II veteran. He spent his career working 9 to 5 as a technical illustrator in California and apparently passed away with no friends or family. Yet while comparisons to the Chicago photographer Vivian Maier (whose work shares a similar origin story) have been bandied about with increasing frequency, the similarities pretty much stop there.
"If you look at [the work], very quickly it can be seen as pervy," Mr. Nevin said. "But the more you look at it, the more you realize there is something deeper than that."
Pervy is somewhat of an understatement. In addition to thoughtful still lifes, Kayser's photographs are often borderline pornographic, depicting women sitting or bent over, usually nude, in and around his home. Earlier black and white images are comprised of more conventional poses, while sundrenched Polaroids and Kodachrome snapshots from the 1970s and '80s grow more erotic, vibrant and sometimes even funny. In one series, a model can be found sitting on a cream pie, a celery stick or a pile of oranges. In another, she is in a rather compromising position involving the head of a bearskin rug.
Driven by fantasy and fetish, Kayser's photographs project a sexual openness unusual for the period in which he made his work. He went through many phases, experimenting with hazy, romantic pink backdrops, unusual props—that included him—or different body positions. Furthermore, with no formal photographic training that we know of, the lighting and composition are impressively skilled. But how does one understand an entire life's work discovered posthumously?
'When you look at the time period, it's incredible he got so many women to pose like that—to sit on a loaf of bread!'—'Sitting' Co-Curator Shirley Cook
According to Myles Haselhorst of Ampersand Gallery and Fine Books in Portland, who now co-owns Kayser's archive and estate, when the biographical details become secondary, "you're forced to look at the image itself to complete the story."
"A lot of people are going to get really interested in the origin story," Mr. Haselhorst said. "But I think what's more interesting, in addition to what you see in the pictures, is just trying to understand the framework of his relationship with these women."
Clues about Kayser's life are confined to notes on the back of photographs. Notably, the same models reappear over long stretches of time—as do pairs of heels, pieces of clothing or backdrops. Yet as strange and voyeuristic as his photographs may be, Kayser must have developed a level of trust with his subjects.
"What I find really fascinating about it is it's this man's secret. It's his obsession," said Shirley Cook, who co-curated "Sitting" along with Peter Miles. "When you look at the time period, it's incredible he got so many women to pose like that—to sit on a loaf of bread!"
Ms. Cook is certain that Kayser never wanted his work to be viewed. "He never had a chance to edit his work, propose it to the world in a way that he wanted to be seen," she said. "I don't think he wanted anyone to see it, clearly. Otherwise he would have been more vocal about it."
When it comes to ethics, Ms. Cook's interpretation raises questions as to why the work should now be shown. However, Mr. Haselhorst pointed out that Kayser maintained his practice for over 30 years without sharing it with anybody, suggesting a discipline associated with artistic practice. Perhaps if the photographer had made his work in the present day—a time where, for better or worse, Terry Richardson's highly provocative photographs of women are commonplace—he would have been a little more open about it.
"I think everybody has some sort of perversion in their life that is kept out of the public eye," Mr. Haselhorst said. "John just happened to record it."