In a city oversaturated with boutique fitness classes, ModelFit manages to actually stand out, and not just because of its roster of A-list models–although that certainly helps. The enormous windows, overlooking the Bowery, have become almost more Instagram famous than the participants. Karlie Kloss, or another Angel, will pose in front of the windows, somehow devoid of sweat, and commenters from Oklahoma will remark, "Look, it's @modelFIT!" The cool girl vibe is owed to founder Vanessa Packer, the self-described city kid who founded the class two years ago.
There seems to be a uniform for the ModelFit customer–Outdoor Voices and a Reformation top to change into, and sometimes to wear during class. Everyone is a 20 or 30 something who has the ability to take a $40 class midday, since most classes aren't offered after 6PM. Ms. Packer is the kind of cool girl you want to be like, whether that means eating like her, dressing like her, or, of course, working out like her–and fellow "cool girls" Taylor Swift, Chrissy Teigen and Karlie Kloss agree. 
As she sipped on a liquid vitality shot outside of the ultra-healthy Butcher's Daughter, Ms. Packer explained how the low-key but decidedly trendy Model Fit originated. "It started out of a desire to create a space that felt unlike a gym or another studio, something that was really intimate, really special–something that felt really beautiful because working out can be a really beautiful thing," Ms. Packer proselytized. 
"You're taking care of your body, you're thinking about your health. For women especially it doesn't need to be in the masculine package with the weights and sweat and dark rooms. It can be in a package that's a bit more feminine, that felt a bit more edited and curated and aesthetically pleasing which is really big for me since I came from a fashion background–I wanted it to look like a really beautiful apartment that you happened to be working out in, almost like a photo studio,' Ms. Packer explained.
ModelFit devotees know that it certainly doesn't have the vibe of a regular work out class. There are no posters, neon lights or thumping bass lines. Instead, the studio has soft lighting, enormous open windows and a familial vibe in the locker room. 
The workout itself isn't going to leave you a sweaty mess. It isn't necessarily as intense as certain barre classes, but it does focus on slimming and toning. "The workout we settled on was really unlike anything else being offered, it still is the only place where you can get anything like it," Ms. Packer told us. "I've heard so many people complain about bulking and building too much muscle and injuring themselves and all of those things, and you don't need to kill yourself at the gym to get the results you want." 
In other boutique fitness classes, it's not unexpected for a trainer to never speak to you one-on-one, which means you're left doing movements incorrectly. With the amount of time people are devoting to work outs, that leads to serious injuries. At ModelFit, the instructors make sure to correct, and the classes are intimate. "It's interesting how many classes there are where people aren't watching form or structure or stability or paying attention to the people in the class. She makes sure her instructors modify mindful movements. "What's the big deal, so you're going to do the workout a little differently from the person next to you?" she asked.
Ms. Packer runs all of the social media for the space, which includes a popular Instagram account, but doesn't have any personal pages. "To be honest, I don't really enjoy social media," she divulged. "I don't have the brain for Snapchat. It doesn't speak to me at all," she said. Oddly enough, one reason ModelFit has taken off is because of the social media presence. When models tag their photos in front of the windows, people want to get a crop top ready physique for themselves. The reviews show just how invested the class-goers are when it comes to social media. "Quite honestly, the reason I came to check this out is because of Karlie Kloss's Instagram" one reads.
Once inside, you can still feel like a supermodel with the amount of makeup artist approved products in the small locker room. "Having great products so you can clean yourself up and go about your day is so important, so we try to keep it stocked with a good range of things," Ms. Packer said. "I'm not just a spritz and go. I need to wash my face, I want to use a toner, I want a moisturizer, a little bit of Balm dotcom." Glossier and the OUIA are far superior to gym-grade body wash.
Despite the notorious influx of supermodels, there's a camaraderie not found at most studios. "I really make it a point to get to know people and introduce myself and I love speaking to the girls that come and making it feel very at home and very warm," Ms. Packer told us. "I don't want people to be intimidated. I think one of the things we struggle with is that the name can be kind of intimidating. I'm really trying to break that down–it's the model of fitness, it's mindful movement. It's tongue in cheek–a catchy, fun, cute name."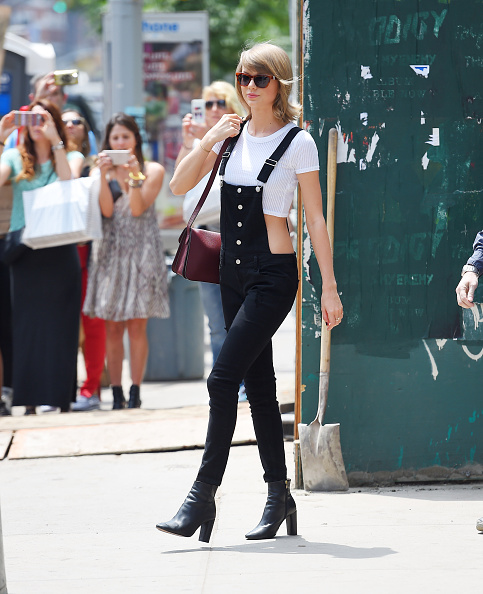 Not all ModelFit clients are Angels. "The ModelFit client is definitely someone who's a discerning customer and drinks the green juice, gets sleep, lives with purpose, is passionate, has meaningful conversations, really honors their body, their health." The Angels mingle with other ModelFit-goers. Karlie Kloss has been a major fan of the brand since the beginning, and recently filmed an Adidas commercial in front of the noteworthy windows.. "I love her so much, so is so incredible and so supportive and sweet and smart. We're really fortunate to have the people we had in our corner when we first started."
"I think the fitness studio is the new bar," Ms. Packer said. And if modelFIT is the new bar, it's certainly a super trendy one where you can mingle with models and superstar singers, only over body weights instead of body shots.