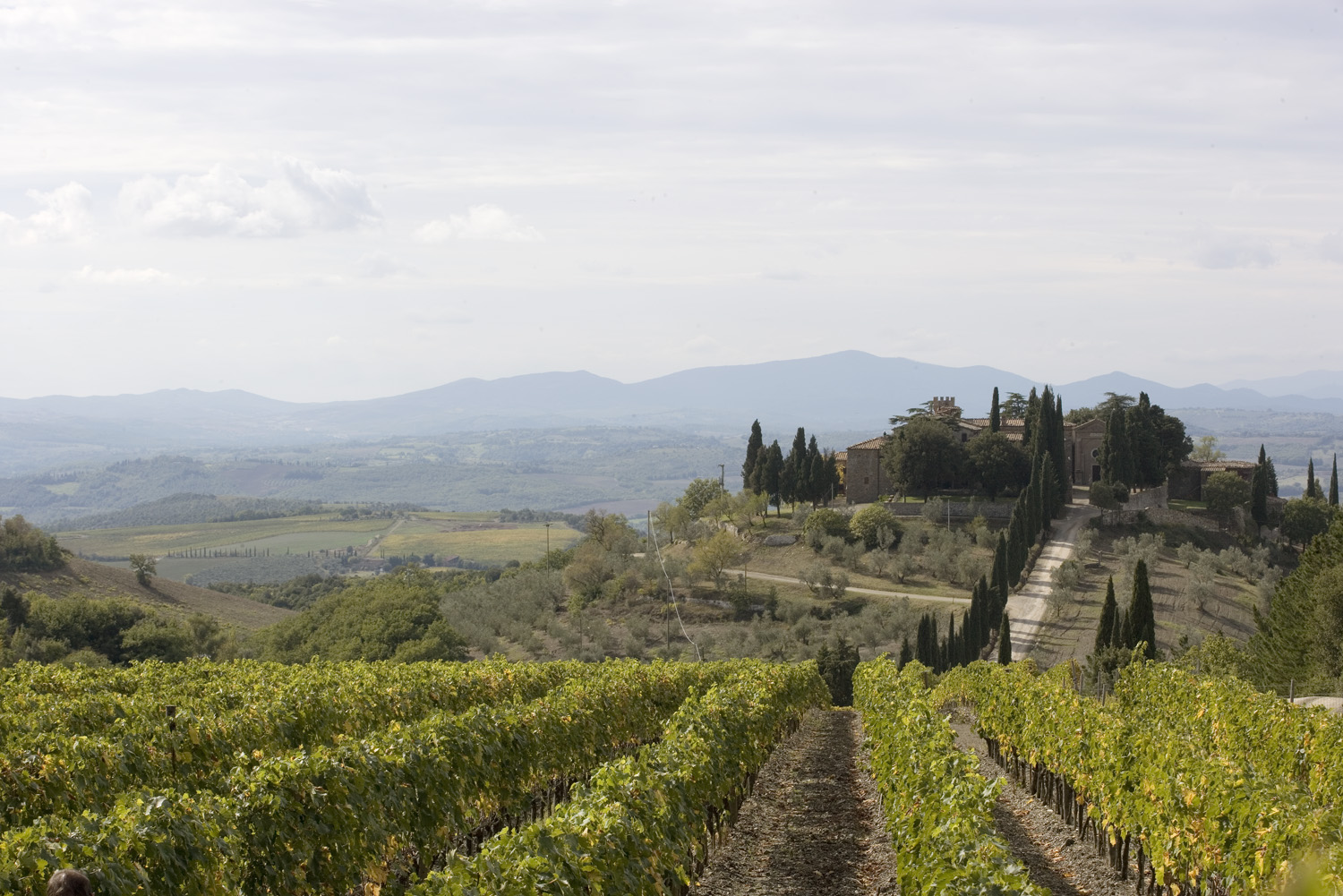 "There is nothing to do there—just porn and drugs and gangs," artist Eric Wesley says of the neighborhood where he grew up in Los Angeles.
"That sounds like a lot to do," replies fellow artist Matthew Brannon. Mr. Brannon was born in Idaho and had to wait an entire year longer than the rest of the country for Star Wars to open in his rural town in the 1970s.
We had been sitting in a Mercedes van together for hours, winding along Tuscan roads en route to a Frescobaldi family vineyard in Montalcino, Italy—an outing for which Mr. Brannon and his wife were dressed nearly identically in a style that can only be described as a blend of disparate '90s looks: Indigo Girls meets The Cure meets The Crow. Or "lesbian gothic," if you're not feeling so PC.
These days, Mr. Brannon's appearance, which includes interconnected silver rings on every finger and "drop crotch" black pants, is better received than it was once in Mississippi, where cops patted him down when they found him taking a photo of a dead cat.
It's hard to imagine childhood was easy on either Mr. Brannon or Mr. Wesley, a hulking African-American man with a slight stutter who frequently stops talking in the middle of a sentence to ponder on something else. Mr. Wesley is, furthermore, "very into" augury, the ancient Roman pseudo-science of bird movements and what they foretell. But today in the van they aren't complaining about their upbringings. Just comparing notes.
It happens that Messrs. Brannon and Wesley, who are acquainted but not close, attended UCLA together for their undergraduate degrees, which they completed in 1995. So the trip has served as a reunion of sorts, one witnessed by the motley crew of international sophisticates crammed in the van with the midcareer artists: significant others, a cinematographer, a curator and Tiziana Frescobaldi, an Italian heiress whose family lineage rivals the Medicis. ("We didn't get along," she said of her family's relation to the dynastic banking clan. Fortunately, she added, there was no lasting bitterness.) It is at Ms. Frescobaldi's behest that the group has assembled.
Her brand of continental wealth makes even established New York wealth feel quite nouveau.
The artists have been selected for Artisti per Frescobaldi, an art contest of sorts, currently in its third instantiation, which involves each chosen artist creating commissioned work of various sorts. Every time (after the inaugural year), the contest selects two artists from one other country to compete against an Italian, for a grand prize of €20,000. This year, the chosen country is America.
What a long, strange trip you end up on as a midcareer artist.
 ***
A few nights before, we'd found ourselves in a palace, surrounded by red carpets and multimillion-dollar artworks.
"Thank God, I didn't get the blue hydrangeas," Mr. Brannon's wife, Michelle, had exclaimed. (They would've looked odd next to the blood red carpets.) She brought flowers because we are guests of the Frescobaldi family this evening, drinking champagne and eating canapés, while the particulars of the contest—an admittedly odd concept—are explained. The heiress, collector and benefactor Ms. Frescobaldi is hosting us in her palace, which dates "to the ninth or 10th century." It is gently nestled in the palazzo named for her family in Florence and the home (one of many) where she spends most of her time. Under a portrait of her ancestor Dino Frescobaldi (a close, personal "friend of Dante's"), Ms. Frescobaldi discusses her family's longstanding relationship with fine art.
Later that evening, she insists on loaning me her coat, which I notice is from discount retailer Zara. Her brand of continental wealth makes even established New York wealth feel quite nouveau.
Ms. Frescobaldi has what her colleagues refer to, disparagingly, as a "Teutonic sensibility." Unlike pretty much any other person in Italy, she likes to be places on time and for things to go as planned. This explains how she has organized this contest, despite initial objections from her family over collecting and supporting Contemporary art. (The trade off  being that Contemporary art is generally much cheaper than historical pieces, but harder to parse, both in terms of its meaning and its value.) Ms. Frescobaldi dreamed up the prize, which combines her enjoyment of art and her family business, and she basically administers the entire affair, a large and frustrating component of which is shepherding the less-Teutonic into vans.
"It took them some time," she says of her family's initial reaction to the contest. "They weren't against it, but they did not understand why we should involve Contemporary artists." While the Frescobaldi family has owned and commissioned art since the Renaissance, the prize named for them is a new invention, one born in 2012, when the contest was among three Italian artists. In 2014, the Frescobaldis invited two German artists to their vineyards. For 2018, Ms. Frescobaldi is thinking of Russians. Or possibly the Swiss.
The prize, at the end of the day, really functions as marketing for the Frescobaldi family's wine, as high-minded and marginally philanthropic as it may be.
"We decided [we needed] something for the company to be really international, to show that we're in a cultural world and kind of to promote the name Frescobaldi," the heiress explains. She also figured she would remind the world how her family has been intertwined with art in Italy historically. How, for instance, in the 17th century, Bartolomeo Frescobaldi called on the most famous portraitist of the time, Lorenzo Lippi, to paint his family.
So Ms. Frescobaldi hired a curator, Ludovico Pratesi, whose enthusiasm for American culture and art is so abundant, it's essentially spilling out of him at all times. And Artisti per Frescobaldi was born.
***
At dinner at a Tuscany estate owned by the Frescobaldi family, a few days after the palace, Mr. Pratesi tells a story about the extraordinary expense of changing the formaldehyde in a Damien Hirst. Mr. Brannon replies with a story about a bat he once had stored in formaldehyde at his house. One year, during a particularly debauched Christmas party, where people drank or snorted anything that wasn't bolted down, Mr. Brannon awoke in the morning to find the bat in its jar, formaldehyde-less. This story was met with robust approval by our strange troop, which—united by a river of the Frescobaldi family's excellent wine—quickly developed a shared cultural appreciation. The Italians are practically foaming at the mouth for the American perspective on art and cinema, while the Americans are blindsided by the Italian lack of pretension. Everyone enjoys hearing stories of the artists' time at UCLA, which sounds like a cleverer Art School Confidential. This "you show me yours and I'll show you mine" of formaldehyde trauma is, at least partly, the point: One could argue that the real goal of the Frescobaldi prize and commissions is cultural exchange. (Though "money," "prestige" and "sticking it to the Medici family" are all also nice.)
Mr. Pratesi, who has curated all three of the Frescobaldi prizes, and will continue to, Ms. Frescobaldi says, is clearly ecstatic to be in the presence of artists he admires. When Mr. Wesley and Mr. Pratesi realize they both suffer from gout, the curator insists on a toast. Americans: They're just like us!
***
Both American artists (the Italian was unavailable for interview during my trip) seem to minimize the fact that a requirement of their awards is ad copy: Messrs. Brannon and Wesley must create wine labels that will be used by the Frescobaldi vineyards as a condition of competition. But this is all part of the Artisti per Frescobaldi multiyear process (a languid, Italian concept if ever there was one), whose "all expenses paid" terms include this trip to the Tuscan vineyards, a year to produce between one and five commissioned pieces and a final show in Milan where the "winner" will be announced.
Mr. Wesley, who once assisted the renowned sculptor Charles Ray, said he would be taking a "formalist" approach to creating the label.
"I have been on this aether kick," Mr. Wesley says, referring to the ancient concept of an unobservable fifth element. "I was working on these paintings and this subject of 'the aether' kept coming up." Of late, he has been interested in physics, ancient predecessors to science and things like fluid dynamics. "I suspect I will be working on this [aether idea] as well as issues of gravity and maybe how those are related."
Mr. Brannon is less earnest than Mr. Wesley. He is not sure what he will do for the wine label. His work includes silkscreen, letterpress prints of familiar objects and writing, as well as full-scale installations. "I didn't realize it would be so much of a marketing thing," he says.
But wine labels—along with their attendant reminder that this whole affair is, on some level, about commerce—aside, the Frescobaldi project does have a ring of old-school patronage. Both artists admit that having an Italian benefactress holds a certain appeal.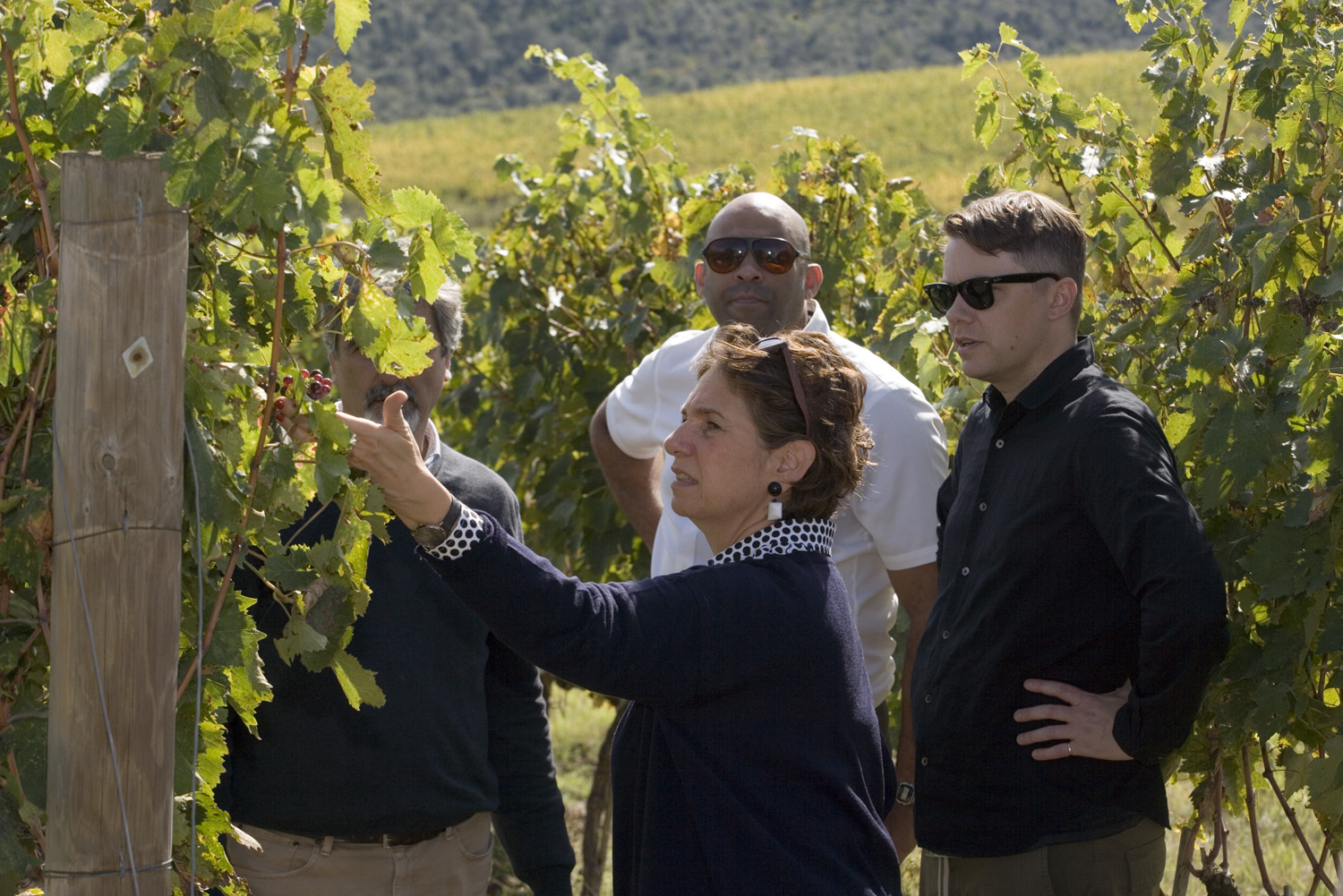 Mr. Wesley, for one, understands that, as a black man from Los Angeles with an interest in augury and a penchant for aether, the context of his participation is complicated. "There's a lot of issues with…the cultural and why I'm here and what's expected," Mr. Wesley said. For instance, he'd like to transcend the constant desire—by interviewers, collectors and the like—to ask about his past and his hometown and its influence on his work. He eschews his own novelty value. He thinks in terms of math and physics and is explicitly less than interested in "the cultural," he says. "The nut of the art is about something that could care less about Tuscany or Los Angeles or society," he says.
Now we can 3D-print a liver. The brain? No. Brain cells you can't make.
Having his work commissioned is refreshing, though. A "change of gears," he says. In the future, he'd like to do large-scale public commissions, and this is a step along a path toward that, perhaps. "You want some Renaissance-scale commissions?" he says. "Yes, please."
And maybe the undertaking will bring Mr. Wesley closer to his dream project: a public commission of a 3-D-printed horse. That might not sound as conceptual as Mr. Wesley and his oeuvre…but it is. "I've always been working on this project," he says, in his mind. "And now we can 3D-print a liver. The brain? No. Brain cells you can't make."
Mr. Wesley pauses to reconsider: "But I think they will be able to make them soon enough, so I don't want to make a model. It would be a life-size horse. The bone would be marble, the nerves copper. But…the idea is, where does life reside?"
***
Back in the van, shuttling between vineyard visits and elaborate meals, conversation shifts to a risk endemic to Tuscany: scorpions hiding in the toilet (they like dark, moist environments) and stinging unsuspecting visitors on the commode.
There is vivid talk involving male genitalia and the primal fear of injuring it.
"I have an idea!" Mr. Wesley exclaims at some point. "What is it?" Ms. Frescobaldi asks. "I don't want to tell you because it will change by this afternoon," he replies. She seems satisfied with this answer.
By now she's settled into a more patient, decidedly more Southern European kind of relationship with the artists.
And no matter how many wine labels are involved, the artists know that this opportunity beats the hell out of designing a Sprite can for Nike, or something.
"There is a whole generation of art fair artists," Mr. Brannon said. In their 40s and having had at least moderate success now for more than a decade, he and Mr. Wesley don't fit into that context. But they are also not household names, even by art world standards. So they find themselves on these long, strange trips.
"Rashid Johnson made $9 million last year," Mr. Brannon blurts out at some point. "No way!" Mr. Wesley retorts. No citation for the figure is given, but it elicits strong reactions. For the artists, their interest is half prurient, half academic and a reminder of the strange machinations of the art world—machinations that have brought them on this sort of surreal expedition to make art, drink wine, compare cultures and create an editioned wine label for one of the world's oldest known families.