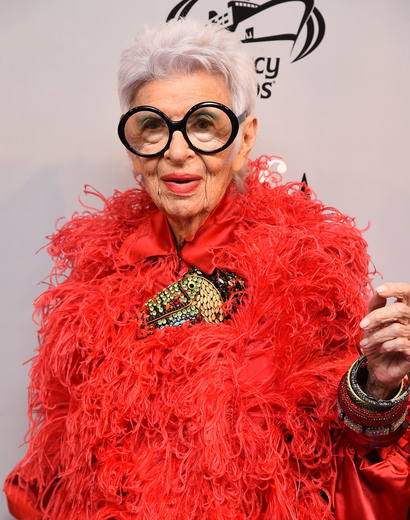 Last night, Iris Apfel was the top name for the American Apparel & Footwear Association's 38th Annual American Image Awards. The event brought out every one from CFDA CEO Steven Kolb to designers like Ruthie Davis and actresses like Debra Messing and Orange Is The New Black's Jackie Cruz. Even social media stars like the teen creative Luka Sabbat and resident physician turned instaceleb Dr. Mike.  But none of them demanded the audience that Mrs. Apfel did with a gaggle of University of Texas students eagerly awaiting her outside of the red carpet area during the night's cocktail hour.
"First of all, I never knew I was a maverick," the style doyenne said in a short interview before the night's dinner. "I'm glad that now I've found out. You know, I've been one all my life and now to be rewarded for it is great." Last year, Kelly Osbourne received the honor but none can quite compare to Mrs. Apfel who, since turning 94 has released a wearable with WiseWear, filmed a video campaign for Elizabeth Arden's "Liz Arden" rebrand, collaborated with Le Bon Marché on an exhibition and is working on a bevvy of other projects due out later this year. "We just shot [Liz Arden's video] a few weeks ago in Palm Beach. I enjoy these things, if I didn't I wouldn't do them." Amongst those things, a few more were revealed as the night progressed. In a colorful lead-in to her awarding, the event's emcee Hal Rubinstein revealed that Mrs. Apfel would have a book on personal style coming out with with Harper Collins. During her acceptance speech, the woman of the hour revealed that she was also working on a range with United Legwear & Apparel, due out this year. The brand donated $100,000 in her name to the charity Mercy Ships.
"When I was a kid I was always amazed of people who could sit down and write lists," Mrs. Apfel said in her acceptance speech. "Of all the things I thought I would never be back then was a fashion maverick was one, a fashion icon was two and a 94-year-old cover girl was three."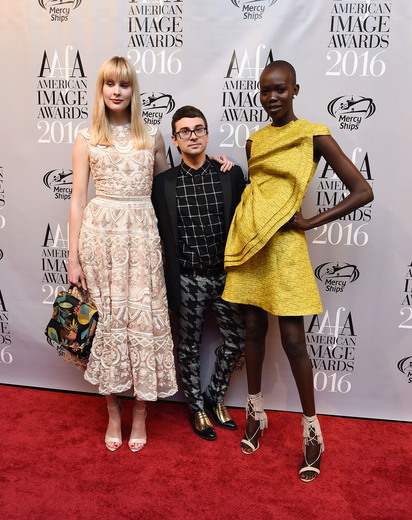 "She's such an icon," Christian Siriano, the winner of the night's Designer of the Year award, said of Iris. "She's still doing it, she's still working it, looking amazing and putting us all to shame. I've actually never met her in person so it's been a really good night!" Mr. Siriano, who launched his first bridal collection and debuted his latest offerings for Lane Bryant at the United Nations, all within the last few weeks, is similarly busy. In addition to planning his own nuptials taking place this summer, he dressed a whopping 13 women for the awards.
"You know, it's so amazing when you come to an event with friends," he explained. "They have friends who need something to wear and you end up dressing them; it's a snowball effect but it's totally fun!"
The night's other honorees included Shinola Detroit, BBC International and Joseph Abboud as retailer of the year, company of the year and person of the year respectively.