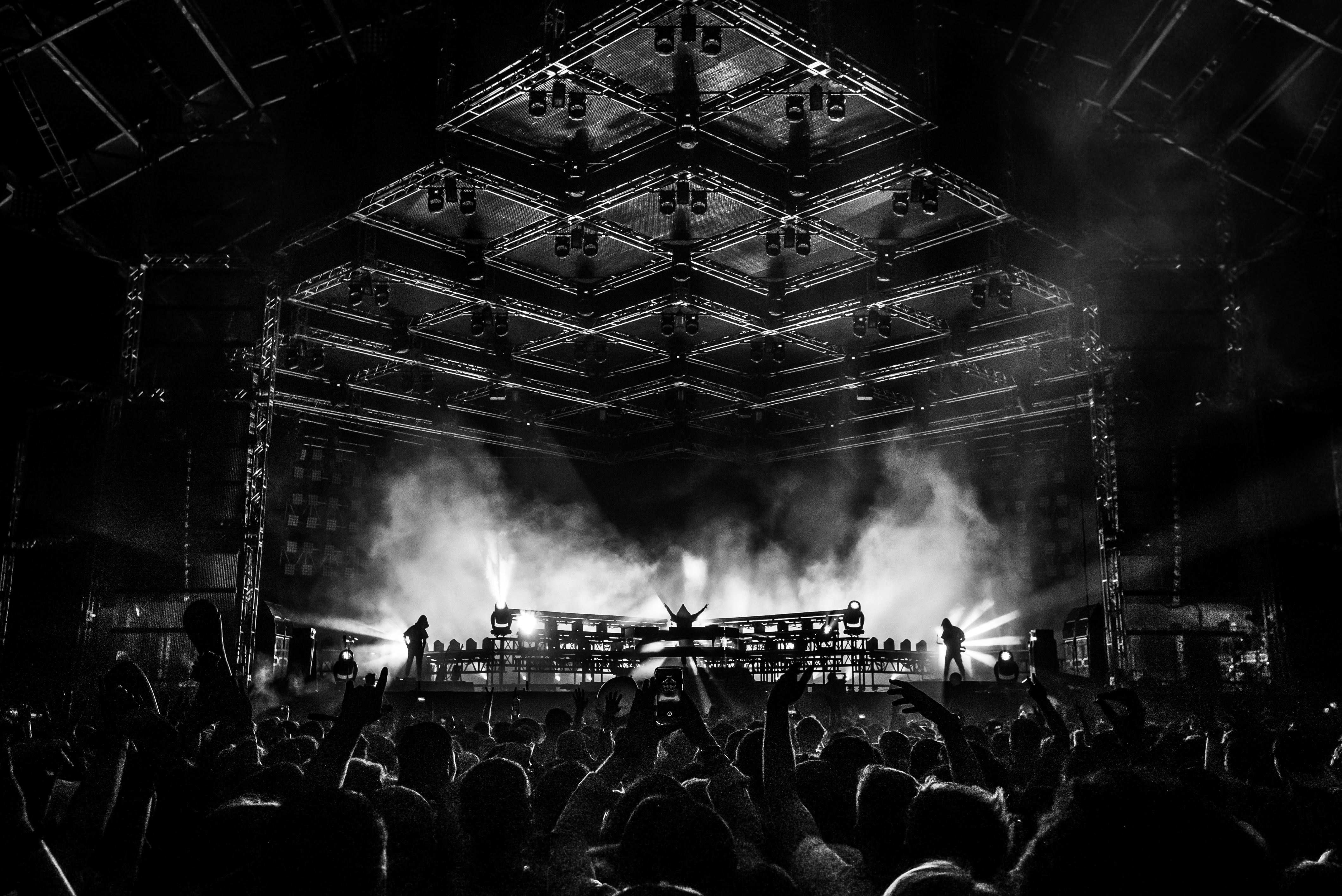 Lust. Lost. Love. Life. ZHU. If you were headed east on California's I-10 last month, you likely saw those five words on five separate billboards. You wouldn't have known until the last one ("ZHU") that they had been placed there by an artist who is known by millions, and yet completely unrecognizable to most of his fans. ZHU performed Saturday night down the road from his billboards at Coachella's annual music festival. His 10:35 p.m. set time was at the famed Sahara tent. The decision to play at the Sahara, along with the decision to put up mysterious billboards on the side of a highway all bring to mind the events of a decade ago. It was a decade ago, after all, in the same tent where another anonymous electronic act established themselves as the most innovative act in their genre. At one point they, too, used a series of billboards to arouse people's interest. Their name is better known now: Daft Punk, and if ZHU is following the playbook of the most famous yet faceless stars in the world, who could blame him?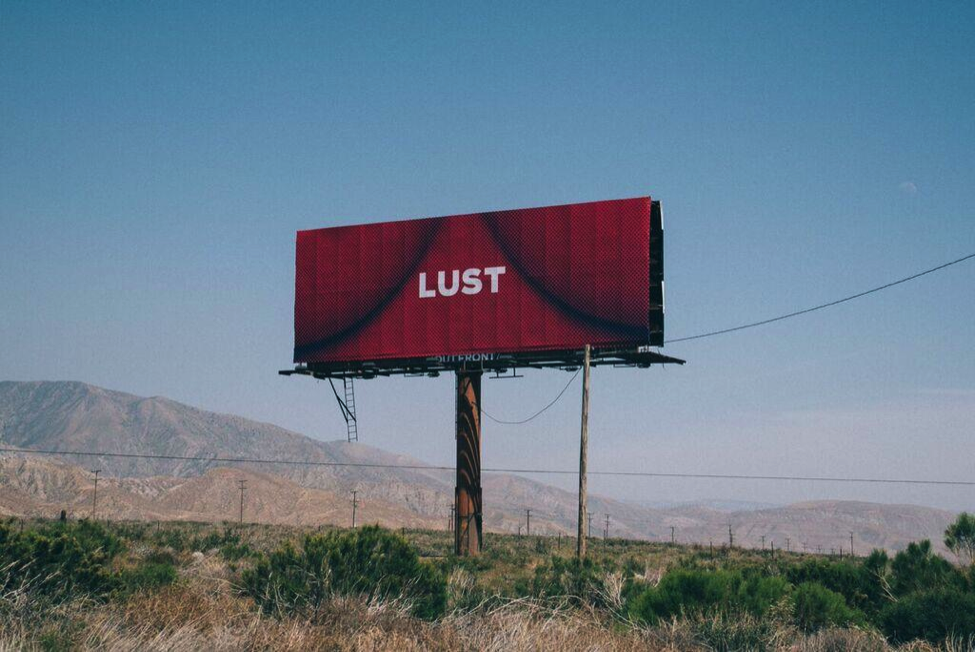 When Daft Punk hit the Sahara stage in 2006, inside their now-legendary "pyramid"—stacks of lights synchronized to the music of their legendary set—EDM (electronic dance music) was altered completely. It's not much of an exaggeration to say that the stage set up turned "playing sets" into "performing shows" for electronic artists. The cube's lights, words, timing, all connected audiences more deeply and emotionally with music, and, by extension, with the artists themselves. It was a spectacle designed to be talked about, and written about, and commented on, and mimicked, and, eventually, entered into dance music lore. As neatly summarized by the documentary "Daft Punk Unchained," "Everybody who was in the tent was texting everybody else: 'You are missing this! This is the greatest thing I've ever seen! You're missing the greatest performance of all time.'" Of all time. That performance kicked off something like an EDM arms race, with every act trying desperately to outshine each other with an LED-fueled assault on the eyeballs. Ten years later, the memory of Daft Punk set firmly in the EDM world's mind, the performances at Coachella leading up to ZHU were conspicuously lit up. The massive light shows, some as high as 3 stories of lightbulbs and lasers, were a quest after what Daft Punk had accomplished a decade prior, an attempt on the part of the artist to burrow into the audience member's mind and eyes, and not just his ear canal. But those efforts missed something essential: what made Daft Punk's show 10 years ago so memorable wasn't that it was simply bigger, louder, and brighter than what had come before. "This is the greatest thing I've ever seen" doesn't get thrown around casually and doesn't apply to just anything. Daft Punk changed the game; they put on a performance, not just a light show. And in so doing, they accomplish the rarest of things in the artistic world: They created something new.
*****
That was ZHU's ambition at Coachella—and it's fair to say he achieved it. Shrouded in smoke, obscured a hood that showed just enough face to tantalize but not enough to reveal, he weaved mystery throughout his set in ways both subtle and not. By doing so, he created a show that begged to be taken seriously, which is saying a lot for a genre that can often traffic in the puerile or immature. There were no ridiculous sounds, no errant shouting from the stage; instead there were subtle whispers. He put geishas gracefully spinning in the corners of the stage. ZHU was taking the audience to church and declaring himself the pastor.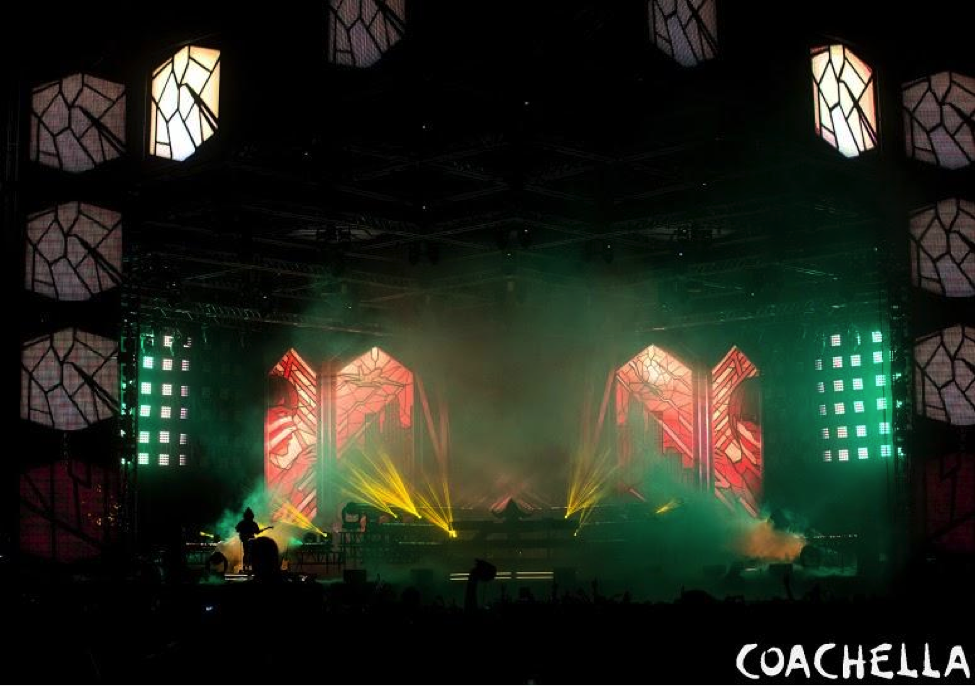 On the screen behind him, the carefully timed silhouettes, exotic black and white nature scenes, and even stained glass portraits were striking.
Towards the end of the set, as if to put his own exclamation point on it, he displayed, in sequence, the same images from the I-10 roadside—with one final slide. It was just a date, "07.29.16", which is the release date of ZHU's upcoming album. In any other performance, that kind of self-promotion might have seemed gauche, but after what the audience had just seen, it didn't. It seemed like ZHU had done the work to justify the promotion, that he had brought the audience in a bigger picture of what he thought a performance ought to be.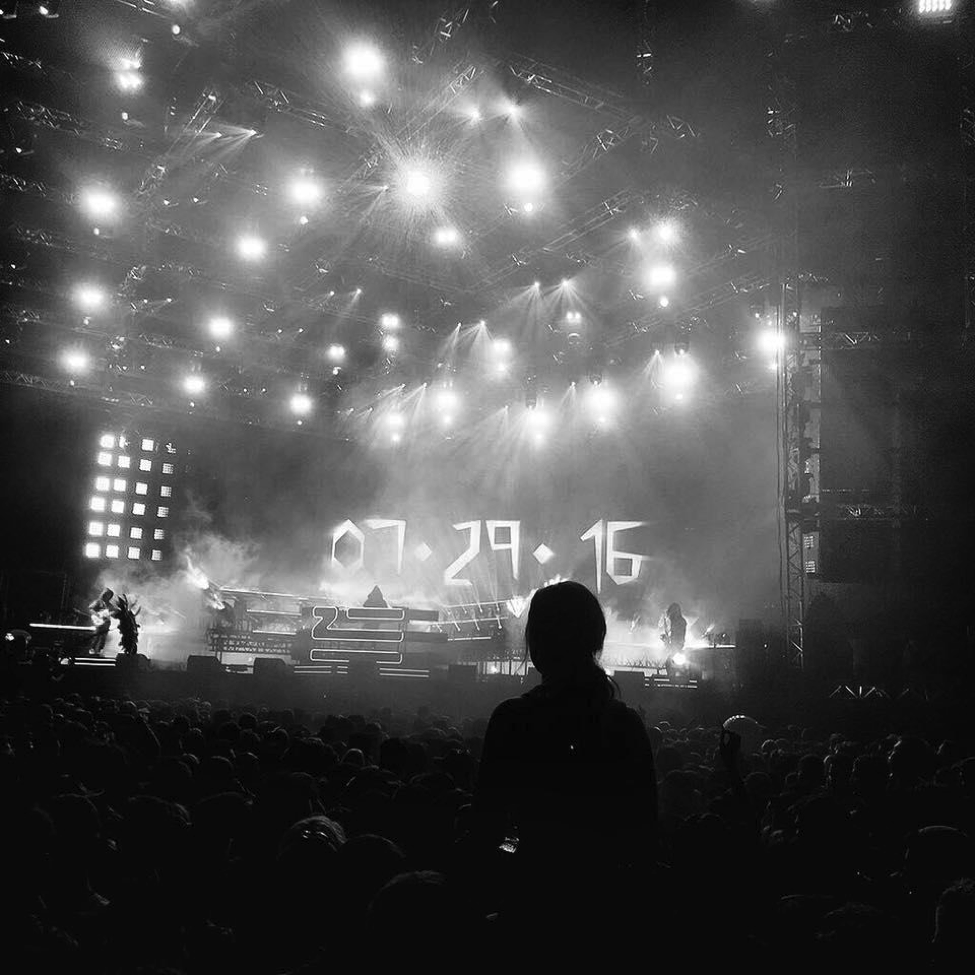 Ironically, and somewhat counterintuitively, that bigger pictures is still more impressionistic painting than portrait. ZHU is anonymous, the EDM world's Banksy. Anonymity usually serves the creation more than the creator: By keeping attention focused on the art itself, the artist fades into the backdrop. But that's not usually the way it plays out. Anonymity, it turns out, is great marketing. And when it's matched by great talent, you can end up with a Banksy, or a Daft Punk, Pink Floyd, or, in this case, a ZHU. This wasn't ZHU's first effort at offering something more than just his music to the world, and to hiding his identity as a way of amplifying his work. He announced his most recent tour by prank calling a scalper selling a ticket to his own show. The tickets to his first-ever show in New York were only available at, of all places, a fashion retailer. The crowds swarmed Opening Ceremony and the show sold out in minutes. Everything he has done has fed into the mystery and hype around the act, keeping his name in conversations for months on end. It is easy to again draw parallels to Daft Punk and their most recent release of "Random Access Memories" which included well placed billboards, listening parties in the middle of nowhere Australia, strategic teases, and, as always, a heavy dose of mystery. They both deployed a strategy adapted for the internet age,reating spectacles and storylines that are made to make their way across social media. A mystery too tempting not to debate on Facebook, too interesting to not text your best friend. It's a strategy that plays into a human being's need to know. In a world of overexposure, purposefully hiding information creates a storyline that begs to be discussed. It also provides plenty of fodder to keep the rumor mill running. Is ZHU actually Skrillex? Is he secretly Disclosure? Is Daft Punk playing a surprise set later at [insert every major festival in past 10 years]? After all, it's much easier to believe a surprise set is happening when news or photos don't get out of them at the airport, or walking down the street, or even standing right next to all their fans in the crowd, as Daft Punk did at Coachella in 2013. While the duo premiered a trailer for their summer smash hit "Get Lucky," they watched from the crowd, taking in the energy. Their fans had no idea they were rubbing shoulders with the very people who made the music they were listening to. ZHU could have taken similar liberties at Coachella if he felt so inclined. At a festival where surprise guests are increasingly hard to keep secret (see Rihanna at Calvin Harris), it is refreshing to envision a headliner moseying their way to their set, taking in all the sights and sounds of his fans, then slipping on a robe and performing in front of them, none the wiser. That level of freedom, in everyday life, in music, in marketing, is what is often attributed to Daft Punk's success and consistent innovations in music. It's what helped them remain famous yet faceless for the past 20 years. It's what helped their last album hit #1 on the charts and propelled their single "Get Lucky" to over 10 million digital sales. ZHU is still in career infancy, and his album just announced, but if electronic music is going to continue being at the forefront of innovation as far as genres, there needs to be a new face for this generation. Even if we don't truly know what that face looks like.