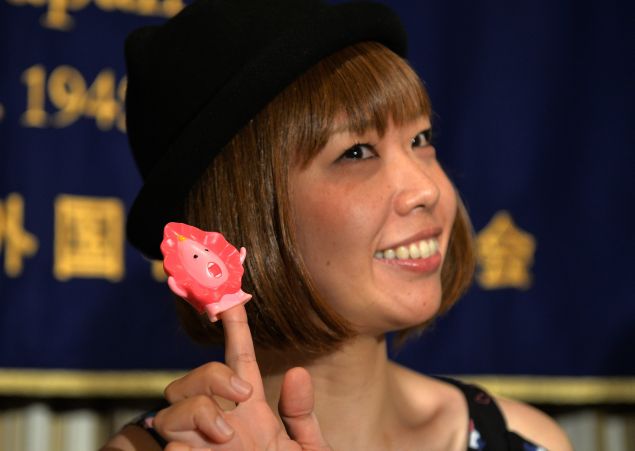 An artist who became famous for pissing off Japanese police by creating a replica of her vagina as a functional kayak is reflecting on the experience in a new manga-style memoir, aptly titled What is Obscenity? The Story of a Good for Nothing Artist and Her Pussy. 
Megumi Igarashi, a.k.a. Rokudenashiko (which roughly translates to "good for nothing girl"), has been arrested twice since 2014 for her 3-D printed, genitalia-inspired sculptures, and for distributing scanned imagery of her vagina online.
In her new book, published by Toronto-based Koyama Press, Ms. Igarashi uses playful comic strips to tell the story of her now infamous vagina sculptures, the circumstances of her abrupt arrest, the Japanese prison system's harsh conditions and her lengthy two-year trial. "In a society where one can be censored, pixelated and punished, Rokudenashiko asks what makes pussy so problematic?" reads a description on Koyama's website.
Ms. Igarashi is an artist who "continues to champion the art of pussy," says her publisher. The book features cover art by leading designer Chip Kidd.
A central theme of Ms. Igarashi's book is the Japan's conservative stance toward female sexuality. "Even the utterance of 'manko' was a taboo, and absolutely forbidden since I was a child," writes Ms. Igarashi in the book's introduction. "I've found myself respecting the archaic convention against saying it, even despite myself." (The artist includes explanation of various colloquial terminology for lady parts; "manko" is slang for vagina and she frequently refers to herself as a "manko artist.")
Peppered throughout are excepted quotes from media coverage of her case, statements from her lawyers, and background information on Japan's legal system.
"My ideas have infuriated a bunch of small-minded men, but the number of people who think it's fun, silly, happy, and hilarious have also grown," writes Ms. Igarashi. "Manko is not an unusual or special thing, and it is actually an obvious part of life and that is precisely why we should care about it."
Today, Ms. Igarashi is out of jail and has been cleared on one of two charges of obscenity by a Japanese court. She's been fined ¥400,000 ($3,690) for distributing the offending images, despite the fact that a judge eventually ruled that her sculptures of vaginas weren't anatomically correct enough to be considered anything but art. While the artist and her team consider the ruling a partial victory—and historic considering Japan's high rate of convictions for obscenity—she pledges in her book to push forward with her fight to be cleared of all charges.