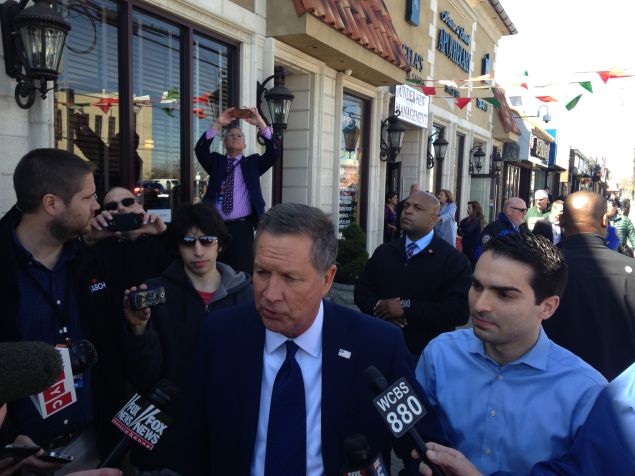 A day after he vowed to carry on his campaign despite a string of stinging defeats, Ohio Gov. John Kasich will drop out of the Republican primary this afternoon, reports say—effectively leaving real estate mogul Donald Trump as the GOP nominee.
Mr. Kasich canceled an event scheduled in Virginia today to instead trek back to Columbus, Ohio. From Franklin Park Conservatory and Botanical Gardens, the Buckeye State pol thanked his family, political team and supporters—noting they stayed with the campaign despite lackluster fundraising and struggles in the polls—and recalled his travels across the nation.
"Everywhere I went in America, I told people about our beautiful, beloved state, and held Ohio high," he said, thanking the people who gave him his sole triumph in the primaries. "The people of our country changed me. They changed me with the stories of their lives."
He acknowledged that his emphasis on policy and personal connections wasn't as "sexy" and didn't make "a great soundbite." But he argued that those things are core to the promise of America, and to the designs of the divine
"As I suspend my campaign today, I have renewed faith, deeper faith that the Lord will show me the way forward, and fulfill the purpose of my life," he said. "We need to live a life a little bit bigger than ourselves."
He made no mention of Mr. Trump, who is the only contender for the GOP nomination remaining. When Mr. Trump won the Indiana primary last night, the candidate's campaign insisted it would not forfeit the fight.
"Tonight's results are not going to alter Gov. Kasich's campaign plans. Our strategy has been and continues to be one that involves winning the nomination at an open convention," chief strategist John Weaver wrote in an email to reporters not 24 hours ago.
Despite polls showing him to be one of the strongest candidates against presumptive Democratic front-runner Hillary Clinton, Mr. Kasich never seemed to have momentum. The most he could point to was a distant second place finish in New Hampshire and a victory in his native state.
Despite his record as a tax-slashing conservative in Congress and as governor, Mr. Kasich campaigned for the White House as a moderate. He apparently hoped to take the Granite State, New York and a host of Mid Atlantic states that typically support centrist candidates over the hard-right.
Instead, those primaries all fell to Mr. Trump, with Mr. Kasich swinging only his own state.
The candidate hung on even after it became mathematically impossible for him to acquire the delegates necessary to clinch the nomination. The governor clung to the hope that he and Texas Sen. Ted Cruz could prevent Mr. Trump from hitting the 1,237 mark necessary to seal the party's ballot line for himself.
That hope virtually vanished after Mr. Cruz himself surrendered after last night's defeat in Indiana. Reince Priebus, the chairman of the Republican National Committee, acknowledged the brash businessman as the party's presidential candidate shortly afterward.
Updated to include comment from Mr. Kasich.
Disclosure: Donald Trump is the father-in-law of Jared Kushner, the publisher of Observer Media.