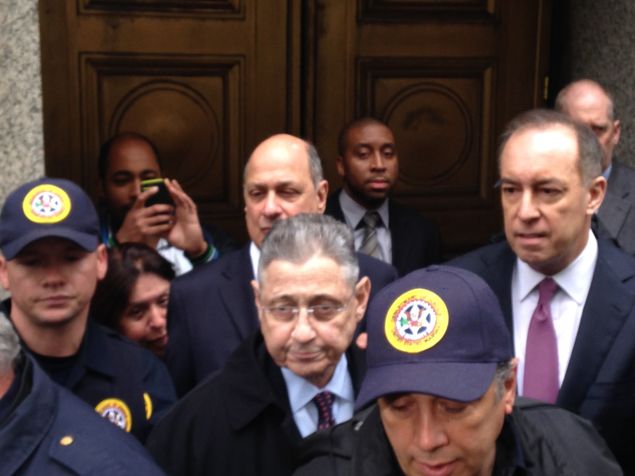 Federal Judge Valerie Caproni delivered a scathing assessment of ex-Assembly Speaker Sheldon Silver's crimes—and sentenced him to 12 years in federal prison and a $1.75 million fine.
In the Thurgood Marshall Federal Courthouse today, federal prosecutors' called for Silver to serve the longest prison sentence ever given to a New York elected official found guilty of corruption—exceeding former Assemblyman William Boyland's 14 years. Silver's attorney's, alluding to letters from colleagues and constituents detailing their experiences of his assistance and dedication, and to the defendant's 72 years of age and recent brush with prostate cancer, requested mere house arrest and community service.
Judge Caproni acknowledged the former speaker's skills as a politician—but argued Silver's pattern of behavior revealed his character to be lacking, and that he must become an example to other powerful officials considering taking part in corrupt activity. The jurist noted that Silver not only used the subtle subterfuge of referral fees from two law firms to take kickbacks from a state-funded mesothelioma research center and a developer seeking tax breaks and subsidies in Albany, but also repeatedly sought to conceal his activities.
"Is Sheldon Silver a good and honest person who went astray, as the defense argues, or is he fundamentally corrupt, as the government argues?" Judge Caproni asked, noting how Mr. Silver deceived his own staff, other government officials, personal associates and the press. "Those are not the actions of a basically honest person. Those are the actions of a scheming, corrupt politician."
Judge Caproni dismissed Mr. Silver's claims that his activities did "no discernible harm," insisting that his activities likely led to the misallocation of government funds—as well as to "intangible" damage to the public's trust in democratic institutions. U.S. Attorney Preet Bharara, who brought the charges against the powerful speaker more than a year ago, sat in the back of the courtroom through the sentencing.
"Corruption isn't just a crime that victimizes an individual, or takes dollars from the public fist," she said. "Corruption attacks our very system of government."
The fallen pol's attorneys insisted throughout their defense that Mr. Silver had suffered enough through his "precipitous fall from grace" and that his prosecution had left him "crushed" and "devastated." The vanquished speaker even spoke on his own behalf, which he had refused to do during his trial last year.
"Without question, I've let down my family, I've let down my colleagues, and I've let down my constituents, and I am truly, truly sorry," he said.
Outdoors, however, the defendant and his legal team vowed to appeal the conviction and the sentence.
"I believe in the justice system of the United States and will pursue the avenues that are available," Mr. Silver told a crushing scrum of reporters.
Mr. Silver's attorneys did however request that the judge recommend Mr. Silver serve his seven concurrent sentences at the Otisville Federal Correctional Facility upstate. He will have to turn himself to whatever penitentiary he ultimately gets assigned to on July 1.
He will also have to forfeit some $5.3 million that he obtained through his illegal arrangements.