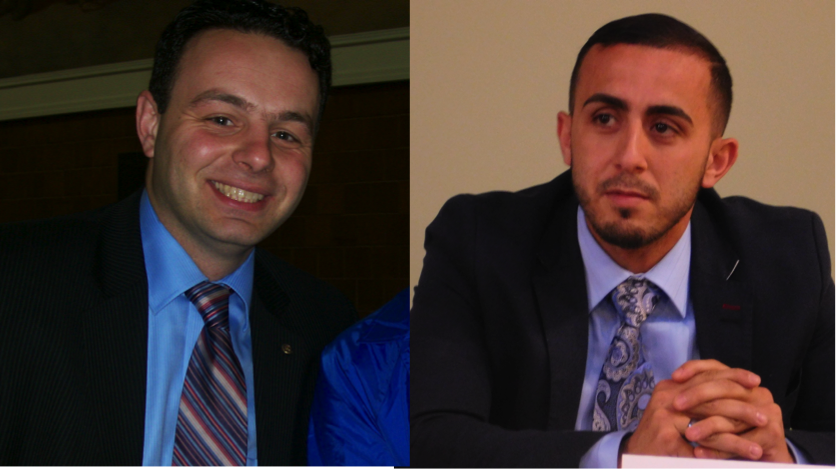 PATERSON – Ward 6 Councilman Andre Sayegh sits at the back of the Egg Platter Diner, a retro greasy spoon in Paterson's South End. The nearby streets are lined with eateries selling traditional Arabic fare like falafel and halal foods. Sayegh's suit is somewhat incongruously accompanied by sneakers as he prepares for another day of walking the 6th ward streets in the final push toward the May 10 election where he will face off against Al Abdelaziz. Sayegh says his days have been long lately. Usually, he says, he leaves the house before his wife and two daughters wake up and gets home after they are all asleep as he continues with his effort to stave off the challenge from Abdelaziz.
When Sayegh ran for mayor of Paterson in 2014, Abdelaziz was right by his side. Fast-forward two years and things have certainly changed as the two are deadlocked in one of the city's most competitive council races. While the two men may disagree on who can best represent the ward where they live, they do agree on one major thing: that Paterson is going in the wrong direction and that change needs to be made in order to secure the city's future.
According to Councilman Sayegh, many of the issues that Paterson is facing stem from the administration or Paterson Mayor Joey Torres. The mayor is under investigation after an NBC report in March found that Torres was allegedly using city workers in his home.
"Some people have seen a significant increase in property taxes so when they tune into NBC and see that the mayor has public works employees in his house and records show they were being compensated with overtime, they are outraged," Sayegh said. "I think the current administration is a problem."
While Abdelaziz said he recognizes the issues with the allegations Torres is currently facing, he said that many issues stem from councilpeople like Sayegh who are unwilling to work with the administration on a majority of issues.
"I think Paterson could be better than what we have right now," said Abdelaziz, a member of the city planning board. "I feel that our elected officials don't work together for a common goal. Everyone has their own political agenda and egos and that, in the end, hurts the residents. Do I think it could be better? Absolutely. Things need to get better."
Abdelaziz said that, while Sayegh has some legitimate concerns about the administration, he has been party to a lack of activity in Paterson.
"It is not only this administration. Councilman Sayegh has been on the opposite end and cannot work with any administration he has been a part of," Abdelaziz said. "The Joey administration, the [Jeff] Jones administration, the Joey administration. He is an obstructionist on some of the issues."
As a sixth ward resident, Abdelaziz said his decision to enter the race came from his observations that Sayegh had lost presence in the area since making a city-wide run. Abdelaziz said he wants to bring that focus back and has been campaigning heavily to do so.
"Sometimes he forgets that he is the 6th ward councilman," Abdelaziz said. "I think he has lost focus and lost touch on who he represents. He has been advocating for things outside of the ward. He got upset that we were working with the mayor after the election. I said 'This guy won't work with anyone unless he is the head guy.'"
While Abdelaziz says Sayegh's focus has drifted away from the issues in the 6th ward, the councilman said he is "singularly focused" on his reelection bid and listening to the concerns of his constituents.
"I have never done this before during a campaign but yesterday I went to see a podiatrist because my feet are on fire," Sayegh told PolitickerNJ. "I can only wear sneakers now. The doctor said it was over-usage." According to Sayegh, his campaign has been going nonstop since he announced he would be pursuing reelection. He also said that he has been actively knocking on doors throughout the ward in an effort to show residents who he is and talk to them about the issues they find concerning.
Abdelaziz was endorsed by Torres before the allegations against him surfaced. He said that he isn't going to let outside issues like what is happening with the mayor impact how he approaches the campaign trail.
"I have my own campaign to run. We are focused on May 10," Abdelaziz said.
While Abdelaziz said that his Torres endorsement is relatively inconsequential at this point because of how hard he has worked to to put his name out there and campaign, Sayegh said that he still feels the connection is a critical one for voters.
"It doesn't hurt to remind voters that a mayor under investigation has endorsed my opponent," Sayegh said. "There are people that are aware of the endorsement because it was in the newspaper and because it has been all over social media. They know that he was at his first fundraiser."
In addition to the support of he mayor, Abdelaziz also has the support of Freeholder TJ Best, Councilwoman-at-large Maritza Davila as well as the Imam of the Islamic Center of Passaic County, Reverend Davis Rios of the Hispanic Pastors Association and the Passaic County Spanish Clergy Association. Those endorsements are indicative of the diverse community that lives in the 6th ward, home to the second-largest Muslim population in the United States and a booming Hispanic community. But for Abdelaziz, a Muslim-American, the endorsements he has garnered so far are indicative of the willingness of 6th ward residents to put differences aside.
"My family and myself are what you see in that diversity in Paterson," Abdelaziz said. "I am Arab-American Muslim. My sister in law is Dominican, my other sister in law is Colombian. My nieces and nephews are half Hispanic, half Arab. That is what is great about this city. I will work with any community and any religious group. We have to put our differences aside. A crime that happens to a Muslim lady in South Paterson is the same crime that is happening to a Hispanic lady on 21st Ave."
For Sayegh, who is a Christian, the willingness of all Paterson's communities to work together has been an asset to his tenure.
"People that I have worked with in the past, whether they are Peruvian or Puerto Rican or Palestinian, I go and I tell them, 'We built a playground together. We opened up a preschool together. We shut down a notorious nightclub together. We defeated the Mayor's recreation tax together,'" Sayegh said. "It is about a record of results because irrespective of where you originally came from, we are all Patersonians now."
While Sayegh has been a long-time supporter of Congressman Bill Pascrell, the congressman has opted to stay out of the city council race this go-around. Because Paterson is a non-partisan town, the county committee has also not gotten directly involved in the race. Even so, Passaic County Democratic Chairman John Currie made an appearance at an Abdelaziz fundraiser on Tuesday.
"Chairman Currie is like a second father to me," Abdelaziz said. "We just have a close bond. That doesn't mean he is fully supporting me or anything like that. We just have a close relationship. Not necessarily the party but people from the party."
According to an ELEC report filed on April 28, Sayegh has raised $50,060 in contributions so far. Abdelaziz has raised $62,750 according to an April 29 filing.
Both Sayegh and Abdelaziz seem confident that the results on Tuesday will be in their favor. Both men think the district needs more economic development and both believe they are the right ones to bring that into the 6th ward.