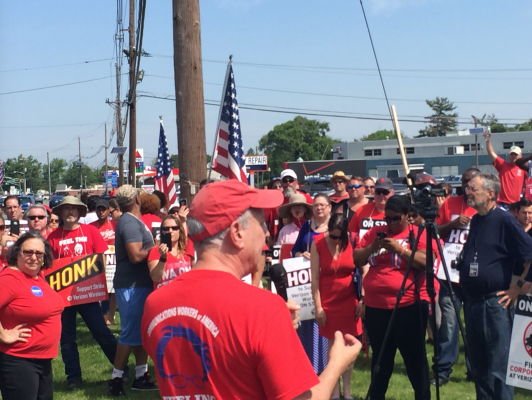 MOUNT LAUREL — As the New Jersey primary approaches, Verizon workers' ongoing strike in the Northeast and Mid-Atlantic has become a flashpoint for Senator Bernie Sanders' supporters in the state. Congressional candidate Jim Keady joined members of the state CWA, ATU, IBEW and AFL-CIO as Verizon workers assembled outside one of the telecom giant's retail locations in South Jersey Thursday.
Sanders trails Clinton in New Jersey, which is one of two remaining states that could afford the Vermont progressive a narrow path to victory. The latest Monmouth University poll showing the former Secretary of State holding a comfortable 28-point lead. The 'Bernie Bus' made went on to make stops in Hamilton, East Brunswick and Union.
Sanders has gone on a spree of congressional endorsements, in a sign that his campaign may have become more a matter of boosting outsider congressional campaigns rather than clinching the nomination. Former CWA president Larry Cohen, a senior advisor to Bernie Sanders, described the stakes for the party's progressive wing to the crowd and acknowledged that possibility.
"We don't want fossil fuel money in the Democratic Party," said. "We certainly don't want Verizon money in the Democratic Party. We don't need the U.S. Chamber of Commerce in the party. We don't need trade deals like the TTP backed by a Democratic president.
"Sometimes these kinds of truths are hurtful, because we grew up thinking that we had a path. And what Bernie's campaign is about is the same as this strike. Sometimes in our lives, we have to fight to find that path. We have to fight to find a way, even if it's not in this election."
Keady, who is facing Republican incumbent Tom MacArthur in the third congressional district this year, called for a reversal of organized labor's decades-long decline and took a shot at MacArthur for his largely self-financed 2014 campaign.
"I am running against a guy who was worth $50 million, an insurance profiteer who two years ago wrote five one milion dollar checks to buy a seat in congress," Keady said. "We can get one million five-dollar checks and show this guy that people power can beat the big money."
"There are three things we need to do: we need to organize, we need to organize, and we need to organize."
Keady, whose notoriety in state politics began when Governor Christie told him to "sit down and shut up" at a press conference on Hurricane Sandy recovery, also brought up MacArthur's endorsement for Christie during the governor's unsuccessful presidential campaign. Christie has taken a beating in approval ratings since officially endorsing Donald Trump.
"The people of New Jersey, en masse, awakened to the fact that Governer Christie is arguably the worst governor in the history of the state of New Jersey, and I think it's also very telling that my GOP opponent endorsed Chris Christie for president," Keady said. "Anybody who thinks that Chris Christie should be president of the united states has zero judgement with regard to what's good for New Jersey, and what's good for the country."