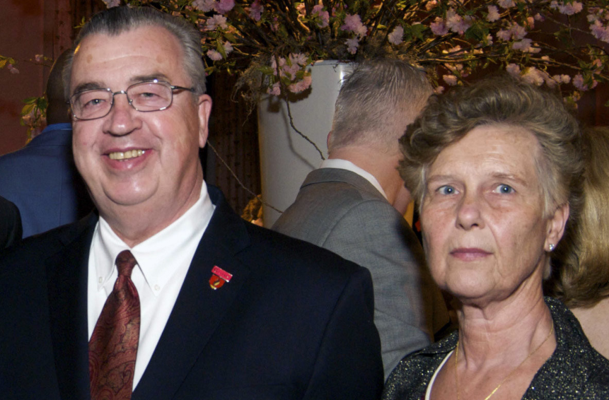 A detective who worked on the investigation into the deaths of Cooper University Health System CEO John P. Sheridan Jr. and his wife has filed a suit against the Somerset County Prosecutor's Office. Detective Jeffrey Scozzafava, a 31-year veteran, claims that his supervisor destroyed evidence found at the scene and that several of the responding investigators lacked forensic training. The Philadelphia Inquirer has the story.
The Sheridans were found dead at their Montgomery home in 2014. The Prosecutor's Office ruled the deaths a murder-suicide, concluding that Sheridan had stabbed his wife, set fire to their bedroom and committed suicide. The Sheridans' four sons dispute that finding and maintain that their parents were murdered.
Scozzafava claims that blood swabs were improperly handled, that burnt bedding from the Sheridans' bedroom destroyed, and that his supervisors lied about fingerprinting at the scene. The suit also claims that Scozzafava later saw the investigators' captain Lee Niles "walking to a garbage dumpster located in the parking lot and disposing of the bag containing the Sheridan evidence."
"It was common knowledge and a topic of conversation among detectives assigned to the forensic unit that the Sheridan evidence was improperly collected, improperly preserved and subsequently destroyed," the suit says.
Scozzafava also claims that Niles lied about checking the Sheridan home for fingerprints using the "flashlight technique." When the assistant prosecutor asked for a demonstration of that technique, Niles allegedly took the day off.
"Mr. Scozzafava knew that no such 'flashlight technique' existed in the forensic or scientific community, and was an obvious excuse for nonfeasance during the scene processing," the suit says.
After requesting additional time to examine fingerprints from the Sheridan home, Scozzafava was transferred to the fugitive unit despite having been originally hired for his forensic experience. The suit says that when he asked why, the lieutenant responded "Everybody does time in the penalty box."