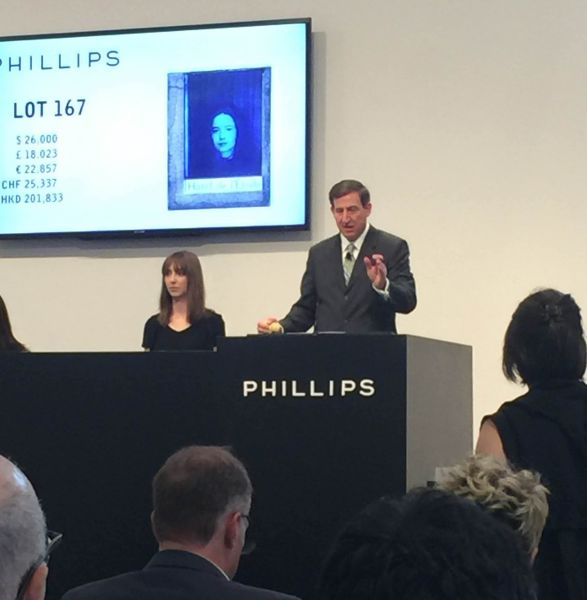 After a weak $46.5 million showing at their evening sale the night before, it was a long, tough slog at Phillips for the contemporary day sale today, as prices were all over the map on a mixed bag of lots.
Phillips has been riding the wave of a youth-obsessed art market for some time now, but with a legitimate market slow-down upon us, it will be interesting to see where collectors stand with the low end of the market.
People were spending money—on both classic 20th century artists and some hot, young names—with a few fantastic prices recorded by the end. But the buyers were finicky, and many lots landed squarely within their pre-sale estimates, and some interesting lots from Warhol, Basquiat, Richard Prince and more were passed on all together.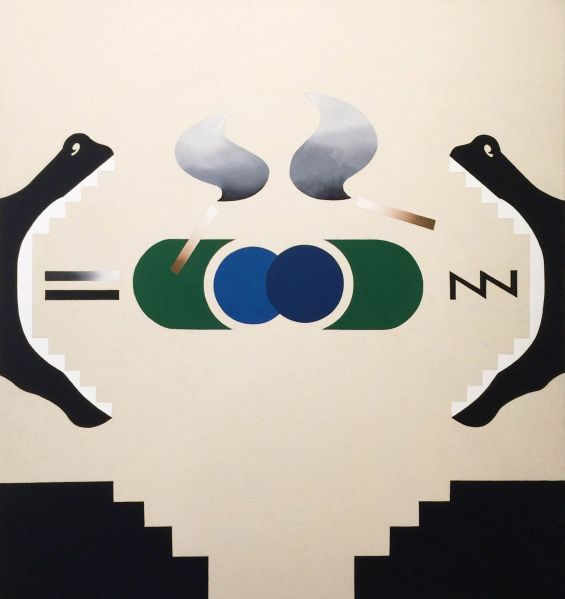 The start of the sale was an odd one, as a beautiful Eddie Martinez went for under the low bid in front of an small audience (yet more than a few serious collectors were present, including the Rubells, Edward Lee and Francois Odermatt).
But then, thanks to phone bidders and some latecomers, two young female painters, Lucy Dodd and Math Bass, saw their prices balloon over their high estimates, selling at work $37,500 (over a $18,000 high estimate) and $47,500 (over a $25,000 high estimate), respectively (all sale prices include buyers premiums). Those are the kind of prices you could expect from two "hot" artists.
A smaller Martinez also did well before a seemingly average Markus Schinwald zoomed past its high estimate of $22,000 to hit $68,750. Right after, an RH Quaytman underwhelmed with a $60,000 hammer, as did a less-than-exciting Jonas Wood featuring a grouping of tape rolls.
But it was a solid start, especially after a large Wolfgang Tillmans went for $233,000, way over its high estimate of $120,000. Sterling Ruby, Mark Grotjahn and Rob Pruitt sold at or near their high estimates, but then a small Grotjahn was passed on (unthinkable last year) as was a monstrous (though underwhelming) Ugo Rondinone painting.
Then more work was passed on: drab sculptures by Rebecca Warren and Mike Kelley. And then things got uglier. Two Richard Princes were passed on, although another Prince, Untitled (Almost Original), 2006, which features a pulp fiction nurse novel next to Mr. Prince's original painting based on the cover, racked up $461,000 from an online bidder, over a $300,000 high estimate. Collectors, it seemed, were training in on their favorite selections and sticking with them. Cindy Sherman, Liz Peyton and Guyton/Walker all proceeded to underwhelm on subpar works, although Tracy Emin drew $100,000 on her trite neon work Be Faithful to Your Dreams, 1998.
Even household names like Warhol and Basquiat came away with mixed results that included both passes and sales over the high estimate.
Eventually, a great bidding war broke out over a tiny Joseph Cornell, Untitled (Hotel de l'etoile Suzanne Miller), circa 1960, which took in $269,000—six times its high estimate of $45,000. A beautiful John McCracken sculpture went over its high estimate of $300,000, landing at $401,000, and auction darling Yayoi Kusama went over estimate on a variety of works. Meanwhile, his fans are still wild for the dullness of Lee Ufan, who sold a small, drab work for $449,000 over a high estimate of $300,000.
A notable—and lovely—painting from the late Michael Majerus went for $93,750 over a high estimate of $50,000, during a run of minor works from major 20th century artists.
The final run of young artists saw a bit of a bloodbath, particularly for the "once hot" ones, though KAWS continues to draw well on even his small works, including one 20 inch tondo that sold for $87,500 over a high estimate of $60,000. But many of the works that followed were simply from artists that aren't market-tested, with many turning in poor examples to boot.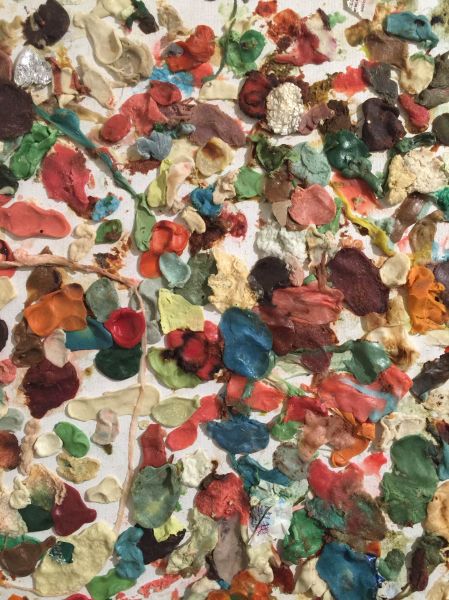 Dan Colen—who should certainly be considered "market-tested" by now—had a decomposing chewing gum painting and candy work on paper perform poorly, with the gum work passed on. Last decade's hot figurative painters, Nigel Cooke and Kehinde Wiley, both had bad results, a harbinger that perhaps the new figural trend is more hype than substance.
A group of even younger artists finished up the auction by selling at or below their primary prices, except for Jean-Baptiste Bernadet, whose diptych Untitled (Fugue – Door II), 2014, sold for $60,000 (double its $30,000 estimate), which was bad news for more than a few Chelsea and Lower East Side galleries representing these artists.
We're surely not seeing absurd boom prices anymore, but in the end, the issue seems to be as much about finding enough quality works to sell—and refusing works by lesser artists in general—as it is about a slowdown. Some collectors have been burned recently and are finicky.
But with houses giving more control to major clients than ever, it could be close to impossible for places like Phillips to tidy their auctions up during this "mixed" market.