There was a time in the not so distant past when such extravagances as pet spas or perhaps a rooftop pool were sufficiently alluring to luxury buyers. But such amenities are so 2014. A frothy high-end market means a well-shampooed Shih Tzu has given way to on-demand private jet service, with developers one-upping each other with amenities in their buildings to help justify the price tags.
"The days of having the same package of a business room and other useless things people don't need—those days are over," Darren Sukenik, a broker at Douglas Elliman who does sales for buildings like 150 Charles and 111 Murray, declared.
"Everybody is trying to up their game because everybody wants to grab the attention of the eager buyers," Halstead broker Brian Lewis agreed. "Everybody wants to be the hottest, best new thing—the stakes are higher. You have to lure people with good amenities, and you have to have a 'wow' factor."
As for those pet spas? "Even as a pet owner, and lover, the dog washing station is just completely irrelevant to me," Mr. Sukenik said. "If you have a groomer and a walker, you don't need those things—they're yesterday's news. Nobody's worrying about a pet spa anymore. They're worrying about a people spa—if you don't support the buyers' lifestyle, they aren't moving in," he continued.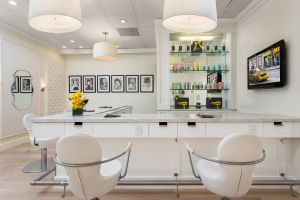 For the development team behind 111 Murray, where prices range from $2.5 million to $18.9 million (for a five-bedroom, six bath unit), that lifestyle includes…hairstyling. "We know our audience, and all our ladies go to Drybar! It's not enough that Drybar is around the corner in Tribeca—we wanted that in the building," Mr. Sukenik said of the trendy salon. Once occupancy begins in 2018, the 111 Murray location will be open only to residents of the building, who can schedule at-home appointments for blowouts or treatments, or head down to the two-chair shop.
But why stop there? The building also offers a staffed spa evoking a Turkish hammam, with heated, sculpted marble beds and carved sinks (instead of the formerly requisite stand-alone sauna/steam room/fitness center), and residents can contact the on-site Abigail Michaels concierge to book treatments like a facial or massage, so they don't have to consider the horrifying possibility of having to navigate a day of rest and relaxation by themselves. "A spa without service is not a spa," Mr. Sukenik sniffed. While, like in most buildings, the use of the pool and spa is included in maintenance, the cost of additional spa services is not yet determined.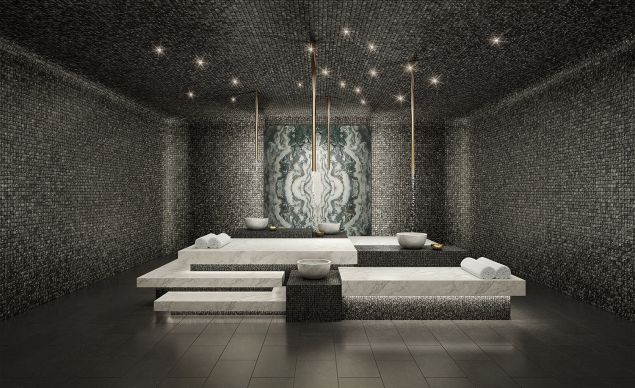 Having onsite grooming services comes in handy, of course, if you need to travel at the last minute—say on the condo's private jet. "It's just a reality that a lot of our clients fly private," admitted Mr. Sukenik, who himself purchased a unit in 111 Murray. The building has an exclusive partnership with Blue Star Jets, which charters private planes (or helicopters) for residents. If they choose to partake in the private jet memberships, residents can call the concierge, and they get a 10 to 20 percent discount from the $125,000 to $300,000 cost.
"There's a special concierge dedicated to the residents of 111, whose sole job is to help them book private planes and private helicopters," explained Winston Fisher, one of the building's developers. "You'll get first-class service all the way to your destination!"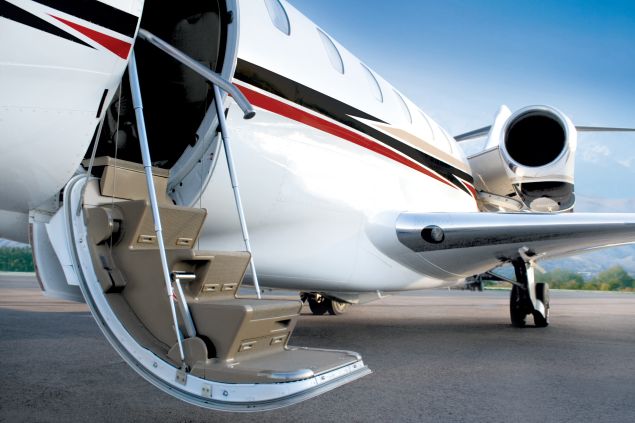 But, as Robert Dankner at Prime Manhattan Realty pointed out, those with the means to charter a jet are well equipped to do so on their own. "If someone is renting a private jet, they don't need the people at 111 Murray to do it for them," he noted. "In my opinion, it's somewhat irrelevant and almost embarrassing—if someone wants to get a plane, they're going to get a plane."
For Laura Dodge, an early buyer in 111 Murray, the extravagant amenities are more of an added bonus.
"The amenities are top of the line," Ms. Dodge, who is planning on using the home as a family pied-a-terre, noted. "I love to swim, and it's such a beautiful spa and swimming pool! It's such an asset to a building—it'll be brand new, and not dirty or old-looking," she added.
"I'll be using the Drybar," she said with a laugh. "Who knows, maybe by then I'll be so tired of taking commercial I'll hop on a private jet! But that wasn't the first and foremost thing," that persuaded her to buy in the building, she conceded.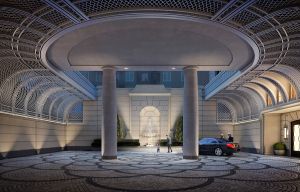 Yet convenience is the imperative behind most of the newest little extras. "The gym just wasn't that important to me," Jane Yakubovich, who purchased a home in the Robert A.M. Stern-designed 20 East End Avenue, told the Observer. "The ability to pull up, and drop off and valet the car was the biggest draw," she revealed. "It's all just presented in this very upscale way!" Ms. Yakubovich also found herself quite taken with the "secret little lockers" in the billiards room in which each resident can store, say, part of their liquor collection or other items. "Those were important to me." Ah, the significance of the cordial.
A different approach to hydration is taken at Vetrina's wellness and eco-oriented condo building 66 East 11th Street, where the showerheads in apartments are infused with Vitamin C and aloe, and kitchens are equipped with juice stations. Such wellness signifiers don't come cheap—the only unit left on the market is asking $17.5 million.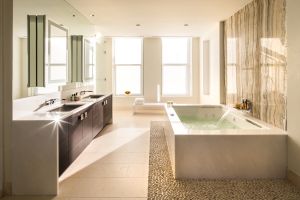 "Buyers have been attracted to wellness amenities like circadian lighting, enhanced air purification and posture-supportive flooring," Town Residential broker Steven Gold told the Observer. While 66 East 11th's wood floors have a rubber and cork underlay that provides support by decreasing pressure on joints, the circadian lighting in the common areas is designed to give "energizing" light in the morning, and melatonin-inducing light in the evening, which supposedly works with the body's natural sleep-wake cycle.
Pools remain an attraction—despite many brokers maintaining that it's the kind of amenity buyers claim they want, but rarely use. Related's new Tribeca condo 70 Vestry, is betting that four pools—an 82-foot lap pool, two plunge pools (one hot and one cold), as well one for children, all on the same floor—will prove enticing, especially for parents who can remain in close proximity to their children.
Those who prefer more private swimming time have dived into the condos at Siras Development's Soori High Line, at 522 West 29th Street, where 18 of the 31 units have private swimming pools situated within the apartments—of those 18, only three are still on the market, with price tags from $7 million to $15.1 million.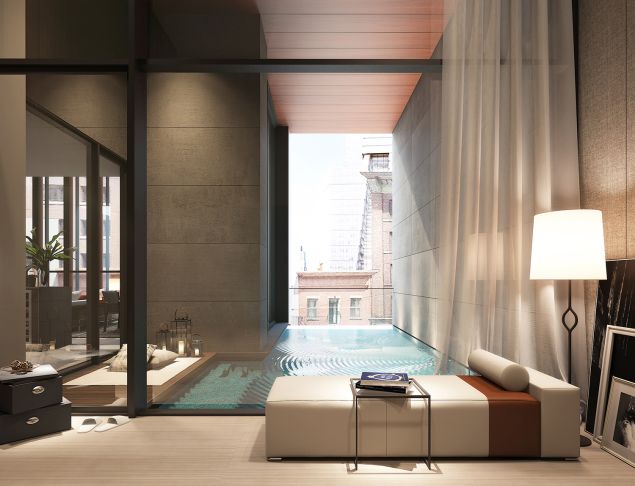 "It is a place where you can refresh, rejuvenate and entertain, in the privacy of your own space!" declared Ashwin Verma, a managing partner at Siras Development. "I believe the opportunity to have your own private pool in an apartment, with 12 to 18-foot ceilings, is the ultimate amenity," he added.
The Soori isn't the only High Line building upping its game—a few blocks away, the Zaha Hadid-designed 522 West 29th Street has a building-exclusive iMax screening room—"the only private iMax in the city," noted Joanna Rose, a senior vice president at Related. "The idea behind it was to create a truly unique and immersive screening experience that can be had in the privacy of your own building." The iMax theater seats 12, and while planned content hasn't yet been confirmed, anything can be played on the screen—not just iMax films. There are still 10 available units in the building, ranging from $4.895 million to $25 million; expected occupancy is 2017.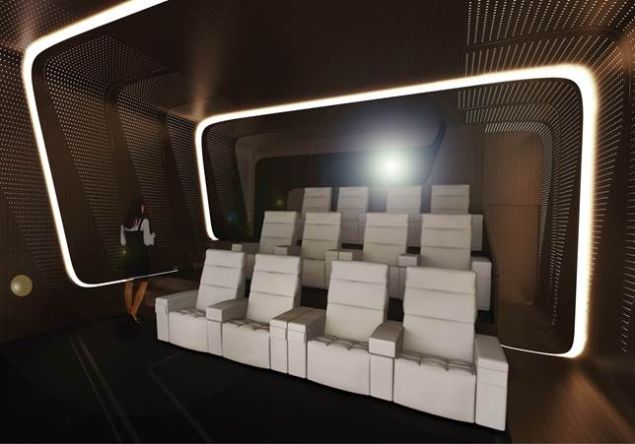 Multiple pools and building-specific cinematic experiences are "tapping into this need and desire at this cultural moment in our history to be social," Mr. Lewis opined.
Hence the bowling alley at Extell's rising One Manhattan Square—game rooms are so passé. Or even the squash court at 70 Vestry. "It's a private, international-sized squash court," said Ben Joseph, a senior vice president at the building's developer, Related. "They're incredibly scarce in the city," he continued, "and it's an amazing game that a lot of our buyers play, so the opportunity to have a private squash court in a boutique building with only 46 residences is incredibly special," he declared.
And while squash is a somewhat rarefied pastime, eating certainly is not. 111 Murray took a page from the hospitality playbook and offers its residents breakfast service—and not just a variation on the Continental variety. Instead it's served buffet-style by James Beard Award-nominated Baked by Tribeca.
"It's out every morning in a special room off the lobby, with a David Rockwell-designed, beautiful patisserie table," said Mr. Fisher. "We don't just go to the bagel store and lay them out, like a lot of developments. It's going to be hard to replicate what we've done here," he added.
Ms. Dodge is holding them to that. "I hope it stands true to their word," Ms. Dodge said, "and that it is going to be able to deliver all the amenities they marketed in a timely manner."