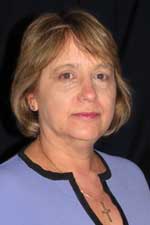 Old Bridge Councilwoman Lucille Panos is looking to add a new job to her resume: Middlesex County Republican chairwoman.
According to Panos, her support is widespread in the county as she weighs a bid for the position. She said that that support extends to current Middlesex County chairman state Senator Sam Thompson.
"I have been executive director for the past few years under Senator Thompson. Chairman Thompson said that, since he doesn't want to do it, he can't think of anyone better," Panos told PolitickerNJ. "I plan on making a bid for Middlesex County Republican chair. I do have the support of just about every Republican chair in the county."
Panos said she plans to build on the legacy of Thompson if she is chosen as the new chair for the Middlesex Republicans.
"Senator Thompson was probably one of the most progressive chairmen in the state when it came to putting women up for office, when it came to putting various ethnic backgrounds up for office," Panos said. "I am going to build on that big time."
For Panos, her role would center around building the Republican base in the deeply Democratic county.
"We need some checks and balances in this totally controlled county," Panos said of the slew of Democratic officials in Middlesex. "I have spoken to Monmouth county chair, Ocean County chair, and I have seen what they do to be successful. It is time Middlesex County had some competition."
Panos said she hopes to engage younger Republicans in Middlesex County. She also acknowledged that this year might not be a highly successful one for new Republicans running but that it is a good starting point on which to build the GOP brand in Middlesex.
"This year might be a little tough but we are going to build a race in Middlesex County," Panos said. "I am here to make this county better, make the Republican voice louder."
Panos was the Middlesex County campaign coordinator for Republican Governor Chris Christie in 2009. She said that that role—and the fact that a Republican governor won twice in a blue state—showed her that Republicans can make inroads in areas traditionally considered Democratic.
As for presidential politics, Panos told PolitickerNJ that she subscribes to the "ABC" mindset. She said that ABC stands for "Anybody But Clinton," referencing a preference for presumptive Republican nominee Donald Trump over likely Democratic nominee Hillary Clinton.
"When it comes to presidential candidates I say ABC and I think many people in the county will be the same way," Panos said.
According to bylaws, the county reorganization will be held on June 14. Panos said she has not heard of anyone else pursuing the Republican chairmanship in the county.