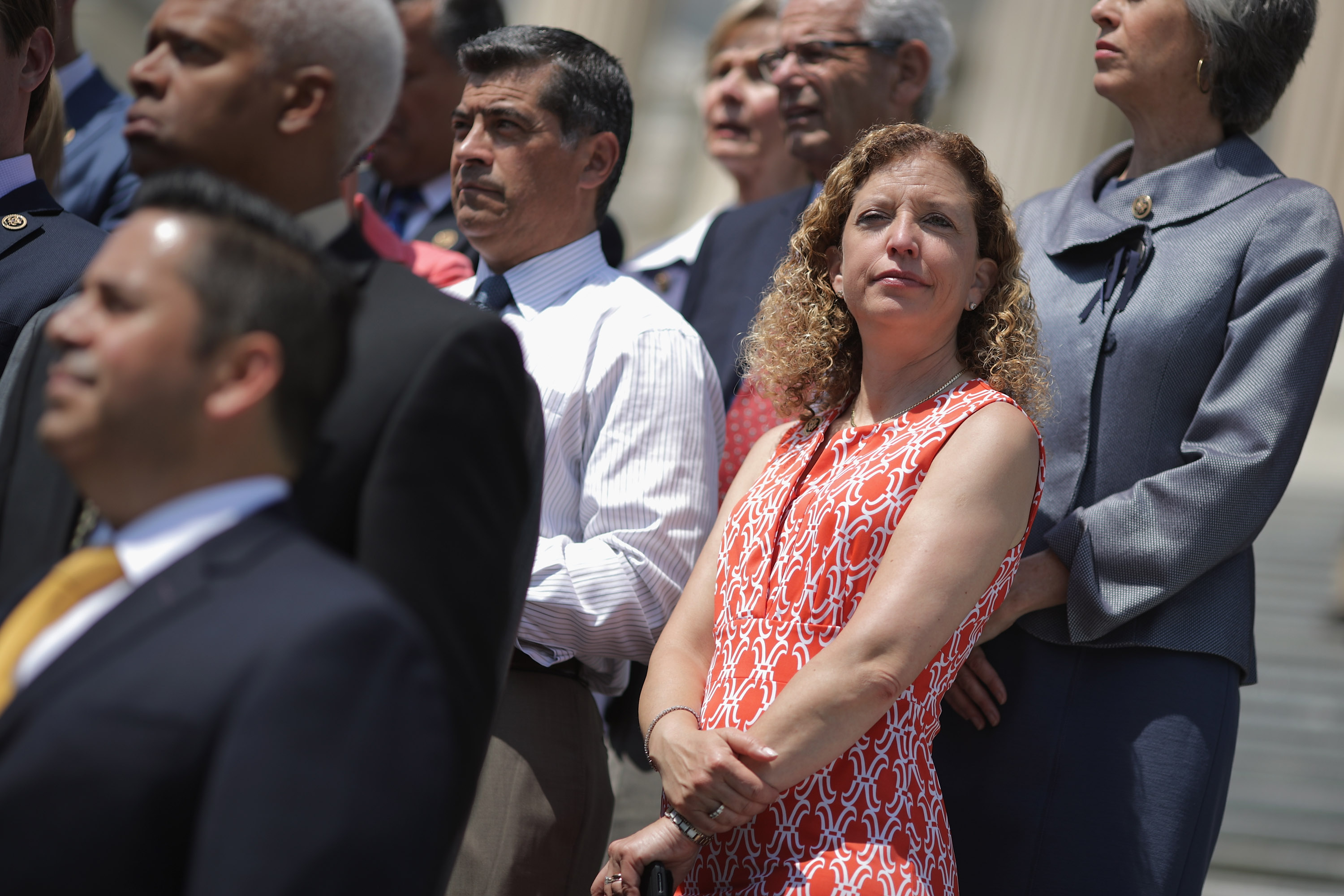 Calls for DNC chair Debbie Wasserman Schultz to resign are at all-time highs after her recent comments to CNN in which she propagated the false narrative that Bernie Sanders' supporters acted inappropriately at the Nevada Democratic State Convention.
"Unfortunately, the Senator's response was anything but acceptable. It certainly did not condemn his supporters for acting violently or engaging in intimidation tactics, and instead added more fuel to the fire" Ms. Wasserman Schultz told CNN's Wolf Blitzer. She went on to compare the campaigns of Bernie Sanders and Donald Trump.
Backlash incited by her comments inspired The Washington Post to flag "Debbie Wasserman Schultz's worst week in Washington," and MSNBC's Mika Brzezinski to demand the DNC chair's resignation—possibly the first call to action from a mainstream media pundit. Ms. Wasserman Schultz, who served as Hillary Clinton's 2008 campaign co-chair, has been favoring Ms. Clinton throughout the Democratic primaries.
I first spoke out in favor of Ms. Wasserman Schultz's resignation (or removal) in September 2015. The debate schedule she created was limited and strategically protected Hillary Clinton from potentially damaging exposure. With the pool of presidential candidates swept clean of any Democrat currently in office—with the exception of Mr. Sanders, the longest-serving Independent in the history of Congress—the stage was set for Hillary Clinton's coronation, and no new ideas were welcome in the Party.
The last thing the Democratic Establishment expected was for Mr. Sanders' campaign to take off as it did, and as soon as the Senator emerged as a viable threat to Ms. Clinton's smooth-sailing campaign, Ms. Wasserman Schultz and the rest of the Party fell into a state of panic.
Yet corruption runs deep through the veins of the Party, extending much further beyond the DNC chair. With the growing divide between Sanders and Clinton supporters, the mainstream media's quickest-fix has been to position Ms. Wasserman Schultz as a scapegoat for the Democrats' poor treatment of Mr. Sanders throughout the campaign—even though she's certainly not the only leader to obstruct democracy.
Super delegate endorsements for Hillary Clinton outpaced those vice president Al Gore received in the 2000 Democratic primaries—in which he won every state comfortably. The underlying definition of democracy presupposes people, and not political parties, decide presidential nominations. This has not been the case in 2016. Before a single vote was cast, hundreds of super delegates lined up behind Hillary Clinton, while media outlets spewed reports of each endorsement, serving as unpaid advertisements for Ms. Clinton. Bernie Sanders wasn't just an outsider challenging a candidate with name recognition and a vast network of corporate and wealthy donors—he was openly unwelcome.
Senator Harry Reid of Nevada called in favors to help Hillary Clinton win the state by a few percentage points. Senator Barbara Boxer, whose daughter was married to Ms. Clinton's brother, stepped in at the Nevada Democratic Party Convention to yell at Bernie Sanders' supporters for protesting the decision to defy a floor vote and pass rules favoring Ms. Clinton. Former Vermont Governor Howard Dean, a super delegate for Hillary Clinton, tweeted: "Superdelegates don't 'represent people' I'm not elected by anyone. I'll do what I think is right for the country." Connecticut Governor Dan Malloy distorted Bernie Sanders' stance on gun manufacturer lawsuits prior to the Connecticut primary in a New York Daily News interview—just before the paper, owned by wealthy Clinton donor Mort Zuckerman, formally endorsed Ms. Clinton for president.
The New York Times, Los Angeles Times, Chicago Sun-Times, Miami Herald, Baltimore Sun, Boston Globe, and several other major newspapers across the country formally endorsed Hillary Clinton leading up to their respective state primaries. Most of the mainstream media coverage on the Democratic Primaries has reflected an overt favoritism for the corrupt former secretary of state while notoriously blacking out her opponent.
The media spent more time sensationalizing false narratives about Bernie Sanders' supporters than discussing his campaign's policy proposals, coining the pejorative term 'Bernie-Bro' to stereotype all Sanders supporters as sexist white males. The Intercept's Glenn Greenwald wrote in January 2016, "The concoction of the 'Bernie Bro' narrative by pro-Clinton journalists has been a potent political tactic—and a journalistic disgrace."
The media has whitewashed Mr. Sanders' campaign—pushing the hashtag #BernieMadeMeWhite to trend in March 2016—and has been so trigger-happy to disparage Bernie Sanders that they falsely claimed Congressman John Lewis criticized Mr. Sanders and then failed to remove the inaccurate stories after the civil rights icon clarified that his remarks were not criticism.
And where instances have risen for which Democrats and mainstream media outlets should have spoken out, they remained silent—hoping the blemish on Ms. Clinton's record would be forgotten. When Politico revealed the Hillary Victory Fund—a joint fundraising committee between the DNC and Hillary Clinton's campaign—laundered money to the Clinton campaign instead of funding down-ticket Democrats, the violation went largely unreported. The DNC and the Clinton campaign have also stacked committees at the Democratic National Convention with corporate lobbyists, hand-picked by both Debbie Wasserman Schultz and Hillary Clinton.
For everything Ms. Wasserman Schultz has done wrong throughout the Democratic primaries, Hillary Clinton should be faulted as well.