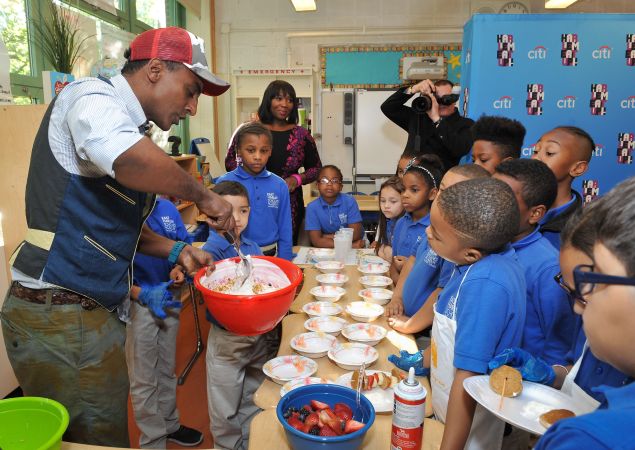 Before the Harlem EatUP! festival kicked off last Thursday, celebrity chefs headed to East Harlem Scholars Academy to teach elementary school children about the importance of breakfast and healthy eating. The festival, which ended yesterday showcased Harlem's best food, art and culture.
Celebrity chef and international restaurateur Marcus Samuelsson co-founded Harlem EatUP! two years ago. "When I started Red Rooster, I always thought about how can one create a community," Mr. Samuelsson told the Observer. "So really expand on the restaurant community and create jobs. That's really what Harlem EatUP! does, it highlights more than anything the smaller restaurants in the community."
Inside a classroom at East Harlem Scholars Academy, Mr. Samuelsson, Bravo host Bevy Smith, and Food Business Pathways graduate Jaynine Taylor hosted a breakfast party for the students. "I remember coming to my local school and having a great free breakfast in the morning," Harlem Native Ms. Smith told the elementary students.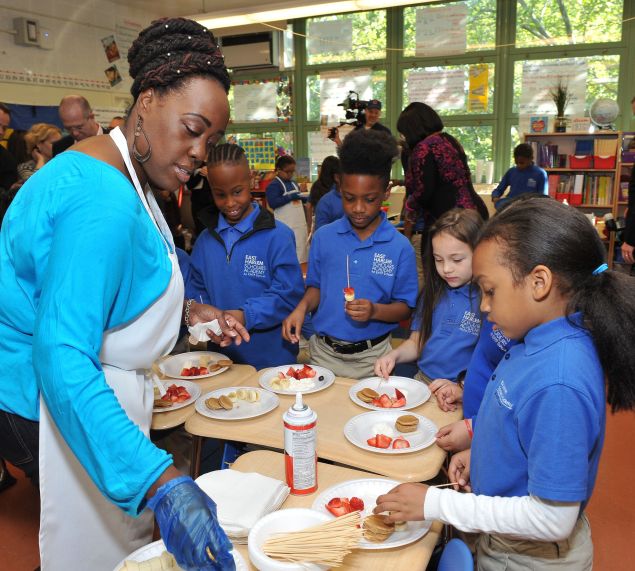 Ms. Taylor and Mr. Samuelsson focused on teaching the students two easy healthy breakfast recipes that they could make at home. At the first station, Ms. Taylor shows them how to make breakfast kebabs by stacking whole wheat pancakes infused with cinnamon and nut meg, organic strawberries, organic bananas, and a side of whip cream. At the next, Mr. Samuelsson and Ms. Smith taught the children how to create their own yogurt parfaits.
Citi, which is also one of the founding sponsors of Harlem EatUp! sponsored the breakfast party at East Harlem Scholars Academy ."A lot of our work in community is oriented towards trying to introduce young people to different career paths and help them develop new job skills," Head of Global Public Affairs, Edward Skyler told the Observer. "Not only is it important for healthy eating, but it can be a career path for young people. And for us, we do a lot of work with No Kid Hungry. We donated a million dollars last to No Kid Hungry thats helping kids fight hunger nationwide."
"I wouldn't be a chef if I wouldn't have been making early breakfast with my family. I learned firsthand and have really benefited from this," Mr. Samuelsson said. "Some people are less fortunate, some people don't have breakfast at all. Whatever economy, you should never take for granted breakfast. It's a very important meal that gets you going for the whole day."